WATCH: Michael Jordan is Embarrassingly Left Hanging By Hornets Rookie Mark Williams During Recent Game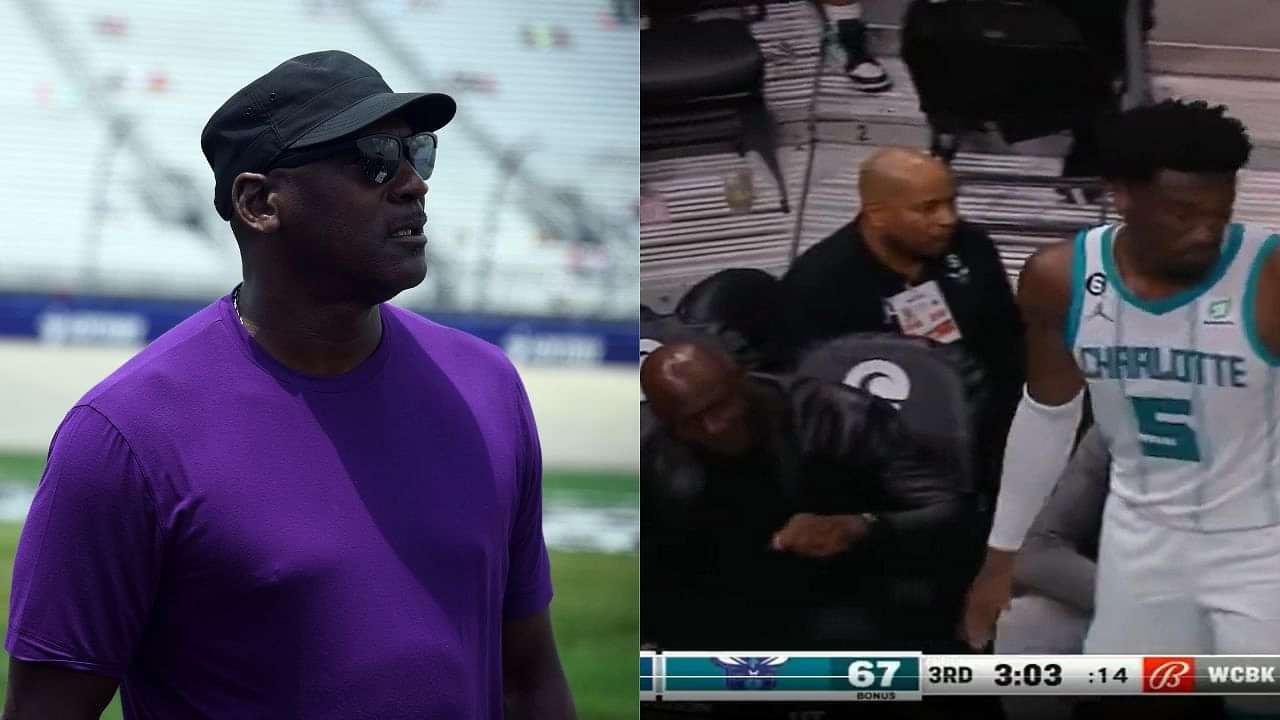 Michael Jordan is most famous for being the greatest basketball player to ever live. But nowadays his identity isn't quite that anymore. No, today he is popularly known as arguably the worst team owner in the NBA. However, things are starting to change.
First, you have the drafting of LaMelo Ball to kickstart the revolution. Arguably the best player in the 2020 NBA draft class, when healthy, he ascends to an All-Star level already.
After he was drafted, what the Hornets needed the most, was a big man he could be paired with. And fortunately for Charlotte, they recently drafted Mark Williams, someone so good, he has fans dancing even amidst LaMelo Ball's freak injury.
As team owner, Michael Jordan was bound to join the fun at some point. And so, he decided to show up to the most recent Hornets' game… only to be the victim of a hilariously embarrassing incident.
Also Read: When Is Zion Coming Back? Is Zion Williamson Injured?
Mark Williams did not care for Michael Jordan's fist bump
For most hoopers around the world, even the chance to meet Michael Jordan would be beyond unimaginable. But, that just isn't the case with Mark Williams. After all, he does play for his team. So chances are, he is already pretty chummy with His Airness.
So, when the man was offered a fist bump by the Bulls legend, he was probably pretty relaxed. In fact, as it turns out, he was so relaxed that he forgot to do it completely. Take a look at it all go down in the clip in the tweet below.
Loading embed tweet https://twitter.com/hoops_bot/status/1631842513966477312?ref_src=twsrc%5Etfw
Of course, he goes back for that fist bump. After all, no matter how relaxed he may have been, this is still Michael Jordan. And quite simply, if you're a hooper, you never leave the GOAT hanging.
What is Mark Williams averaging this season?
After 33 games played, Mark Williams is averaging 8.2 points, 6.3 rebounds, 0.4 assists, 0.7 steals, and 1.2 blocks per game.
The man is also shooting 63.4% from the field, and 72.5% from the free-throw line.
Also Read: WATCH: Julius Randle Knocks Down Off-Balance Game Winner Over Heat, Gets 'Double BANG' From Mike Breen
---