"We didn't give a f*ck about LeBron James": Kevin Garnett's claims of not fearing former Cavaliers star didn't fit with his teammate's revelation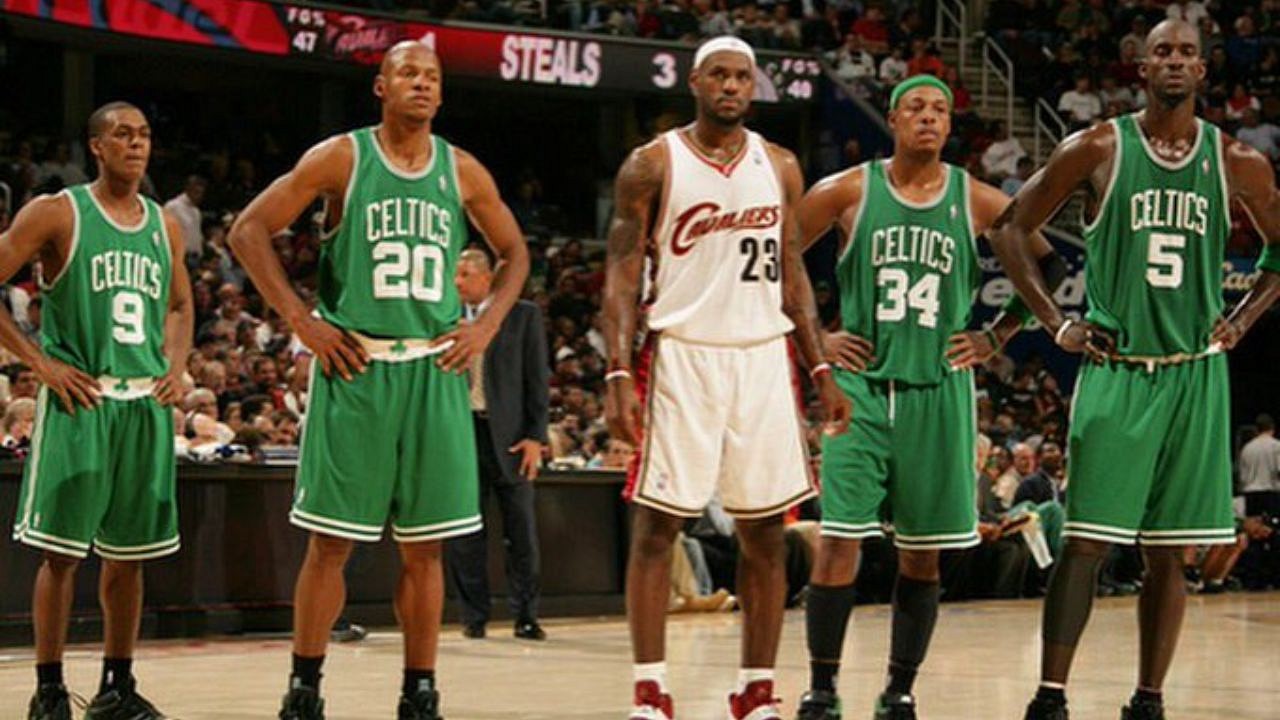 Kevin Garnett, undoubtedly, is one of the greatest players to ever play the game of basketball. Although he just won one championship in one of the longest NBA careers, his dominance along with the skills he had for a big man, made him an elite power forward. His rivalries with Tim Duncan, Kobe Bryant, and LeBron James are some of the fondest memories of the 2000s.
The 6ft 11' Wolves juggernaut had several layers to his court presence and talking trash was also a big part of how he went about his business. Arguably the best trash-talker in the game, The Big Ticket still holds no bar whenever he speaks.
However, he should have, when he was reminiscing about LeBron James' revenge tour in 2008.
Also read: After 1000 Games, LeBron James Revealed the 'Secret' Behind Dropping his Iconic Headband From Cleveland
"We didn't fear LeBron James": Kevin Garnett
The Boston Celtics of the late 2000s had multiple high-intensity rivalries in the NBA, with Kevin Garnett being the centripetal force and LeBron James' Cleveland Cavaliers being one of the teams that KG and the star-studded team loved to beat.
James was trying to win his first championship with his hometown team at the time, and Garnett and Co. had stopped him from doing it in 2008. It was deemed to be James' revenge tour after the loss in the 2007 Finals against the San Antonio Spurs.
But Cs defeated the Cavs 4-3 in the semi-finals and went on to win the championship in 2008. They met again in the 2010 postseason and the young King who was 25 years old at the time with an old Shaquille O'Neal took on Garnett, Paul Pierce, Ray Allen, and Rajon Rondo all in their primes or just at the near end of it. James lost again.
And as per KG, none of his teammates feared James, "we didn't give a f*ck about LeBron," were his exact words. Here, it's in the following embed from a Bill Simmons podcast episode back in the day.
"We didn't fear LeBron" were his words, right?
Also read: "LeBron James Isn't Playing? Michael Jordan Played 82 Games 9 Times!": Skip Bayless Mocks Lakers Star for Missing Game With Ankle Soreness
The reality of it
Kendrick Perkins was also the "We" KG was talking about. As fruitless as his career was after his Celtics tenure, Big Perk was a solid player for Cs who helped them win the 08 championships and be one of the best teams in the league for that period of 3–4 years.
"I got a confession… We played the Cleveland Cavaliers in 2008 and it was a Game 7 right? We had just lost Game 6 and I ain't gonna lie, man, I was scared as hell going into that Game 7 against LeBron James," Perkins revealed on Old Man and The Three Podcast. "This was the only time that I actually prayed that something happened to him at practice… I was like, let us get breaking news that LeBron has tore his ACL or something."
We all know The Big Ticket says stuff with much more ferocity than he actually means it. Even KG's own statement, "he couldn't beat five of us" was unintentionally a testament to how an entire team had to deal with a problem of that stature, not just a player.
Also read: Despite Being LeBron James' Son, Bronny James Has An Entirely Different NBA Comparison
---
Share this article