Who Has Scored The Most Points In An NBA Game At 38 Y/o Amidst LeBron James' 47 Point Explosion?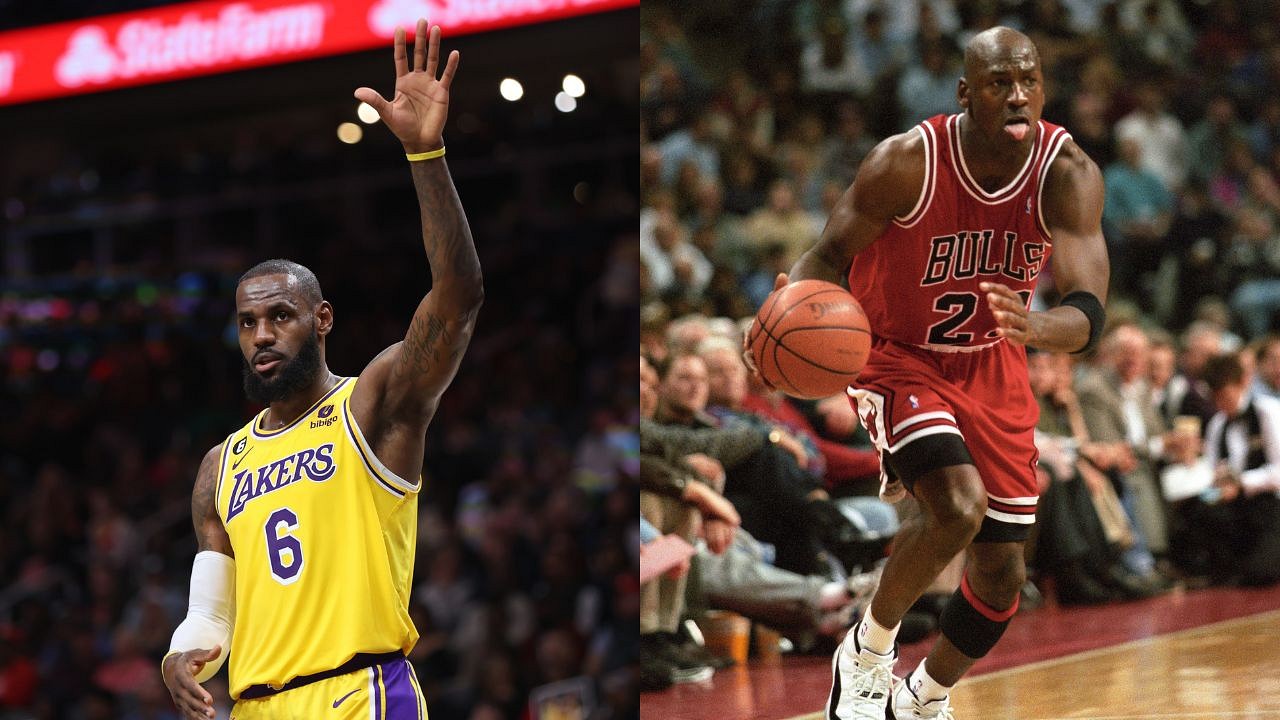 LeBron James has been proving to the entire world for years on end now that 'Father Time' simply cannot slow him down. In the midst of his 20th year in the NBA, the Lakers superstar even marketed his newest 'LeBron 20' sneakers with Nike with the concept of him going up against 'Father Time' (Jason Momoa) and actually winning. 
This 20th season of LeBron's has been quite the whirlwind however as the Los Angeles Lakers continue to fight for play-in spot in the Western Conference as they're 15-21 coming off of tonight. Of course, with Anthony Davis out due to a bone spur, it has been James who has been carrying a significant portion of the load for his team. 
He's currently averaging 27.8 points on near 50% shooting from the field. What makes this even more incredible is the fact that he turned 38 years old today and carried the purple and gold to a victory over the Atlanta Hawks.
Also read: 25-year-old LeBron James Once Dropped 48 on his Birthday, Trails Only Shaquille O'Neal and Dominque Wilkins on This "Special" List
Did LeBron James break Michael Jordan's record?
LeBron James waltzed into State Farm Arena tonight on his 38th birthday and decided he needed to give Trae Young and company a little taste of what opposing defenses have been struggling to contain for the past 2 decades. 
James dropped a whopping 47 points on the Hawks tonight while also grabbing 10 rebounds and dishing out 9 assists. He took over in the clutch with and-1s at the rim, 3s off the wing, and turnaround baseline fadeaways. He also had some much needed assistance from the likes of Russell Westbrook and Dennis Schroder.
47 points on 38 years.

LeBron. James. 🎂 pic.twitter.com/XR3mOEnWIA

— Los Angeles Lakers (@Lakers) December 31, 2022
However, with those 47 points, did LeBron James pass Michael Jordan? No, he did not. Michael Jordan's 51 points at age 38 and 315 days while with the Washington Wizards against Charlotte is the highest mark hit by 38 y/o. 
Michael Jordan dominated at 38 years of age before injury
A closer look at the leaders atop the 'most points in a single game at age 38' will reveal that Michael Jordan was scoring incredibly well in the beginning of the 2001-02 for the Wizards. He dropped 51 points on December 29th, 2001 and the proceeded to drop 45 points the very next game on New Year's Eve. 
Looks like the last few days of the year are meant for 38 year olds to dominate. Jordan would however, have to slow down as he suffered a knee injury that allowed him to play merely 60 games in the 2002 season. He would retire from professional basketball altogether at age 40.
Also read: LeBron James' Son, Bronny James is Channeling "Genetics" As He Shoots 76% FG With 0 Turnovers!
---
Share this article