"You can get education anywhere, but playing time is the No. 1": Charles Barkley Reveals Mentality Behind Selecting Auburn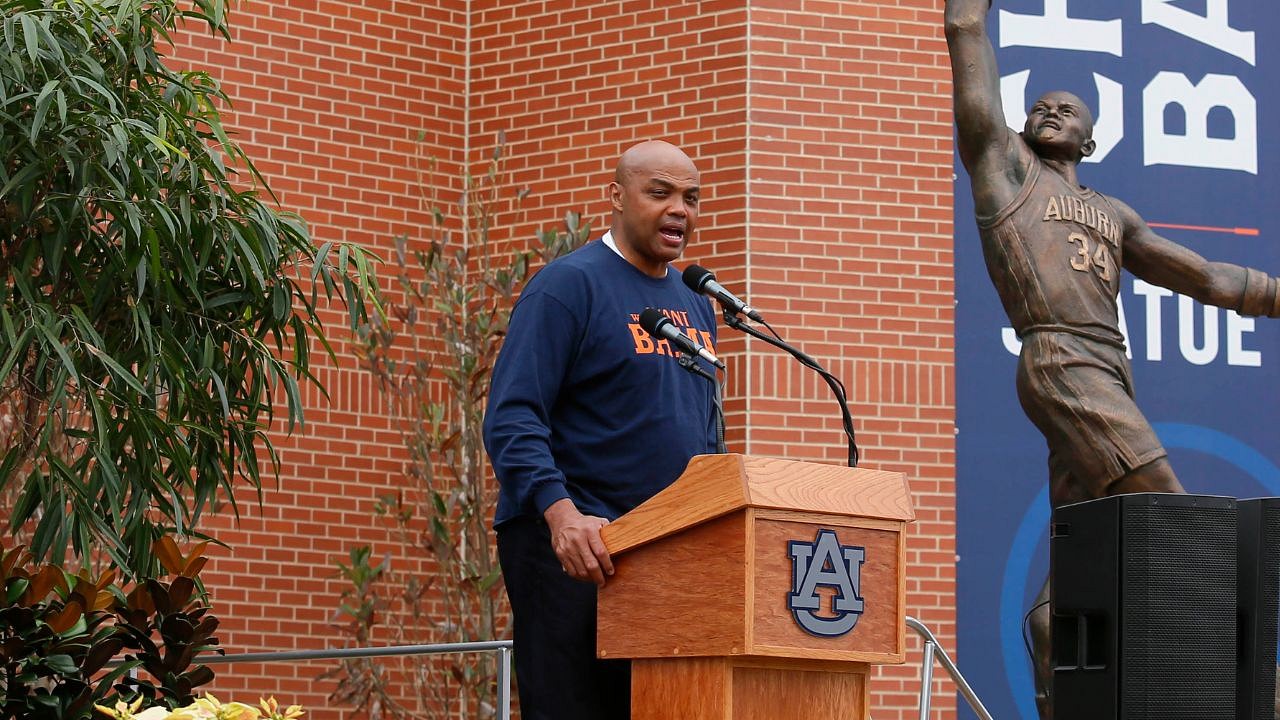 Charles Barkley is one of the best undersized big men in the history of the league. Standing at 6-foot-6 and weighing north of the 250-pound mark, the Round Mound of Rebound managed to assert his dominance on both ends of the floor.
Despite never winning a championship, Sir Charles is considered as one of the game's greatest. An 11-time All-Star, 11-time All-NBA member, the 1993 MVP, and a Hall-Of-Famer, Barkley was simply unstoppable throughout his 16-year career.
Also Read: Shaquille O'Neal Channels Inner Gladiator After Taking Down Charles Barkley in 'Peanut Butter Tic-Tac-Toe'
Long before the Chuckster established himself as a star in the NBA, during his Auburn days, the forward was dominating the college basketball circuit.
Charles Barkley picked Auburn merely for playing time
Before declaring for the 1984 NBA Draft, Charles spent 3 years playing for the Auburn Tigers. In that period, Barkley averaged 14.1 points, 9.6 rebounds, and 1.7 blocks per game while shooting the ball at 62.6% from the field.
Having won several accolades during his time with the Alabama-based university, Charles' had a successful stint. However, a player of his calibre playing for a team like the Tigers came as a shock to many.
Recently, during the ESPN broadcast of the West Virginia-Auburn clash, the Philly legend revealed the reason behind choosing Auburn. While giving advice to the future generation of players, the NBA icon stated that playing time was the number 1 priority.
"They (Auburn) sucked, to be honest with you," Barkley said. "I tell all of these kids if you want an education, you get an education anywhere. But the No. 1 thing you look at if you're going to a school is playing time."
"Auburn turned into the best decision ever": Barkley
Apart from giving his two cents on the "stupid a** transfer portal", Barkley also explained the reason behind choosing playing time over going to a more prestigious university. Regarding going to Auburn as the "best decision ever", the 59-year-old said:
"With this stupid ass transfer portal we've got going on in America today … you knew that quarterback or the guy was good, why would you go to the school when you know there's a great player already there?" Barkley asked. "… I was looking at Alabama, Auburn, UAB—UAB was my first choice. Then I looked at Alabama. When I went to Auburn, they weren't very good, and I wanted to play. It turned into the best decision ever."
Without a doubt, Charles Barkley is one of the biggest stars in Auburn history. And a huge reason behind the program's progress needs to be credited to the current TNT analyst.
Also Read: Shaquille O'Neal Left Breathless After Kenny Smith Racy Joke About Little Henry
---