"Are You Not Entertained?!": Shaquille O'Neal Channels Inner Gladiator After Taking Down Charles Barkley in 'Peanut Butter Tic-Tac-Toe'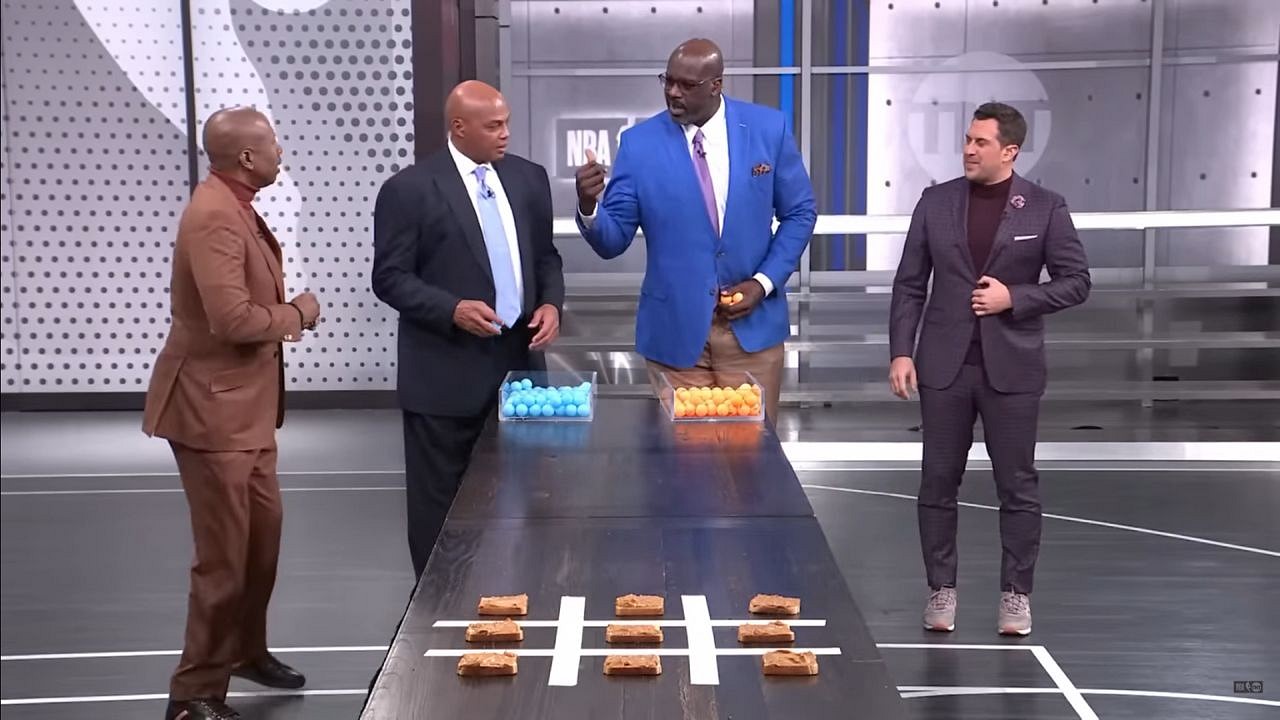 Inside the NBA is probably the undisputed GOAT basketball talk show on National TV. The crew consisting of Shaquille O'Neal, Charles Barkley, Ernie Johnson, and Kenny Smith perfectly combines knowledge and fun. There is a reason the show has been on-air since 1989. Charles Barkley joined the show in 2000, and Shaq became a part of the crew in 2011.
The cast talks about what's happening in the current-day NBA and discuss various aspects related to the game and the season. They do not only focus on basketball, though. The gang believes in having their share of fun, and often, it's Shaq and Chuck going at each other.
Last night was no different. The 7ft 1″ big man went head to head with the Round Mound of Rebound for an engaging game of Peanut Butter Tic-Tac-Toe.
Also Read: NBA All-Star Snubs: Who Are 2023 Salt Lake City NBA All-Star Game's Biggest Snubs From Starting Berths?
Shaquille O'Neal went 'Gladiator' mode after beating Charles Barkley
Shaq and Charles Barkley are two competitive men, who went after each other on the basketball court and now do the same inside the TNT studios. Recently, they put their energies together for an intense game of Tic-Tac-Toe. However, there was a twist.
Playing an intense iteration of beer-pong and tic-tac-toe, Shaq ended up beating Chuck, making three in a row.
Chuck was on the move after @SHAQ came up clutch in peanut butter tic-tac-toe 🤣 pic.twitter.com/jJUUlqiJjl

— NBA on TNT (@NBAonTNT) January 27, 2023
After winning it all, Shaq could be seen celebrating and yelling, "Are you not entertained?"
This was clear reference to the 2000 movie, Gladiator.
It was indeed an entertaining effort on both their parts, but Shaq was just better. This comes right after Chuck tried taking out Shaq's knee playing soccer on the set.
Also Read: "Julius Randle & Jalen Brunson Were the Better Duo in Garden": Former Celtic Takes Shot at Jayson Tatum & Jaylen Brown After Knicks Loss
Charles Barkley had an issue with Zion Williamson as an All-Star starter
The crew announced the All-Star captains and starters ahead of the Double header on TNT tonight. LeBron James and Giannis Antetokounmpo were selected as the Captains. From the East, the other starters are Jayson Tatum, Kevin Durant, Kyrie Irving, and Donovan Mitchell.
From the West, the other starters are Stephen Curry, Luka Doncic, Nikola Jokic, and Zion Williamson.
While the other names don't surprise anyone, seeing Zion as a starter was sure something not many would have predicted. Chuck surely let his emotions be known. He named Sabonis or Markkanen.
"I would have went with Sabonis or Markkanen"

Chuck reacts to Zion being named a #NBAAllStar starter pic.twitter.com/WDPJFx4hOO

— NBA on TNT (@NBAonTNT) January 27, 2023
Frankly, seeing how the Pelicans were the top team in the West when Zion was healthy, his impact was clear. It comes as no surprise that his hard work was recognized with this honor.
Also Read: "Michael Jordan Signed His Name as Mychal Jordan": How Lakers Legend's Brother Convinced Adam Silver to Film Chicago Bulls in 97-98 For The Last Dance
---
Share this article