""Your 'smile' says you love those slides so much": Steph Curry Mocks Warriors Teammate Andrew Wiggins For His "Enthusiastic" Slides Promotion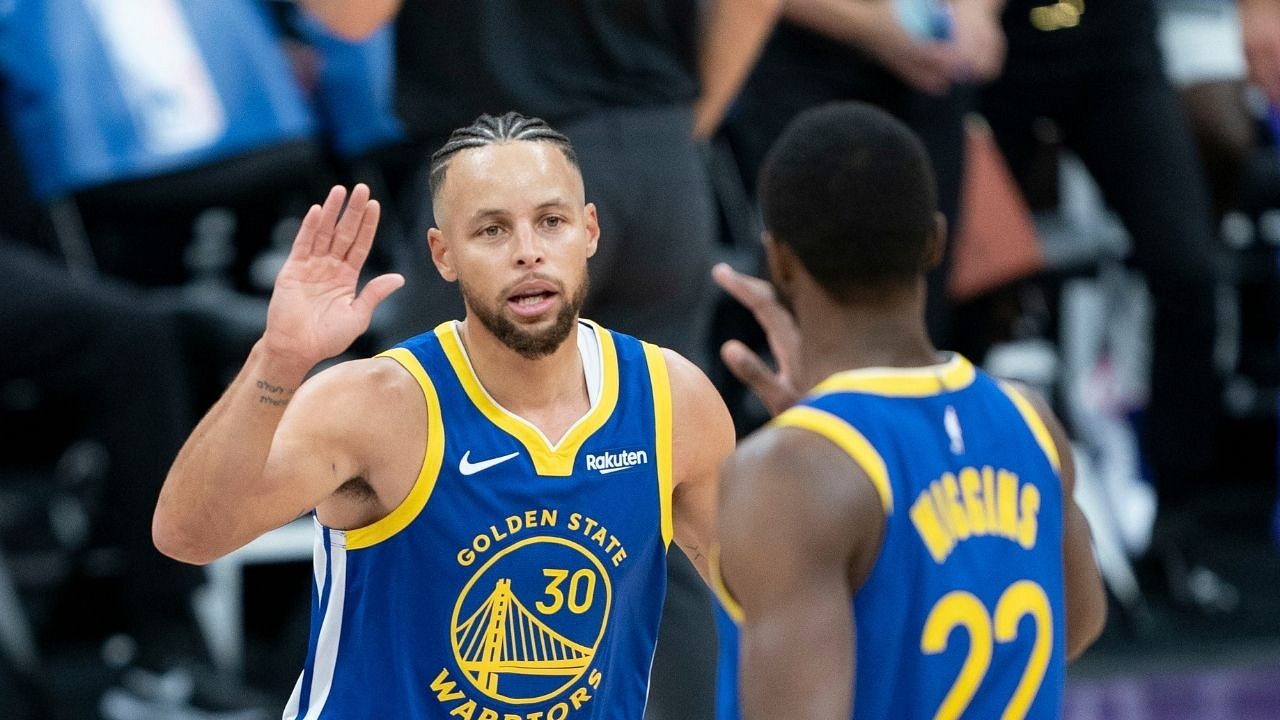 Steph Curry may not be having fun on the basketball court anymore, but that doesn't mean Curry isn't finding ways to have fun with his teammates.
Andrew Wiggins posted a promotional feature on his Instagram page for a pair of Taichi slides for men and women. His smile was the subject of interest for Steph Curry:
 

View this post on Instagram

 
From Wiggins' post, you can see why Chef Curry had to mess around with his Warriors teammate a little bit. That smile is not at all the kind you're going for when trying to market a product.
Also Read: "Chris Paul doesn't see us or feel us": Mike Malone blasts his perimeter defenders for allowing CP3 to dice up the Nuggets' defense in Suns' Game 2 win
Steph Curry Calls Out Andrew Wiggins' Fake Smile
In all fairness to Andrew Wiggins, those slides do look comfortable. The way he promoted it? Well, that could be worked on. Curry had to point it out for everyone liking Wiggins' post:
Yep, there's your typical Steph Curry antic during the offseason. The Warriors superstar is enjoying his offseason after a historic season with the Warriors. Curry improved upon every statistical measure in the 2020-21 campaign, averaging a blistering 32.3 points per game (career high) and 5.3 threes made per game (another career high).
Unfortunately, his heroics weren't enough for Golden State as they lost two straight play-in games to miss the playoffs. Curry was often a one-man-show for the Warriors this season. Missing Klay Thompson once more, the Chef had to take up the brunt of the offensive burden.
Andrew Wiggins was brought in to be an effective two way player for the Warriors, but he's struggled to stay healthy too. Nevertheless, his scoring boost has been key for the Warriors at times. However, just the two of them clearly aren't enough.
The Warriors had one of the best offensive ratings in the NBA when Curry was on the floor, but that would drop to dead last when he went to the bench to rest.
Hopefully, as Klay Thompson returns the Warriors make it back to the playoffs. Injuries have cursed this team enough, and it's about time we see the Splash Brothers return.
Also Read: "I Know I Didn't Quit": Nikola Jokic Fires Back At Denver Nuggets Coach Mike Malone Saying "I Felt We Quit Tonight" After Ugly Blowout Loss In Game 2
---
Share this article