"You're Special, Magic Johnson": $620 Million Worth Lakers Star's High School Coach Predicted Larry Bird Becoming His Rival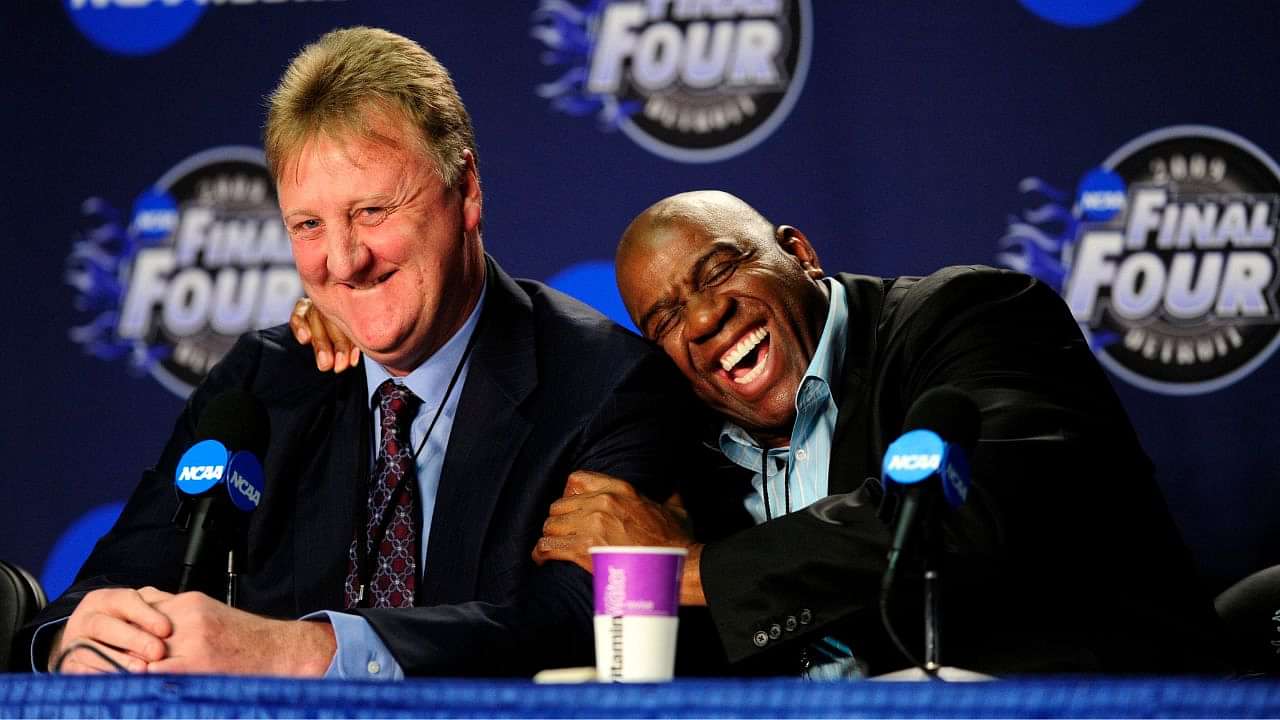 To be special is to deliver on the biggest stage under the brightest lights. And if there is one man who could claim to be special in that sense from day one, he is Magic Johnson.
Magic, the spearhead of the greatest show on basketball – "Showtime", was the Finals MVP in his first-ever season in the league. That too, with the glitziest franchise in NBA history. No lights were clearly bright enough for the stardom around Johnson.
Also read: "You Can't Beat, What You Can't Catch": 6ft 9′ Larry Bird Once Revealed 1981 FMVPs' Take On Showtime Lakers
His iconic first NBA Finals run wasn't even Magic's first display of excellence in front of the entire basketball fraternity. Johnson's 1978-79 NCAA Championship face-off against eternal rival Bird was the event of the year and his Michigan State team destroyed them.
With that, Magic, who is now worth $620 million, had truly arrived on the world stage even before his NBA debut. And with his supreme abilities, it was no secret to the ones around him from a young age that the boy was destined for greatness. Johnson was built for the big moments.
Earvin's High School Coach George Fox was one such person. And Fox, while being aware of Johnson's prodigious talent, made sure to remind him to stay rooted.
What did George Fox's advice to a young Magic Johnson?
A talent like Magic, with all his confidence, didn't need much validation. However, coach Fox made sure he did give his student his flowers.
"You're special, Earvin, but you can't stop working hard. Just remember—there's someone out there who is just as talented as you are, and he's working just as hard. Maybe even harder" said Fox to young Johnson.
Magic, however, did not buy into his coach's advice as easily. This was because he doubted there was anyone who had the talent and the work ethic to be better than him. And then, he met his match.
"When Coach Fox told me those things, I'd nod my head, but in my mind I was thinking, "I'd like to meet this guy, because I haven't seen him." Truthfully? I wasn't sure anybody like that existed. That changed the day in 1978 when I walked into a gym in Lexington, Kentucky, and met Larry Bird for the first time. Then I knew he was the guy Coach Fox was talking about. Larry was a different kind of cat. He didn't say much, and he kept to himself. But, oh, could he play" said Magic Johnson of his first meeting with Larry Bird."
Bird and Johnson would forever be interlinked in NBA lore. They formed the perfect storyline rivalry to lead the NBA into a new era of worldwide popularity.
And that chance meeting, coupled with Fox's advice, was all the inspiration Johnson needed. An extremely successful career followed, concurrently fueled by none other than Bird's magic itself.
How did Magic describe his first interaction and chemistry with Larry Legend?
After seeing the talented rival, Johnson was quite impressed. He had finally met his match. Their geniuses were extremely complementary too, it would appear, from Magic's revelations.
"I had never seen a player with his size pass the ball the way he did. Right away, we had chemistry. We played on the second team with a bunch of college All-Stars, and we just embarrassed the starters" described Johnson of his first meeting with Bird.
One can only imagine a high-school duo of Magic and Bird teaming up to embarrass talented high-school colleagues. As rivalry brewed, so did their friendship, and it probably stemmed from the chemistry of their first match together.
Also read: "Get Some F**king Rest": 6ft 9″ Larry Bird Bullied College Kids After Teaming Up With Rival Magic Johnson
---