"Jalen Suggs Had Football Skills Too" Gonzaga Final Four Buzzer Beater Star Could Have Been In The NFL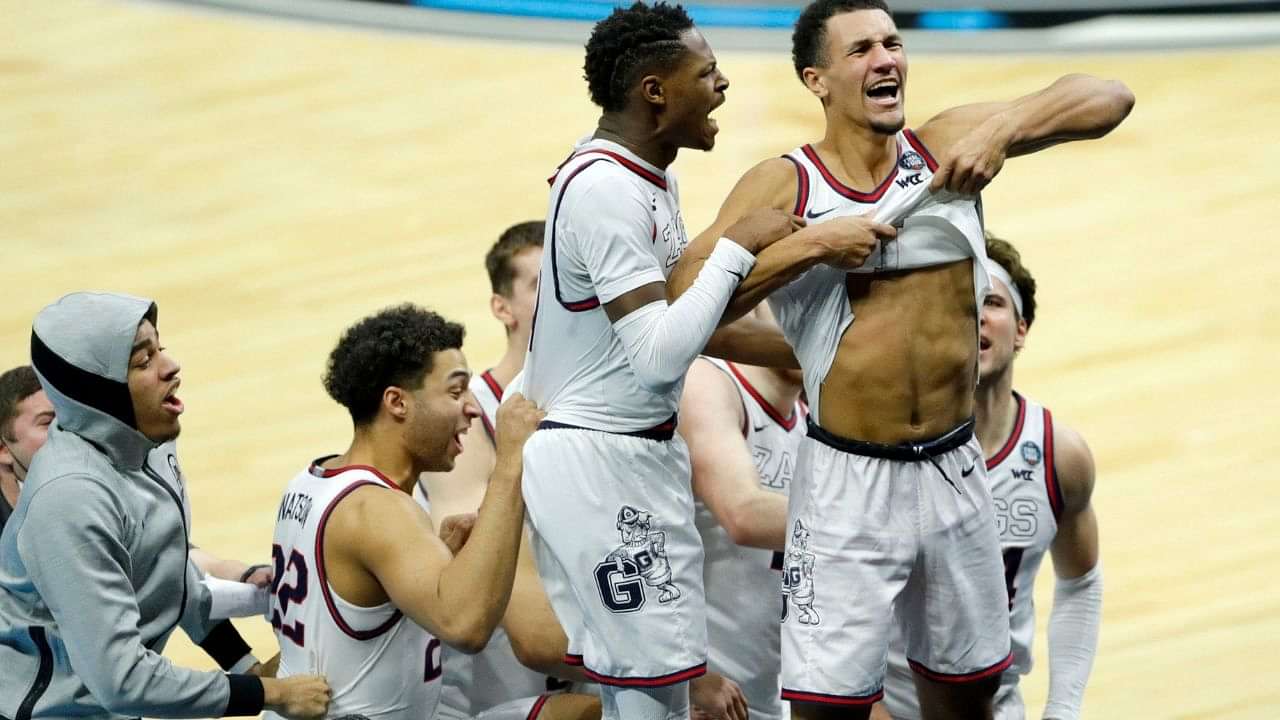 Jalen Suggs is all over the internet right now for his crazy buzzer beater. However, Suggs may never have been in that position if he chose to continue with football.
Suggs was reportedly a star player in high school. In the state of Minnesota, Suggs was ranked as the fifth best prospect, and he had some offers from top College Football Teams as well.
Loading embed tweet https://twitter.com/SportsCenter/status/1378707699890855942?ref_src=twsrc%5Etfw
Just from the tape there, it's clear to see that Suggs had talent when it came to the Gridiron. Who knows, maybe if he had continued with football, he would have been throwing the game winning touchdown in the College Football Playoffs, instead of draining an insane buzzer beater in the Final Four of March Madness.
Also Read: "I believe Jimmy Garoppolo will be our quarterback": San Francisco 49ers RB Raheem Mostert believes Jimmy G will be his QB in 2021
Jalen Suggs High School Football Career
Suggs played quarterback for the Minnehaha Academy in high school at Minneapolis, Minnesota. Suggs was a member of the varsity squad back in the day.
In the 2018-19 season, Suggs averaged 157.8 yards per game as he threw 12 touchdowns to six interceptions. He also ran for an additional 604 yards on 99 carries.
Sugg's defining moment on the field came during 2018 Minnesota football state championship game. In that game, Suggs would take a snap inside the opponent's red-zone, at the 11 yard line. He dashed quickly to the right side of the field before turning his body all the way across and slinging it to the left side.
His head coach, Chris Goodwin, was absolutely stunned by the play.
It's the most amazing throw. I can't even believe it when I see it now.
Playing safety as well, Suggs would then pick off a pass and return it 97 yards for a touchdown, turning a close game, into a blowout in a matter of two plays. His highlight reel from high school will wow you, and it's fair to wonder what kind of player Suggs would have been if he stuck with football.
Loading embed tweet https://twitter.com/BroBible/status/1376245587713134602?ref_src=twsrc%5Etfw
Of course, he's now a stud point guard for the Gonzaga men's team, so it's fair to say his decision worked out anyway, especially when you look at his buzzer beater in the Final Four Game against UCLA.
Jalen Suggs Buzzer Beater Over UCLA in March Madness Final Four
What a game. Double overtime looked like a certainty after UCLA's Johnny Juzang tied the game up with 3.3 seconds to go.
Suggs had other plans. Taking just three dribbles, Suggs sank one of the most incredible buzzer beaters in March Madness history to life no.1 Gonzaga over the Bruins.
Loading embed tweet https://twitter.com/CBSSports/status/1378545794182041601?ref_src=twsrc%5Etfw
Patrick Mahomes tweeted out his response after the shot, and it's safe to say that his Tweet echoed all of our thoughts.
Loading embed tweet https://twitter.com/PatrickMahomes/status/1378545724879671303?ref_src=twsrc%5Etfw
Also Read: "Don't let pro day numbers confuse y'all from what actually happens between them lines!": Penn State LB Micah Parsons Speaks Downplays the Importance of Pro Days
---