"Ray Lewis Was A Baptist Minister, Military General Rolled Into One": Shannon Sharpe Anoints Ravens Legend Over John Elway In Leadership Skills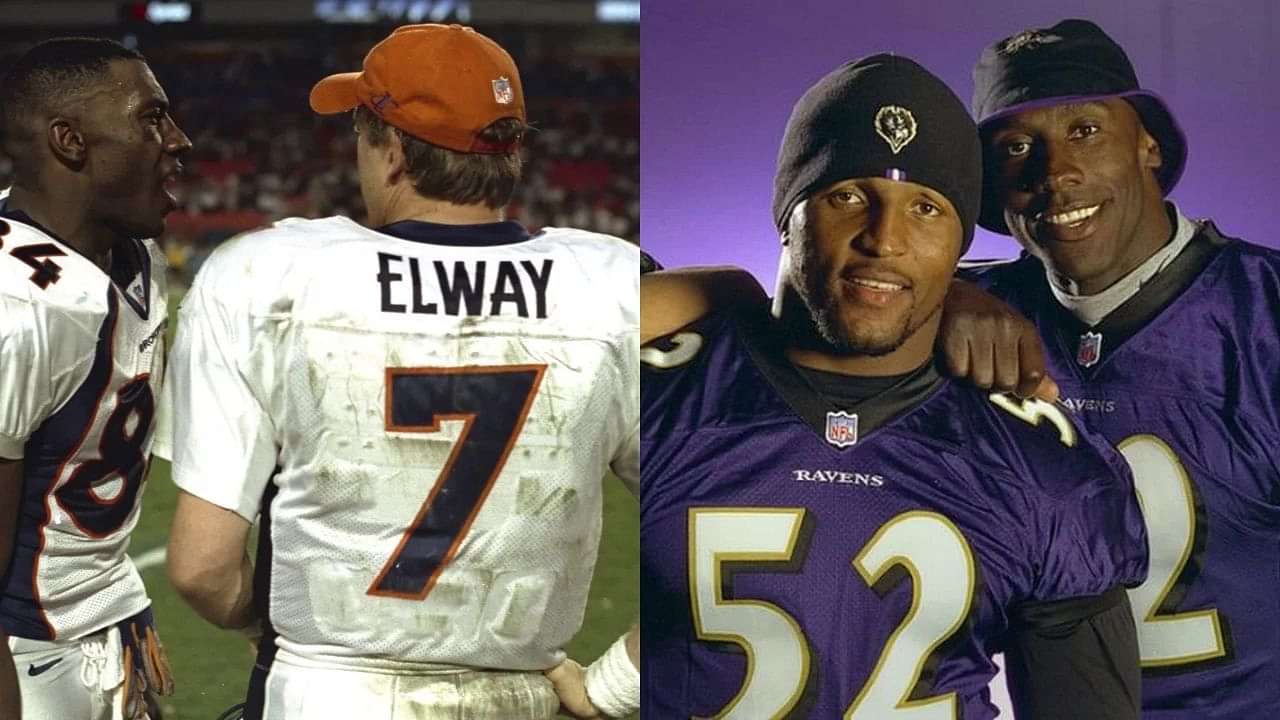 Shannon Sharpe was one of the game's greatest tight ends in his prime, but even he placed Ray Lewis over John Elway when it came to leadership.
Currently, Shannon Sharpe is the co-host of FS1's 'Undisputed' along with Skip Bayless forming the famous 'Skip and Shannon' talk-show.
However, in his youth, he was out there with some of the best players in NFL history, including former Broncos quarterback John Elway and former Ravens linebacker Ray Lewis. Sharpe had the opportunity of playing with both legends in his career, and he had an interesting take on the leadership abilities of both.
Loading embed tweet https://twitter.com/nflthrowback/status/1408772033794568192?ref_src=twsrc%5Etfw
Also Read: "Went From Travis Kelce To Ben Roethlisberger Real Quick": Chiefs TE Shaving His Beard Has NFL Fans Losing It As Wild Comments Run Rampant
Shannon Sharpe Places Ray Lewis Above John Elway In Leadership Abilities
Ray Lewis was one of the feistiest players to ever walk on an NFL field. From big hits to energetic and passionate speeches, Ray Lewis embodied the ultimate leader and competitor mindset.
Loading embed tweet https://twitter.com/brgridiron/status/1081978219698552832?ref_src=twsrc%5Etfw
Loading embed tweet https://twitter.com/NFLonCBS/status/1275077950170214401?ref_src=twsrc%5Etfw
That's exactly why Sharpe felt like Lewis was the ultimate leader over John Elway. Sharpe would compare Elway and Lewis saying,
"Obviously, Ray In the 100-year history [of the NFL], Ray might be one of the top two or three motivational, inspiring [players]. He'd have you wanting to run through a wall. He's very Baptist minister, military general, he's all those things rolled into one. He got you fired up. Sorry John, but Ray's got this one."
Elway was of course no slouch himself. He's one of the best quarterbacks in the history of the game, but Ray Lewis may definitely have him beat here.
Also Read: "Damn, Did Patrick Mahomes Just Throw Left-Handed!?": Even Eric Bieniemy Was Impressed By Chiefs QB's Insane Throw Whilst Facing Pressure From Von Miller
---