"Hoping to Get Aaron Rodgers": Rob Gronkowski Suggests Every Possible Theory While Addressing the 'Davante Adams-Las Vegas Raiders' Problem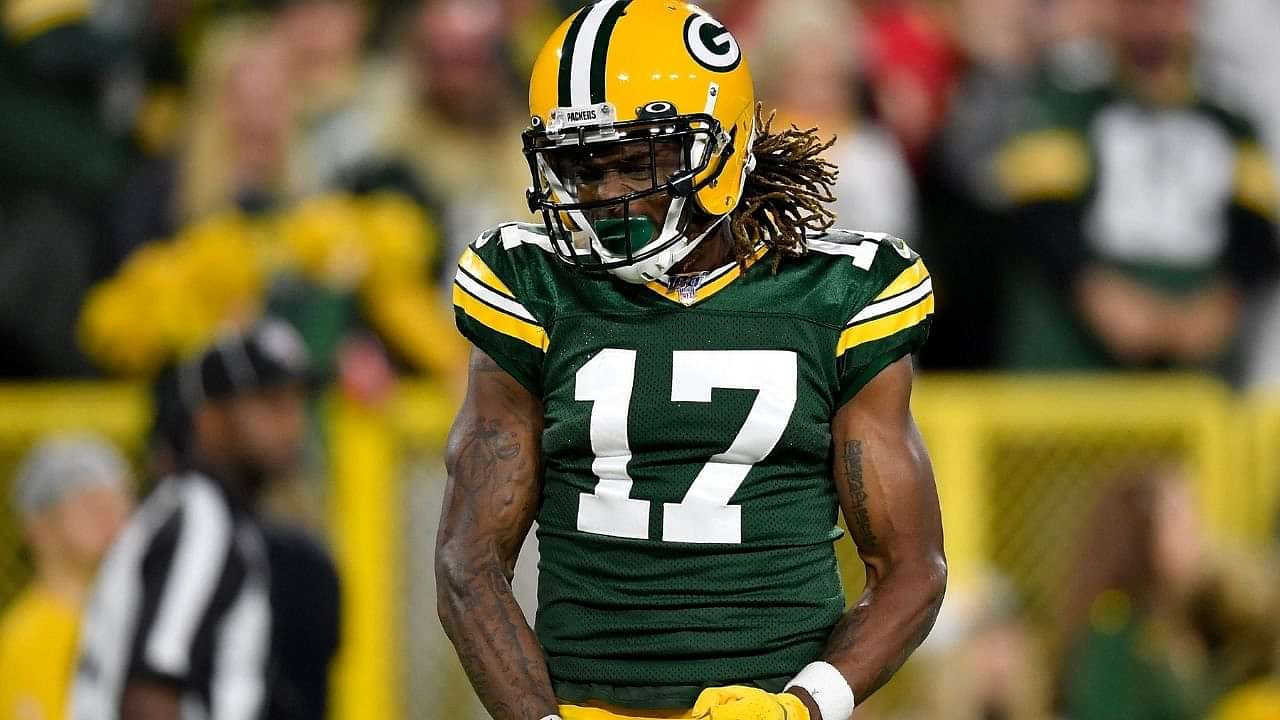 Davante Adams' All-Pro nod this year helped him proving to the whole wide world that he is a powerful wide out who can't be defined by a quarterback. Adams notoriously inked a deal with the Las Vegas Raiders during the 2022 offseason. He joined his former football pal, Derek Carr, and was eager to play WR for the new team. Although the 30-year-old's performance was as brilliant as it could've been, his team did not go too far in the competition. In fact, the team's officials ended up cutting Carr and adding Jimmy Garoppolo as the new starting quarterback.
Adams also famously revealed that he did not see "eye-to-eye" with the front office of Las Vegas. Many thought this was a troubling admission and even a sign that the star WR would leave the franchise. But since then, Adams has been trying to do damage control. In fact, he recently posted a friendly selfie with general manager, Dave Ziegler. However, many think that all is not well between Adams and the Raiders. Commenting on the same, former star TE Rob Gronkowski had a lot to say on Up & Adams.
Rob Gronkowski give his take on Raiders-Davante situation
Rob Gronkowski is now a regular guest at the Up & Adams show. In a recent appearance, the four-time Super Bowl winner talked about where the disconnect lied between the WR and his team.
Robbie G said, "There must be a little disconnect. I mean, I wouldn't say it's with the quarterback. I would just say it's kind of more with the front office. I mean, I am not sure what they promised him or told him from the beginning, but there definitely does seems a disconnect between…I would probably say he was expecting to be Derek Carr…and then once Carr left, he was probably hoping to get Aaron Rodgers as a Raider and that didn't fall through."
Loading embed tweet https://twitter.com/UpAndAdamsShow/status/1658871560097370112?ref_src=twsrc%5Etfw
Gronkowski continued by saying, "I am not really sure what this disconnect is about, if he's really mad that Jimmy G's there. I am sure, he's gonna be a great quarterback." Needless to say, Gronk went through as many theories as he possibly could in an attempt to dissect the whole fiasco.
Did Las Vegas Raiders lie to Davante Adams?
After hearing Gronkowski's thoughts, many fans wondered if the team lied to Adams when he initially signed a contract with them. Many also speculated if Adams only joined Raiders because of his good friend Derek Carr and as the team from Las Vegas ended up getting get rid of the QB, football lovers suggested that the WR must have felt cheated.
Loading embed tweet https://twitter.com/Raider19581/status/1659075809464799232?ref_src=twsrc%5Etfw
Loading embed tweet https://twitter.com/davethedeaddino/status/1659014318489325569?ref_src=twsrc%5Etfw
Loading embed tweet https://twitter.com/SpencerKramer9/status/1659014226600394756?ref_src=twsrc%5Etfw
It will be interesting to see what transpires further between the Raiders and the wide receiver, though many fans hope for them to come together and be on the same page, several others have a drastically different point of view on the same situation. Nevertheless, it is Davante Adams' goal to head to the Super Bowl with his new QB fans will expect him to deliver his absolute best alongside Jimmy G.
---