"No one is attacking you with coins or lighters here": Hawks sharpshooter Bogdan Bogdanovic reveals why playing in Europe is much tougher than in the NBA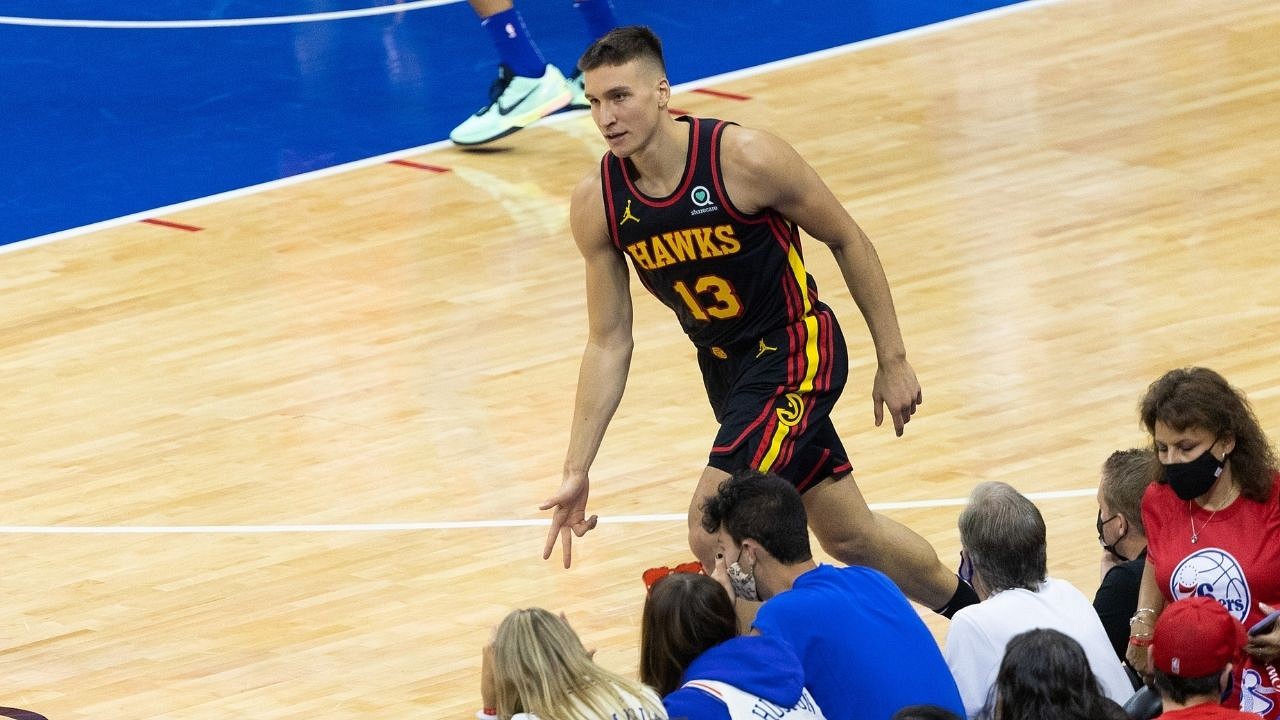 Atlanta Hawks shooting guard Bogdan Bogdanovic reveals why playing in Europe is a much tougher task than playing the NBA.
The NBA is not only a physical league but also is mentally taxing. Apart from playing at the highest stage against some of the world's best players, athletes also have to deal with the loud, intimidate and ruthless crowds.
We have seen on several occasions how certain fans get under the skin of players leading to many unfortunate circumstances. One of the most gruesome examples of a fan-player altercation was the infamous "Malice in the Palace".
Particularly this postseason, we have seen the Philly crowd being tough on the opposition. Trying to get into the heads of the Atlanta Hawks' players, especially targeting Trae Young.
Even though the audience at Philadelphia is known for being loud and intimidating, shooting guard Bogdan Bogdanovic was unaffected by all the boos he heard at the Wells Fargo Center and has had a pretty good first two games.
Also Read: When Max Kellerman unbelievably placed Giannis and Harden above the Nets superstar in NBA's top 5 players
Bogdan Bogdanovic reveals why it is easier to play in the NBA than the European environments
Before playing in the NBA, Bogdan did start his pro career as a young 20-year-old playing at the EuroLeague. European fans are pretty emotionally attached and way too passionate about their sports.
And these fans would go to any extent to help their team win. The Serbian star revealed the difference in environments in the NBA from European conditions:
"In the NBA, you're not getting hit with coins or lighters during the free throws, they're not gonna point lasers into your eyes. It's super tough to score a free throw then. Now I know I'm not in that type of environment, it's all confidence and mental [toughness]."
The 6-foot-6 Atlanta player isn't exaggerating. Tossing coins and lighters, getting attacked by lasers are only a few of the many ways the fans distract the visiting team with. Even though the NBA is a more physical and dominant league, the pressure at the EuroLeague is unparalleled.
Also Read: When Charles Barkley roasted Devin Booker's team management for terrible arena facilities in 2016
Though no such drastic incident has occurred in the league, this postseason, especially, fans haven't behaved their best. However, it is the part and parcel of the game. Some fans are always going to continue to be this wild. It is up to the players and how they decide to react to it.
---