Pro Wrestling League : Haryana Hammers continue winning spree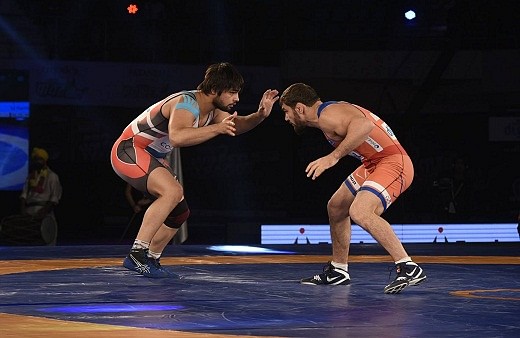 Haryana Hammers' amazing run continues
What a run it has been for the Haryana Hammers in this year's Pro Wrestling League. They defeat the Jaipur Ninjas 5-2 at the KD Jadhav Indoor Stadium in New Delhi on Saturday. They have now latched on to the top position in the standings. Read on!
Jaipur secured an early advantage by winning the toss and blocking the 65 kg men's category. Haryana, however returned the favour by blocking the 48 kg women's category. This made much fancied Jaipur star, Ritu Phogat to sit out of this tie.
Magomed, Jenny shine
The opening bout saw Russian wrestler Magomed Kurbanaliev lock horns with Vinod Kumar Omprakash. Haryana pocketed this bout with ease as Magomed swept away Vinod's challenge with amazing ease. He registered a comprehensive 12-0 win in the 70 kg men's category.
However, Jaipur's captain Jenny Fransson pulled one back. Forced to miss the previous match owing to a block, she appeared determined this time. She defeated Kiran 3-0 in the 75 kg women's category. The Rio bronze medalist strung a laudable effort not just in this bout but also in capacity of a skipper in place of the regular Elizbar Odikadze.
Match hangs in the balance 2-2
Haryana bounced back immediately with captain Abdusalam Gadisov returning the favour. He comprehensively won 18-2 against Jaipur's Rubaljit Singh Rangi by virtue of technical superiority. Rubaljit, replacing skipper Odikadze was no match to Gadisov, who extended his unbeaten run in this tournament.
The see-saw battle continued with Jaipur star wrestler Jakob Makarashvalli levelling the tie 2-2. He prevailed over Haryana's Sumit Sehrawat in the 74 kg men's category. The vastly experienced Georgian grappler effected a clear takedown to win 3-0 in this tie.
Haryana Hammers crush the Jaipur Ninjas; Win 5-2
Next, Haryana Hammers played their trump card by sending Rio bronze medalist Sofia Mattsson to the mat. She overpowered her opponent Betzabeth Arguello 11-2 in the 53 kg women's category as Haryana went 3-2 ahead.
The match was sealed in the penultimate bout when experienced Indian wrestler Sandeep Tomar won against Jaipur's Utkarsh Kale. Utkarsh, one of the finds of the tournament put up a valiant effort but Sandeep's veteran instincts eventually prevailed. He won 5-3 to notch up a Haryana Hammers victory.
Further, in the final inconsequential bout of the evening, Haryana's Marwa Amri prevailed over Jaipur's Pooja Dhanda. Marwa showed her dominance throughout the bout with a clinical display and a final score of 8-0 to boast of. Also, both the teams are through to the semi finals. So, do expect a encore in the closing stages!
---