Baba Ramdev defeats Olympic silver medallist Andrey Stadnik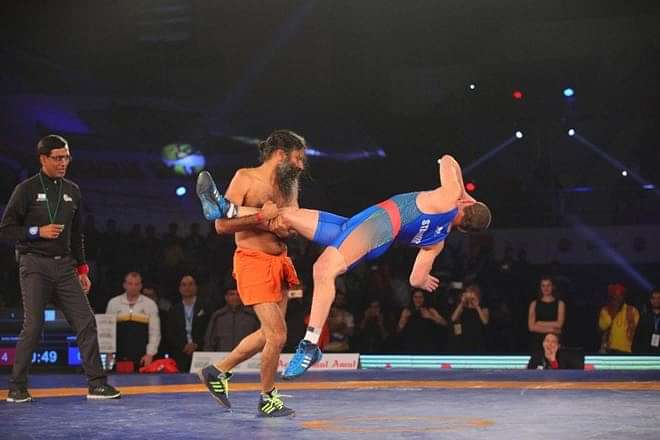 Wednesday's bout in the Pro Wrestling League saw the NCR Punjab Royals go through the finals. However, it was the yoga guru,entrepreneur and national icon Baba Ramdev who captured eyeballs of the nation. At the KD Jadhav Wrestling Hall in Delhi, Baba Ramdev defeated Olympic silver medallist Andrey Stadnik to drive the crowd crazy!
Baba Ramdev impresses one and all
Wrestling is a part of our culture and heritage. It has been played since the times of the Mahabharata and Ramayana," said Ramdev before the bout began. He recorded a 12-0 win against Andrey Stadnik impressing the people in attendance with his flexibility and power.
"I hope wrestling will become the world's biggest sport one day!" he said after the match. Also, in the perfect background for the upliftment of Indian wrestling, the Pro Wrestling League, he sounded very optimistic. "It is with sports such as wrestling that the youth of our country will become great. As a result, our country will become great."
Baba Ramdev claimed that he has wrestled national level wrestlers prior to appearing for this bout with Stadnik. He affirmed that the power of yoga stood him in good stead during these fights. Today, he was cheered raucously by the crowd with loud chants of 'Bharat Mata ki Jai' following the match.
About Andrey Stadnik
Andrey Stadnik, hailing from Ukraine won the silver medal at the 2008 Beijing Olympics in the men's 66kg category. He won the bout against eventual bronze medalist from India, Sushil Kumar. Since, Andrey went to the finals, Sushil got a chance in repechage to battle for the bronze medal. Sushil did not disappoint after that!
Review of the bout
In this friendly bout between the two, Baba Ramdev raced ahead within 30 seconds by effecting a takedown. It was clear that Stadnik was taking it easy but nothing to take away from Baba Ramdev's efforts. He kept on attacking and strangled his opponent with an attack on his right leg.
He kept on increasing his lead at regular intervals to finally end up with an impressive score of 12-0. The referee called off the bout with the clock at 2:27. Following this, both the grapplers embraced each other to draw this memorable encounter to a close.
---