PV Sindhu and Sakshi Felicitated in Kerala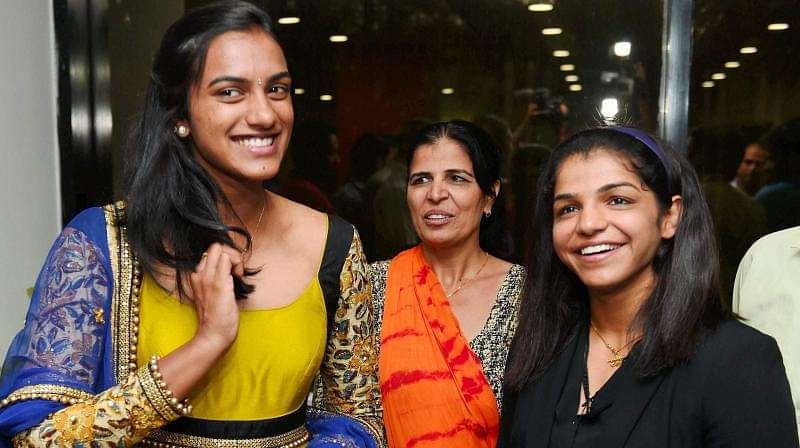 Rio Olympics medal winners PV Sindhu and Sakshi Malik were felicitated on Friday in Thiruvananthapuram. This was done in the presence of hundreds of girl students at a state run school. Their coaches Pullela Gopichand and Mandeep Singh were also honoured for their outstanding contribution in success of the rising stars. The event was jointly organised by the state Sports Council and Sports Directorate. To gain maximum traction, it was held at the Cotton Hill Higher Secondary School for Girls.
THE PRIZE :
A sum of 50 lakh and a memento was given to the Olympic Silver medalist, badminton ace PV Sindhu. In addition, ace wrestler Sakshi Malik was awarded a sum of 25 lakh for her remarkable feat. Both of them had brought laurels to India proud by winning a silver and a bronze medal respectively at Rio Olympics. The entire sum was sponsored by a private business group. Kerala Chief Minister Pinarayi Vijayan who was to attend the felicitation ceremony could not turn up due to personal "inconvenience". However Sports Council president TP Dasan and former sports minister M Vijayakumar were among the dignitaries present for the felicitation ceremony.
Gopichand and Mandeep Singh were given cash prize worth Rs 10 lakh and 5 lakh respectively in recognition of their efforts.During a brief address to the gathering PV Sindhu and Sakshi Malik thanked the organisers and said it was an inspiration for them to bring laurels for the country. The duo attracted huge cheers and applause from the hundreds of girl students who had gathered to see their role models.
Sindhu was all praise for the talent that Kerala produces on an yearly basis. She also appreciated the state government for encouraging young athletes to compete at the highest level.
Referring to the achievements of PV Sindhu and Sakshi at Rio, Gopichand said it was a real encouragement to every youngster. Especially the young girls in the country could look upto them and strive to pursue a fulfilling career in sport.  "Sports is not just about winning medals. It's only a part of it. The real value of sports is developing the character of human beings and building up a healthy nation," he said.
ANOTHER FELICITATION :
Rio Olympics bronze medalist Sakshi Malik was also honored by the GCC-based Shifa al Jazeera Medical Group. She was bestowed with a gold medal for her stupendous performance at the recenty concluded Rio Olympics. Freestyle wrestler Sakshi Malik created history by becoming the first Indian woman to win an Olympic medal in wrestling. She pulled off a sensational 8-5 victory to clinch the bronze in 58-kg category.
At a function held at Sakshi's house in Rohtak village of Haryana the super girl of India was awarded with 10 sovereigns worth of gold and certificate.
---