The rise and rise of brand Virat Kohli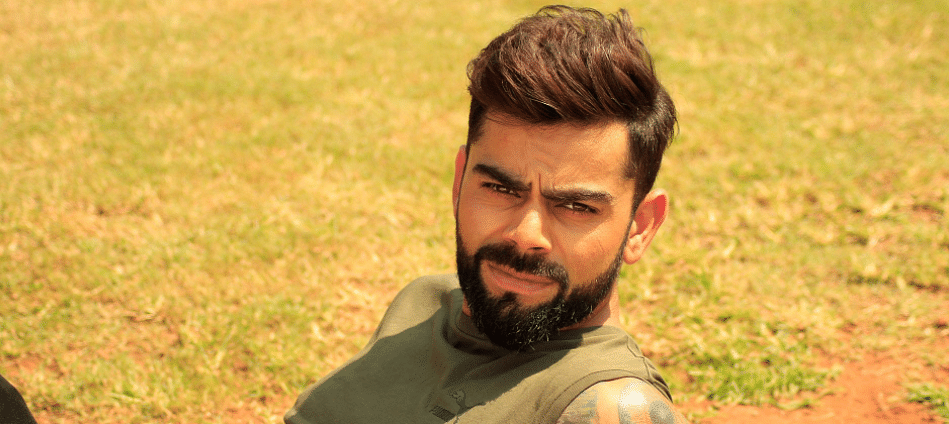 In a few months from now, Virat Kohli will mark ten years in international cricket, as the fresh faced boy who opened the innings for India way back in 2008, has now evolved in to the bearded skipper of the Indian national team.
Unquestionably the best batsman in world cricket today, Kohli seems destined to carve out a niche for himself as one of the greatest to ever wield a bat in our game.
It is only a matter of time before the Delhi batsman goes past Sachin Tendulkar's seemingly untouchable record of 49 ODI centuries, and could very well go past the Little Master's mythical 'hundred hundreds' at some point in the future.
But while there are many who have eulogized Kohli's on-field heroics, it is the Indian skipper's success off the field that truly sets him apart.
In December of 2017, Virat Kohli went past Shahrukh Khan to become the most valuable celebrity brand in the country, valued at USD 144 million and registering a growth of 56 per cent from last year.
It was an astonishing achievement, as Kohli went past someone who redefined the meaning of a brand since the turn of the century. But while movie stars have always been highly valued brands, athletes were never really considered to be so before David Beckham changed the game.
Beckham was the first ever sports star who became a superstar outside the sporting world. The legendary Englishman was a visionary in that sense, as he took it upon himself to transcend across all boundaries.
In 2002, Beckham's Manchester United contract had a 20,000 Pounds clause for image rights, something that was way ahead of his time. Tommy Hilfiger was extremely effusive in his praise for Beckham, as he once mentioned how David opened a door in fashion for sports fans which is until then inaccessible.
Beckham kick started this revolution, which was soon caught on by athletes from other parts of the world. While Nike, in collaboration with Micheal Jordan, launched the 'Air Jordan' shoes in 1984, it was not until the AJ XIV in 1997, that the shoes became a world wide phenomenon.
In India, Sachin Tendulkar ruled the market and was at the forefront of the rising consumer capitalism in the country. For almost a decade, the Little Master owned close to 84% of the sports market in India, and reigned supreme until the mid 2000s, i.e until MS Dhoni came in to town.
Brand Dhoni was the next huge wave in the Indian consumer market, as his remarkable on-field success led to his incredible off-field brand value. But neither Sachin nor Dhoni went out of their way to create a juggernaut that Kohli has achieved with his brand.
In 2012, Kohli was among the top-10 best dressed men worldwide, in a list that included the likes of Michael Fassbender , Ryan Gosling and Barack Obama. Kohli's fondness for style and fashion came just at the time when global fashion and apparel names started aggressively promoting themselves in India.
With Zara and H&M opening up first stores between 2010 and 2015, Kohli along with Anjana Reddy's Universal Sportsbiz (USPL), decided to launch his own apparel brand, Wrogn, catering to the urban youth of the country.
By the mid 2010's, Kohli quickly became aspirational for the urban youth of the nation.  Everything from his aggressive on-field demeanour to his fashion sense and tattoos, was picked up and copied by the youth of the nation.
"Brand Kohli has been steadily on the rise after the T20 event in 2012. This is obviously due to his on-field performance and, most notably, his best knocks that have come during tough chases," said Ramakrishnan R, director at sports marketing firm Baseline Ventures.
"This is also supplemented by his behavioural attributes on the field, making him a great brand package," said Ramakrishnan, whose company manages endorsements for India's Olympics medal-winning shuttler PV Sindhu.
According to TAM Media Research, Kohli's per day exposure was at 196 minutes across all television channels, promoting brands such as Colgate, TVS, Vicks, Clear Shampoo, Pepsi, Audi, Britannia, Lloyd and MRF.
More importantly, in 82% of these advertisements, Kohli was the solo star, which according to brand experts is a testament of the aggressive player's popularity and bankability.
There is no doubt that Kohli is sailing in uncharted waters right now, as the Indian skipper has already become the biggest sports star that India has ever seen.
Still only 29, Kohli has some way to go in his cricketing career, which means that he could very well end up there with Neymar Jr, Roger Federer and LeBron James as the biggest sports celebrity brands in the world.
---