VIDEO: Roger Federer, Tommy Haas and Grigor Dimitrov team up for another musical performance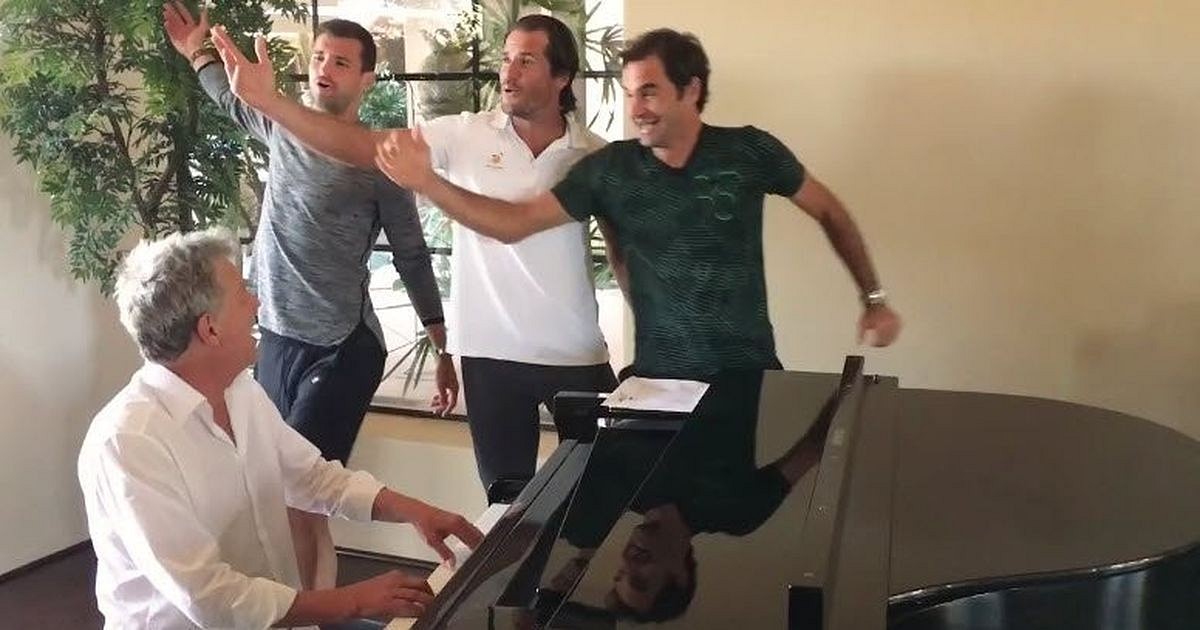 https://twitter.com/rogerfederer/status/842807550223548416
Roger Federer is taking his vocal skills a little too seriously. During the Australian Open, his 'boy band' consisting of Grigor Dimitrov, Tommy Haas and himself teamed up with David Foster(Haas's father in law) for a rendition of the Chicago's 1982 song 'Hard to say I am sorry'.
With that performance being full of errors(you can't really blame them), Federer and band wanted another shot at it, and David Foster, the lovely man that he is, agreed to accompany them once more.
The group got together for a second installment of Chicago's "Hard to Say I'm Sorry." And boy they have improved this time!
A lot of thought went into this second installment of 'Hard to say I'm sorry', as the trio had memorised the lyrics this time, there were voice enhancers in place and they had even opted for auto tuners.
Also Read: Top 5 WAGS of the Tennis world
But the best part of the video was indeed the 'VideoBomb' by none other than Novak Djokovic when he sings aloud 'I could never let you go…'
The band now call themselves the 'Backhand Boys', with the only explanation for this being that all three of them play the single handed backhand.
The trio look to cement their place as the best band on tour and seeing this significant improvement from last time and not much competition on tour, they can be rest assured that there's no one beating them on stage.
Roger Federer is currently competing in Indian Wells, where he he will be facing Jack Sock later tonight, in quest to react the finals. The comeback has been near perfect till now, minus the minor blip in Dubai, and Federer would love to cap off his Australian Open win with another title in Indian Wells. And with him being the last out of the Top 4 in the draw, he is definitely the favourite to clinch it.
---