Roy Keane and Jamie Carragher involve themselves in heated argument over Ole Solskjaer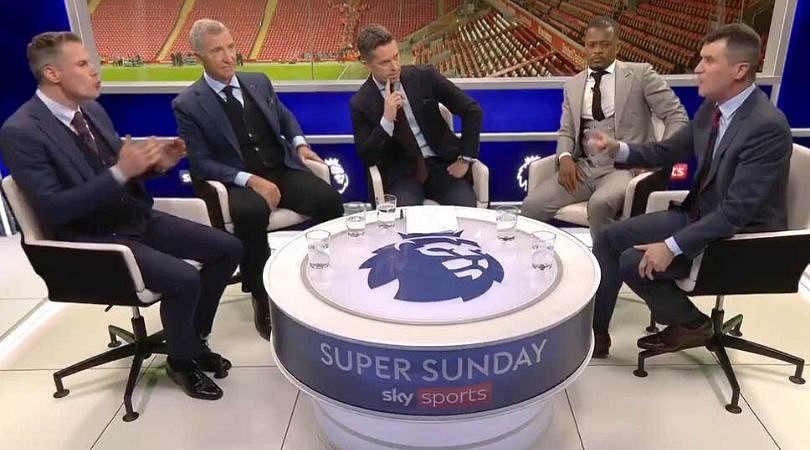 Roy Keane and Jamie Carragher involve themselves in a heated argument while discussing Ole Solskjaer post Liverpool Vs Manchester United.
Manchester United was convincingly beaten by their fierce rivals Liverpool last night, with the performance put on by the Reds, it can be easily said that England's fiercest rivalry was very one-sided.
Ole Solkskjaer once again came under the public scrutiny after losing to Liverpool. Even the Skysports panel was criticizing him except for Roy Keane, who asserted that Solskjaer should be given more time.
Jamie Carragher, who was speaking opposite of Keane got into a heated argument with the ex-Manchester United star.
"Give him time" Keane implored as he also discussed the fact that David Moyes, Louis van Gaal and Jose Mourinho had also not been given long enough to turn things around.
Whilst Carragher seemed to agree with the idea that Moyes' shouldn't have been sacked so soon into his six-year contract he did bafflingly ask if Keane would still want the Scotsman at Old Trafford now.
Watch the video
https://twitter.com/SkySportsPL/status/1218977727451140096?s=20
Related story: Liverpool vs Man Utd: Patrice Evra hilariously checks Graeme Sounnes drink after his VAR rant
The initial days of Solskjaer at Manchester United were promising and it seemed like the Red Devils have got their man after years of struggle.
Their incredible win in Paris, which saw them overcome a two-goal deficit against PSG in the Champions League, earned him the permanent role as manager.
Things quickly went downhill at the end of last season and, despite still being in with a shout of finishing in the top four this season, the form hasn't improved in the former Manchester United striker's first full term in charge of the club.
Several fans at the club have started advocating for his sacking from the club and if the things continue in the same fashion, then that day is not very far away.
---