Sergio Ramos-Reguilon fight: Ramos apologizes to youngster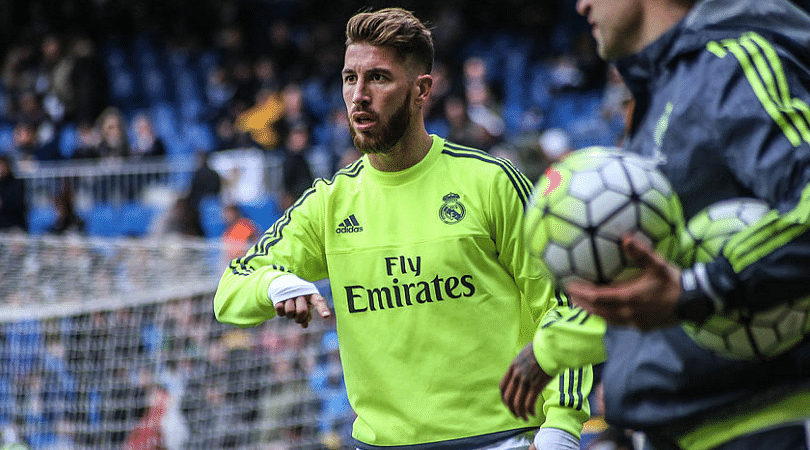 Sergio Ramos-Reguilon fight: The Real Madrid captain has apologized to Reguilon after booting the ball at the youngster during training session.
Real Madrid are going through a rough patch at the moment. The club is 7th in La Liga and suffered a stunning defeat at Santiago Bernabeu against Levante. Julen Lopetegui's side lost 2-1 to Levante in the Spanish top flight this weekend, which led to a drop by three positions in the La Liga table.
Julen Lopetegui's future is already under speculation, with some Spanish outlets claiming that the Spanish manager won't last at Real Madrid till the El Clasico. Lopetegui has admitted that he can't confirm if he'll stay by the weekend and his focus solely lies on the Champions League clash.
Things are also heating up among the players. In the press conference, Isco gave an irritated answer to a question about Cristiano Ronaldo, stating that they couldn't 'cry' over a player who didn't want to play for the club.
A video has surfaced on the internet now, where Sergio Ramos was seen kicking the ball at Real Madrid youngster Reguilon in frustration.
Sergio Ramos-Reguilon fight:
The shocking footage showed club captain booting the ball not once, but twice at Real Madrid's academy player Reguilon. He proceeds to wave his finger at the youngster. The youngster doesn't retaliate, but Real Madrid's senior player Luka Modric proceeded to calm Ramos down after the incident.
Here is the video from the incident:
While playing handball during training today, an over-excited Reguilon caught Sergio Ramos' nose with a flying shoulder. Not the behaviour you would expect to see from your captain and least of all towards a youngster pic.twitter.com/E8gE28AEwy

— Mootaz Chehade (@MHChehade) October 22, 2018

Many people on the social media alleged that the behaviour has been disappointing and frustration on a poor season has started to kick in among the Real Madrid players.
Sergio Ramos, however, was quick to apologize to Reguilon and took to Twitter to clarify the issue with the youngster. The Real Madrid captain admitted his mistake and said, "Although it may not seem like it, they are quite common situations, but it is not an excuse, my reaction should not have been that.
"We always go full, right, Regui? In the end team victory together."
Aunque no os lo parezca, son situaciones bastante habituales, pero no es excusa, mi reacción no debió ser esa.
Nosotros siempre vamos a full, ¿verdad, Regui? ¡¡Al final victoria del equipo juntos @sergio_regui!! 😜🤥😜🤥
Carpetazo 📂 y a por el partido de mañana.#HalaMadrid pic.twitter.com/PIFNFqV6mj

— Sergio Ramos (@SergioRamos) October 22, 2018

The Real Madrid youngster has accepted his apology as well, and insisted that he supports him.
"Always with my team and with my captain, for victory tomorrow," wrote Reguilon.
Siempre con mi equipo y con mi capitán, a por la victoria mañana! 💪🏻 https://t.co/Nddgmwd7ob

— Sergio Reguilón (@sergio_regui) October 22, 2018

What next?
Real Madrid will take on Viktoria Plzen in their third group stage game of the Champions League. The Los Blancos will aim to go back to the winning games, and Lopetegui would make desperate attempts to save his job at the club.
---