Son red card vs Bournemouth: Tottenham star loses his mind to get crazy red card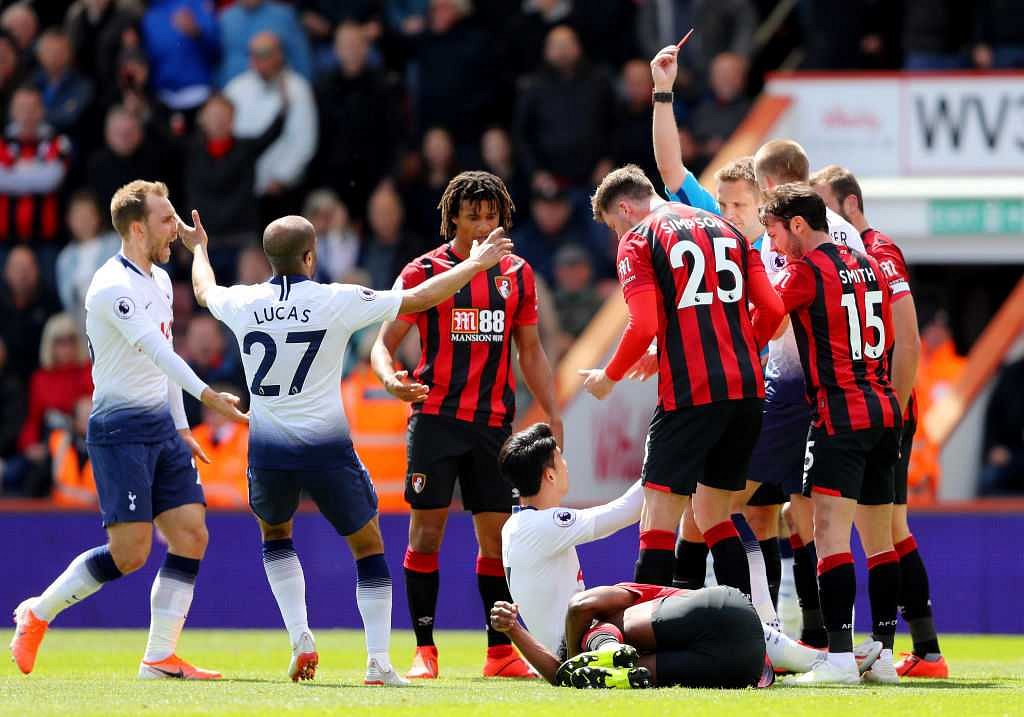 Son red card vs Bournemouth: Tottenham star loses his mind to get crazy red card as Spurs face uphill task against Bournemouth
Son Heung-Min started the game against Bournemouh with some much needed vigour, playing some brilliant football, but early into the first half things went all south for him and Tottenham, as Son was shown a straight red for an impulsive shove on Bournemouth's Lerma.
Son was trying to get past the Bournemouth defense from the left, but was closed down and was involved in a heated tussle for the ball with multiple defenders.
He then went down and just while he was trying to get the ball in his hands, Lerma tried to knick the ball with his foot, something that infuriated Son and he shoved him.
The referee was in the right position to witness the entire incident and showed a straight red to the Tottenham star. Pocchetino looked on with a straight face as he knew that the red card would have a huge bearing on the result of the game. Also, he knew that his player deserved that straight red for that silly, silly reaction
Son red card vs Bournemouth
Heung-Min Son (Tottenham) reacts stupidly and the referee shows him a deserved red card! pic.twitter.com/EpLVLcUVFH

— ESM SPORTS (@ESMSPORTS3) May 4, 2019
Tottenham go into the break with the score 0-0 and will now have to play out of their skins to maintain parity in the game. Winning from this stage seems like a far fetched idea, something that Poch wouldn't really be entertaining in his half time talk. The players will need to get back to the drawing board and get something out of the game, as a loss here could cause some uproar with respect to a top 4 finish.
Also, this might do some harm to Son's confidence, who did not feature in the CL semi final first leg, again due to disciplinary issues
---