Sourav Ganguly reveals what Virat Kohli would do if he wins WC 2019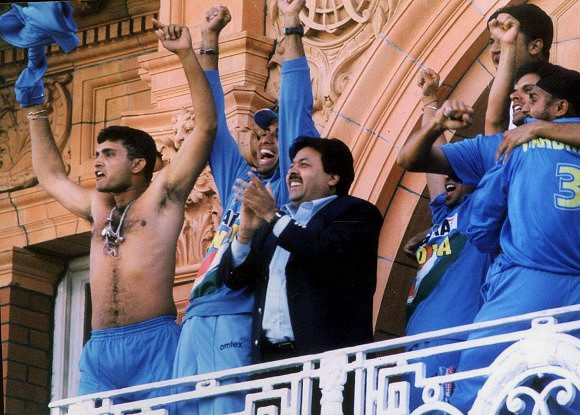 Sourav Ganguly and Virat Kohli are a tale of two interesting characters. Both are 'competitive'. They possess the same qualities of grit, passion, determination and aggression to win games. They just hate losing and these are the traits that they have in common.
Virat Kohli is already building the core and competitive team. Every time, he wants all his boys to deliver more than their cent percent commitments. There was a clear change in Virat Kohli's captaincy and they will be tested in futuristic away tours.
According to Sourav Ganguly,  if Virat Kohli wins the World Cup in 2019, he would roam around Oxford street with his shirt off. "If Virat wins the World Cup in 2019, he will roam around Oxford Street with his shirt off. Mark my words," as said by Ganguly to India Today.
Sourav Ganguly's words remind us of his 'unforgettable act' in 2002 after he waved his shirt with tonnes of pride and aggression replying to England's Andrew Flintoff in the wake of India's famous NatWest final.
Virat Kohli makes sure that he does everything to pilot the team cross the victory line. Ganguly said that Kohli has got the spark in him. "When we used to go to Australia, there was a gut feeling Laxman and Harbhajan will defeat Australia on their own. Kohli gives me the same feeling," Ganguly said.
Without the shadow of any doubt in mind, Virat Kohli is the sought-after cricketer in contemporary cricket. "The best thing about Indian cricket is that we have had different role-models in different eras. It has been a step by step growth and we have created champions in different generations. Kohli is the role model now," he added.
Ganguly is not too sure whether Virat Kohli can break Sachin's records because it is illogical to compare players of two different generations. But Ganguly is pretty sure that Kohli can get close to Sachin's record.
"Don't know if Virat can break Sachin's records…I don't compare two generations. But he has scored 52 and if he plays at this rate…he can reach Sachin's record," Ganguly concluded.
---