"Rolex For Trying to Change the Narrative Around GOAT": Fans Vote on "Cringe" Roger Federer & Carlos Alcaraz Ads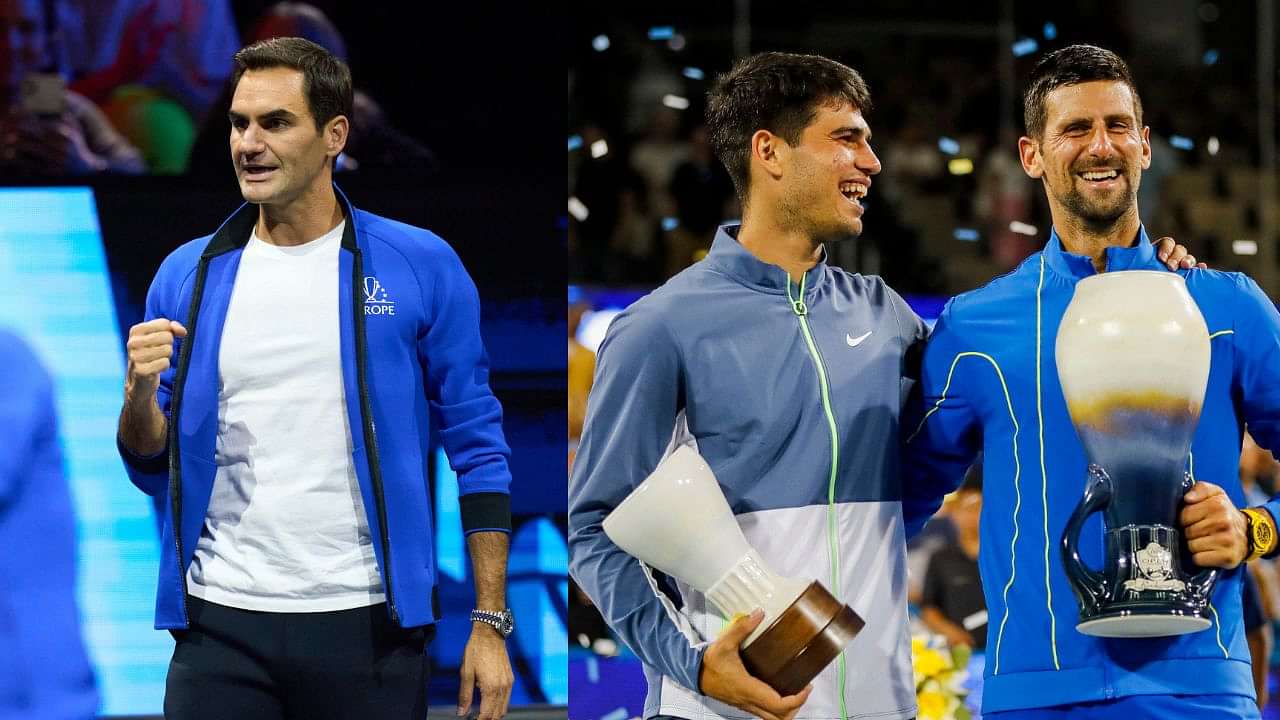 As Novak Djokovic added another feather to his cap by lifting the 2023 ATP Finals, two old ads depicting his rivals and seemingly downplaying him resurfaced on Reddit. A Rolex ad lavishing praise on Roger Federer and a Nike Instagram post hailing Carlos Alcaraz was posted on the social media platform. Fans voted which of the two was more 'cringe' in an adjoining poll.
Luxury watchmaker Rolex posted a video on YouTube thanking Federer for 'making tennis perpetual'. This was shared on September 15, 2022. A few days later, the icon retired in a teary farewell in the Laver Cup. The video questions how greatness is measured in tennis, downplaying the value of Grand Slams. By that point in time, Federer's record of 20 Majors had been eclipsed by Nadal (22) and Djokovic (then 21).
The video then highlighted Federer's discipline, elegance, and grace 'on and off the court'. Labelling their star ambassador one of the most revered athletes of all time, the Rolex ad claims numbers will never measure his greatness and legacy. Many interpreted this as a sly dig at Djokovic and Nadal, who had surpassed the Swiss maestro's Majors tally. Fans on Reddit believed it tried to paint Federer as the objective GOAT despite the other two having better statistics.
Nike's Instagram post for Alcaraz, meanwhile, came after his 2023 Wimbledon triumph. The sportswear giant congratulated him for his second Grand Slam and hailed it as the beginning of the Spaniard's era. The ad and the captions implied an upcoming phase of domination from Alcaraz, charting his 'era'. However, his form has slid since then as he endured a topsy-turvy run.
Djokovic ultimately reclaimed his No.1 rank and finished as the Year-End No.1. Reddit users mocked the Nike post for prematurely celebrating Alcaraz's era and implying he has taken over the Serb.
Loading embed instagram https://www.instagram.com/p/CuxHeT7rkAJ/?utm_source=ig_embed&utm_campaign=loading
The Rolex ad for Federer leads the poll on Reddit at the time of writing. 200 users deemed it more cringe than Nike's ad for Alcaraz. The American company's post has received 74 votes so far.
Fans react to and debate the Roger Federer and Carlos Alcaraz ads
Novak Djokovic's domination has stretched across different generations of tennis players. His seventh ATP Finals title meant he went ahead of Roger Federer, who had six. The World No.1 is now the sole record holder for most season-end championships won. He also kept Carlos Alcaraz at bay to become the Year-End No.1 for the eighth time.
Djokovic eclipsed Federer, and subsequently Nadal's, tally of Grand Slams to hold the record for most Majors won. He did so by denying his newest rival, Alcaraz, the chance to kickstart his own period of being the top player. Fans on Reddit opined that the Rolex and Nike ads were 'goofy' and premature, respectively. One user claimed Rolex tried to wash over Djokovic's legacy with their video.
Comment
byu/SelectZookeepergame5 from discussion
intennis
Comment
byu/SelectZookeepergame5 from discussion
intennis
Others said the Instagram post for Alcaraz aged poorly because he lost his form after that and won nothing.
Comment
byu/SelectZookeepergame5 from discussion
intennis
Comment
byu/SelectZookeepergame5 from discussion
intennis
Djokovic has been widely accepted as the GOAT of tennis after his 24th Grand Slam triumph. Alcaraz may have lost his way a bit, but he has the talent to become an all-time great and challenge Djokovic's status.
---