Twitter reacts as Harry Kane scores injury time winner in 2-1 win against Tunisia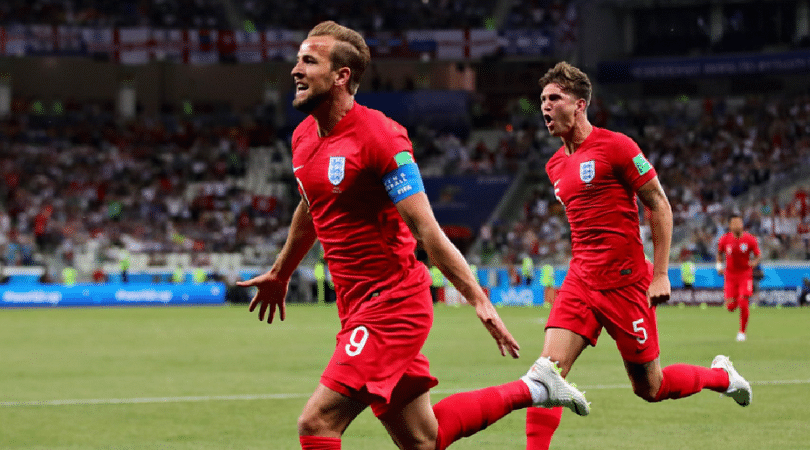 England played Tunisia in their first game of the World Cup 2018 tonight.
'Football is coming home', said the English when the team landed in Russia targeting World Cup glory this summer. England's squad wasn't as strong as those of tournament's favourites, but the English fans had hopes. Because the team was, for the first time, selected more on the basis of merit rather than names.
England have had a similar story for every world cup. They go in with a lot of expectations, but rarely do perform to compliment them. In their first game against Tunisia in the World Cup this year, England were on the verge of repeating the same, until Harry Kane's winning header changed the script in injury time.
"The Three Lions" started the first half on a highly positive note, with ten chances in 45 minute. Harry Kane opened the scoring for England. However, Tunisia were awarded a penalty a little before half time when Kyle Walker fouled Fakhreddine Ben Youssef inside the box. At the end of half time, the scoreline was level at 1-1.
Meanwhile, many people on social media did complain about the effectiveness of VAR when a heavy foul on Harry Kane in the 38th minute wasn't noticed.
The second half was comparatively uneventful, as even when England dominated possession, they did little to threaten the Tunisian defence.
However, Harry Kane scored the injury time winner in the 91st minute to win the game for England.
Here are some tweets from the match.
"What year will England actually get a VAR decision?" pic.twitter.com/Zst0qZRJCG

— The Sportsman (@TheSportsman) June 18, 2018
Russians paid off the refs in England games?

— Lux (@Callux) June 18, 2018
For the first 30 mins, England played like they didnt remember who they are. Then normal service returns….

— Pangeran ⚜ (@pangeransiahaan) June 18, 2018
England playing "The box is lava" game.

— NepentheZ (@NepentheZ) June 18, 2018
England playing "The box is lava" game.

— NepentheZ (@NepentheZ) June 18, 2018
England playing "The box is lava" game.

— NepentheZ (@NepentheZ) June 18, 2018
GEEEEETTTTTT IN THEREEEE… late goal from @HKane 🏴󠁧󠁢󠁥󠁮󠁧󠁿🏴󠁧󠁢󠁥󠁮󠁧󠁿🏴󠁧󠁢󠁥󠁮󠁧󠁿🏴󠁧󠁢󠁥󠁮󠁧󠁿 #WorldCup #England 2-1

— Rio Ferdinand (@rioferdy5) June 18, 2018
HARRY KANE IS A MODERN DAY JESUS CHRIST WITH FAR BETTER SOCCER SKILLS

— Samuel Army (@BarstoolSam) June 18, 2018
HARRY KANE IS A MODERN DAY JESUS CHRIST WITH FAR BETTER SOCCER SKILLS

— Samuel Army (@BarstoolSam) June 18, 2018
Give Harry Kane the ballon d'or

— Memeulous (@Memeulous) June 18, 2018
Love it @HKane!!! 👊🏻 🙋🏼‍♂️🙋🏼‍♂️ #TUNENG #FifaWorldCup18

— Alan Shearer (@alanshearer) June 18, 2018
🇵🇹 Portugal – Draw
🇪🇸 Spain – Draw
🇦🇷 Argentina – Draw
🇩🇪 Germany – Loss
🇧🇷 Brazil – Draw

🏴󠁧󠁢󠁥󠁮󠁧󠁿 England – Win

🏴󠁧󠁢󠁥󠁮󠁧󠁿 Football's Coming Home 🏆 pic.twitter.com/mFOPEh5evG

— FootballFunnys (@FootballFunnnys) June 18, 2018
Arab countries at World Cup so far.

– Saudi Arabia: 0-5 to Russia

– Morocco: 0-1 to Iran (injury time goal)

– Egypt: 0-1 to Uruguay (injury time goal)

– Tunisia: 1-2 to England (injury time goal)

– Saudi national team plane engine fault

— The Spectator Index (@spectatorindex) June 18, 2018
Arab countries at World Cup so far.

– Saudi Arabia: 0-5 to Russia

– Morocco: 0-1 to Iran (injury time goal)

– Egypt: 0-1 to Uruguay (injury time goal)

– Tunisia: 1-2 to England (injury time goal)

– Saudi national team plane engine fault

— The Spectator Index (@spectatorindex) June 18, 2018
Well now England have won their opening game, lets hope the rest of the home nations can replicate us.

Oh wait…..

— Footy Accumulators (@FootyAccums) June 18, 2018
Portugal drew.
Spain drew.
Argentina drew.
Germany lost.
Brazil drew.

England won! pic.twitter.com/COUbQFnvwT

— Troll Football (@TrollFootball) June 18, 2018
---