Twitter reacts as Steve Smith and Glenn Maxwell put India on the back foot in Ranchi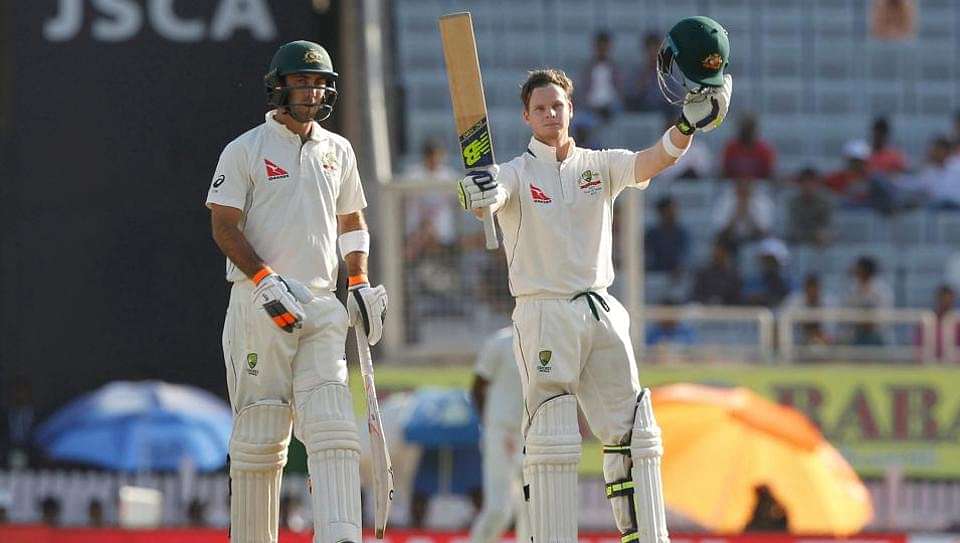 So much tension, so much anxiety, so much drama; the India vs Australia test series has presented the cricketing fraternity with a lot of entertainment on and off the field. And when the teams stepped out in Ranchi today, you could almost feel the tension in the air, it was so palpable.
Australia won the toss and elected to bat first and what seemed like the worst wicket of this Test Series, but it was deceptive to say the least. The ball came on wonderfully and there wasn't much turn on offer for the spinners. Warner got out to a full toss from Jadeja and Renshaw didn't deal well with the one leaving the left hander.
Shaun Marsh fell to a brilliant one that drifted in from Ashwin and Handscomb couldn't keep a full one out from Umesh Yadav. At that point it seemed as if India would run away with the game, especially when you had the inexperienced Maxwell coming in, but boy did he prove the Indians wrong.
Maxwell was able to adapt, adjust and apply himself on the crease with some ease. He smothered the spin to perfection and put the bad balls away whenever they were on offer. Smith on the other hand kept prodding away, manoeuvring the ball and piling on the runs.
Their 5th wicket partnership of 159 runs has surely put Australia in the drivers seat in this Test match and they would be looking to bat India out of the game by Tea tomorrow.
Here is how Twitter reacted to this brilliant batting display from Smith and Maxwell
Reactions on the next page:
Loading embed tweet https://twitter.com/cricbuzz/status/842292394271809537?ref_src=twsrc%5Etfw
Loading embed tweet https://twitter.com/gilly381/status/842339772244795392?ref_src=twsrc%5Etfw
https://twitter.com/dizzy259/status/842365371369762816
https://twitter.com/iamAwesomekhan/status/842362326883819520
More reactions on the next page
Loading embed tweet https://twitter.com/sanjaymanjrekar/status/842360248350433280?ref_src=twsrc%5Etfw
Loading embed tweet https://twitter.com/FirstpostSports/status/842357838777217024?ref_src=twsrc%5Etfw
Loading embed tweet https://twitter.com/cricketcomau/status/842357559872774144?ref_src=twsrc%5Etfw
Loading embed tweet https://twitter.com/DhawanPujan/status/842354331877834752?ref_src=twsrc%5Etfw
More reactions on the next page
Loading embed tweet https://twitter.com/Cricketracker/status/842354147718496256?ref_src=twsrc%5Etfw
Loading embed tweet https://twitter.com/MazherArshad/status/842325722379182080?ref_src=twsrc%5Etfw
Loading embed tweet https://twitter.com/gradecricketer/status/842335797286121472?ref_src=twsrc%5Etfw
Loading embed tweet https://twitter.com/bhogleharsha/status/842322952364347392?ref_src=twsrc%5Etfw
More reactions on the next page
Loading embed tweet https://twitter.com/mohanstatsman/status/842322797980459012?ref_src=twsrc%5Etfw
Loading embed tweet https://twitter.com/samiprajguru/status/842359533309583361?ref_src=twsrc%5Etfw
https://twitter.com/dizzy259/status/842311094559363073
Loading embed tweet https://twitter.com/rustyjacko/status/842293323452710912?ref_src=twsrc%5Etfw
---