Twitter salutes Roger Federer after he wins his 9th Halle Open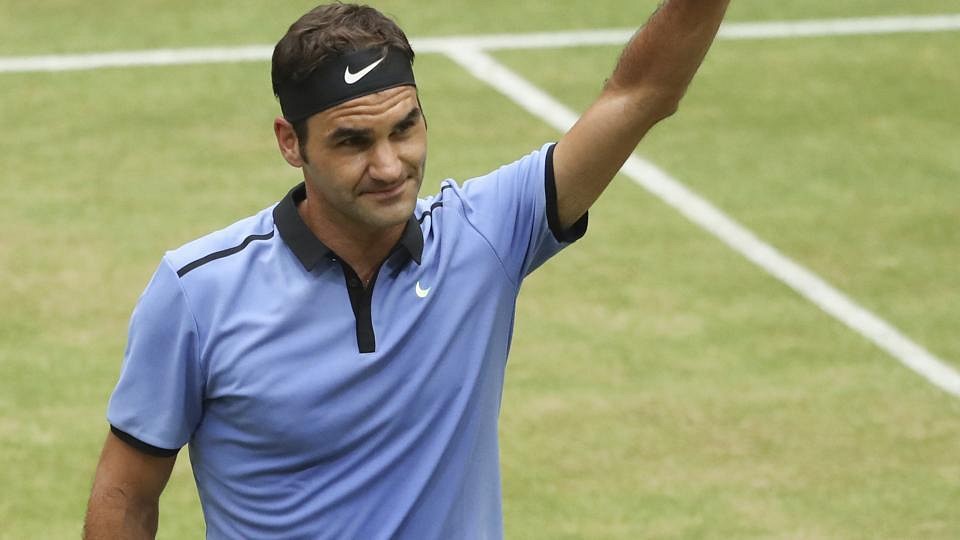 It was proper schooling, a lesson in grass court tennis for the young and ambitious Alexander Zverev. Federer played like a gazelle, a poem whose rhyme schemes were just out of the world and which left the audience wanting(read begging) for more.
The Stuttgart loss had rendered the Federer critics to come out in numbers, voicing their opinion about how Federer wouldn't be able to replicate his Australian Open heroics, but his performance this week has shut every one down.
Federer romped to 6-1, 6-3 win over Zverev, thereby winning the Halle Open for a record 9th time.
The first set was like a breeze, a pleasant one for Federer, but one that rocked Zverev's world. After that initial drubbing, Zverev just couldn't manage to find his feet in the match, struggling to keep pace with Federer's all court play. Federer was using his exquisite drop shots to perfection today, breaking Zverev's ground stroke play and forcing him to come to the net more often that he would have wanted to.
Zverev had beaten Federer in the semi finals last year but he just couldn't replicate his last year's heroics, as Federer looked like a man on a mission.
Federer would be vying for a 9th Wimbledon Title next week.
Here is how Twitter reacted:
Federer played 6 tournaments in 2017

Won 4
Lost vs players outside the top 100 in 2

— José Morgado (@josemorgado) June 25, 2017
– 9th title on Halle
– Oldest champion on Halle
– 92nd title
– 53 minutes win over most promising player of the next generation
WOW #Federer pic.twitter.com/4z4t43N7Pp

— BreakPointBR (@BreakPointBR) June 25, 2017
https://twitter.com/bet365_aus/status/878944482930167808
https://twitter.com/Tennis18MAD/status/878949350998724608
Smooth as silk from Federer. Another Halle title. Roger & Rafa taking turns to dominate in 2017. @Wimbledon awaits in 8 days.

— Darren Cahill (@darren_cahill) June 25, 2017
June 25th 2017 and we just had masterclasses from Valentino Rossi & Roger Federer.

Gotta love sports.

— José Morgado (@josemorgado) June 25, 2017
Federer beats Zverev 6-1 6-3 in 53 minutes to win his ninth Halle title. Next up, an 8th Wimbledon and 19th Slam? Very possible.

— Piers Newbery (@piersnewbery) June 25, 2017
15 years, 9 titles, 1 man. Roger Federer. pic.twitter.com/C3naRjuCdE

— MB (@mbthecool19) June 25, 2017
That's why Roger Federer should never be allowed to retire…

— jimmy soixante-dix (@hotdog6969) June 22, 2017
The future of men's tennis. You can also see Sascha Zverev. #Federer #Halle #GerryWeberOpen pic.twitter.com/wIoixxzE8i

— Kiran Gandhi (@Kirangandhi) June 25, 2017
https://twitter.com/DropVolleys/status/878959578779496448
Roger Federer beats Alexander Zverev 6-1 6-3 in just 53 minutes to win the title in Halle. Federer will be seeded No 3 at Wimbledon.

— Stuart Fraser (@stu_fraser) June 25, 2017
Those short slices and drops shots are absolutely killing Zverev today. Federer has done his homework preparing for this match.

— René Denfeld (@Renestance) June 25, 2017
Cute fan-idol moment between Zverev-Federer #LOL pic.twitter.com/JSqqjiZAgj

— BreakPointBR (@BreakPointBR) June 25, 2017
---