Georges St-Pierre Once Explained to Joe Rogan Why Khabib Nurmagomedov Was the 'Scariest' UFC Fighter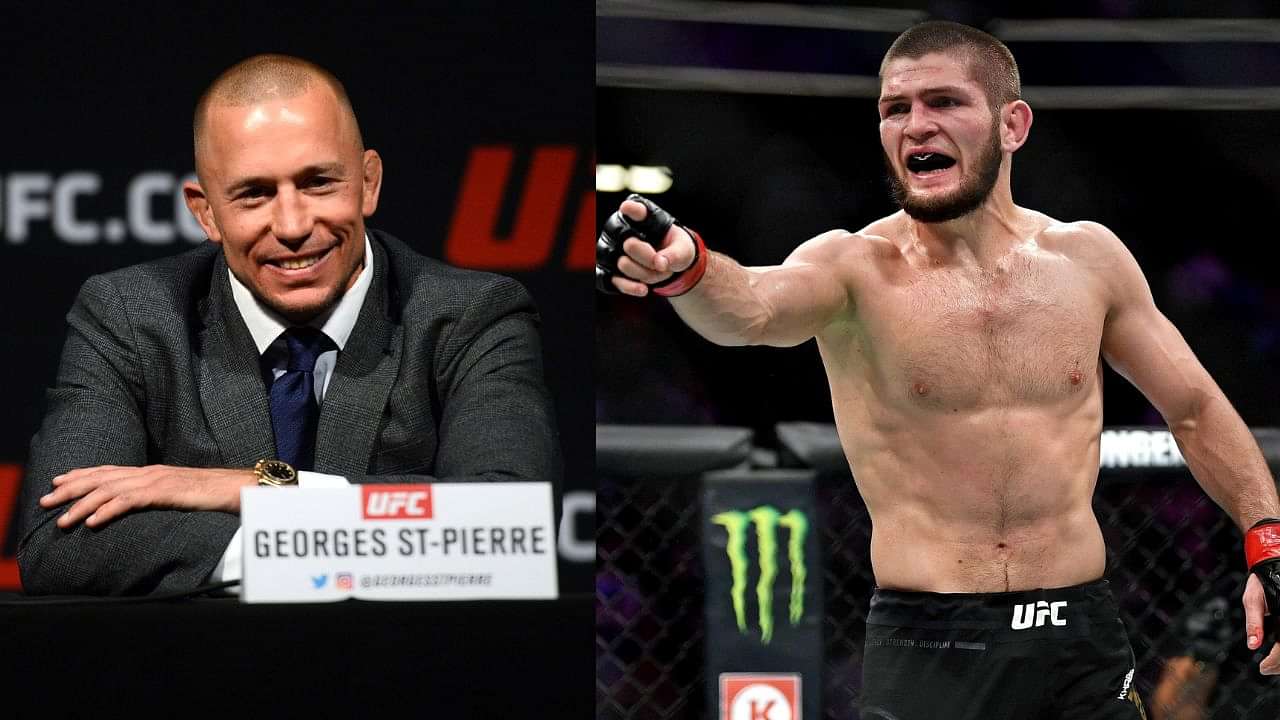 The significance of mental fortitude is often nonexistent or rather not paid much heed to, within the spectrum of combat sports. The sport of MMA exacts a heavy toll on those that indulge in it. The room for error* is extremely marginal, as such is the grave implications for the ones competing. When former UFC lightweight champion Khabib Nurmagomedov competed, he had comprehended the paramount significance of the task he had set out to accomplish. 
This is precisely why, at the time of his retirement, he had cemented his legacy as the greatest lightweight martial artist in sports history. 
The sheer will, dedication, and commitment he devoted to being the foremost version of himself as a martial artist, and more importantly a person, broke the will of all those who stepped forth to him. 
Former UFC Welterweight champion, Georges St Pierre, has attested to this.
Also read: "Weird End to a Legendary Run in the Sport": Fans Left Heartbroken as Khabib Nurmagomedov Leaves MMA Entirely
Georges St Pierre names Khabib Nurmagomedov as the scariest. 
Given that your body and life hang in the balance every time you step foot in the octagon, it's easy* to understand why a contest is at best 25 minutes long. The damage inflicted can be life-changing. One never recovers and rehabilitates in the same manner. Tony Ferguson is a model example of this. 
Former UFC Welterweight champion, Georges St Pierre, once shared some valuable insight on this subject. St Pierre had appeared on the famed podcast of Joe Rogan, 'The Joe Rogan Experience'. 
He divulged his thought process and shared how mixed martial artists process their defeats. 
Loading embed instagram https://www.instagram.com/reel/ClEacC2Da61/?utm_source=ig_embed&utm_campaign=loading
St Pierre said:
"I think psychologically for a fighter it's hard to come back from a knockout but it's probably harder to come back from a fight where you've been dominated and broken for five rounds. You clearly know did not belong there..like Khabib that's his style, that's why I am saying he's the scariest guy..He can knock you out, submit you."
Rush's statements can be argued, as there have been combatants who have rejuvenated from losses in a triumphant manner. However, the likelihood of this scenario occurring for every fighter is highly unlikely, especially when they are dominated within the octagon for a period of 15 minutes or more. 
This makes Khabib Nurmagomedov's accomplishments all the more phenomenal, as the Russian has only lost one round in his fighting career. 
Also read: Belal Muhammad Mocks British UFC Champion Leon Edwards With Iconic Muhammad Ali Picture
Has Khabib Nurmagomedov excluded himself from MMA?
As a new year dawned upon the world, the MMA community has been taken aback. It was recently reported that Nurmagomedov has decided to call an end to his coaching career, after just a year in the role. 
This comes as the former pound-for-pound king has now set his eyes on another endeavor revolving around his family and other related issues.
Loading embed instagram https://www.instagram.com/p/CnCsy27M8s_/?utm_source=ig_embed&utm_campaign=loading
If UFC 281 was the last time we came across the Eagle from an MMA standpoint, it has truly been an honor to witness an iconic figure in the sport. 
Nurmagomedov was the epitome of what the sport represents and will forever be etched into the history of the sport. 
Also read: "Jason Momoa Trembles for His Role": UFC Superstar Conor McGregor Dubbed Aquaman After His Recent Post
---