'Three Belts At The Same Time': Israel Adesanya Eyes Both The Heavyweight Titles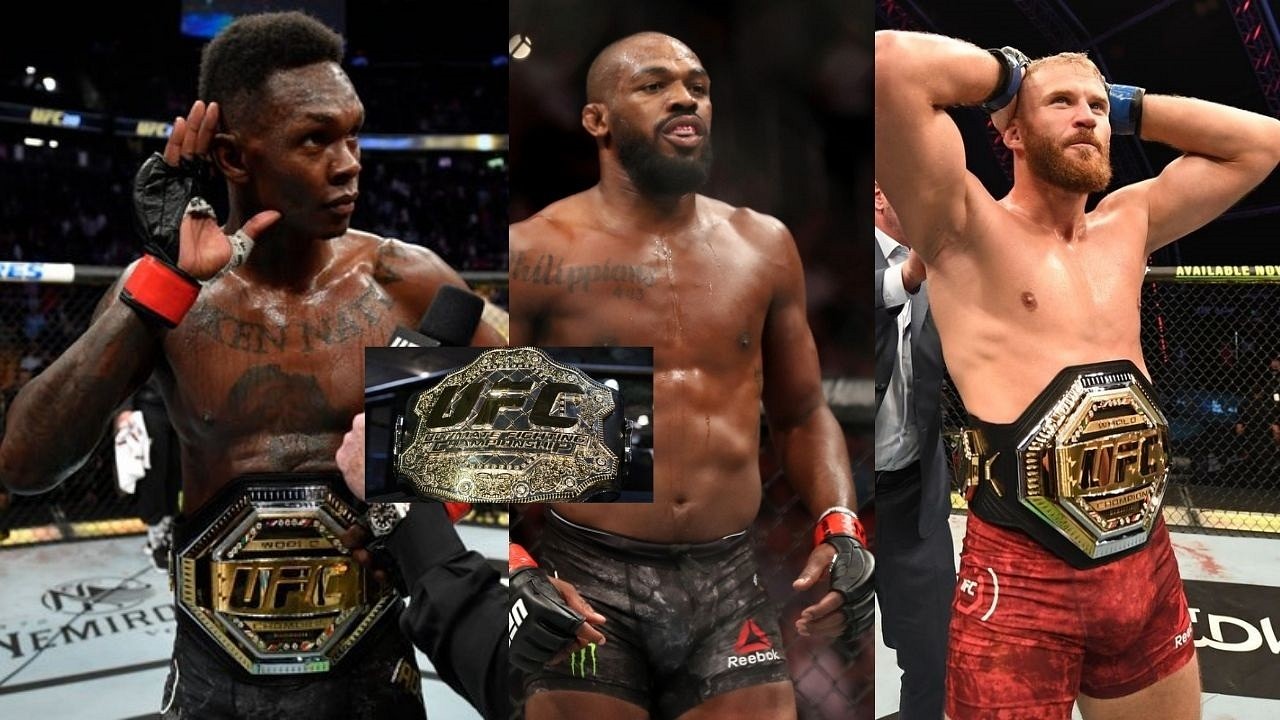 Israel Adesanya is eyeing both the Light Heavyweight as well as the Heavyweight title. The Middleweight champion plans on holding three championships simultaneously.
This past week UFC president Dana White made a huge revelation that Middleweight champion Israel Adesanya will move up in the weight division and challenge the Light Heavyweight champion Jan Blachowicz next. Following the broke-out of this news, the Last Stylebender instantly came out to give a breakdown of the colossal contest, and in-process revealed his true intentions with the upcoming fight.
Also read: Jon Jones Posts a Video Of a Surveillance Footage Which Shows Him Chasing a Robber
'Three Belts At The Same Time'
While both the individuals will stand a chance to become a double champion, it is Israel Adesanya who plans on going even a step further than that, and make history.
In a chat with Submission Radio on Monday, Izzy confirmed the Champion Vs. Champion match-up is official, and also threw light on a potential in-ring altercation with Jon Jones for the coveted Heavyweight prize. Adesanya and Jones fell out on Twitter after Adesanya's successful title defense at UFC 253.
"I take this belt from Jan. If for whatever reason, Jones actually moves up and fights at heavyweight. Imagine if he got the belt somehow, by some freak of nature. I'm like, 'F*** you, I'm going to heavyweight then.' Three belts at the same time."
Jones held the Light Heavyweight gold for almost two years, and in August 2020, he relinquished the title to seemingly fulfill his desires in the 265-Pound weight category. For the Light Heavyweight strap, subsequently Jan Blachowicz and Dominick Reyes contested.
Though Jon Jones did cut out a focused figure with his statement to join the Heavyweight ranks, however, since the intense verbal skirmish with Israel Adesanya, there are speculations that he may put his objectives on hold for now, to settle the dispute with Israel Adesanya, who is a the Middleweight king.
Adesanya also on the other hand is willing to share the ring space with Jones, and has a venue (Raiders Stadium) in mind as well. He suggests, the fight between him and Jones needs to happen, and it should take place after the current world situation alleviates, so that crowd can witness the- Biggest fight in UFC history.
Click Here For More UFC News
---
Share this article