"You're Learning From the Michael Jordan of MMA": UFC Star Revealed What It Was Like Training With Khabib Nurmagomedov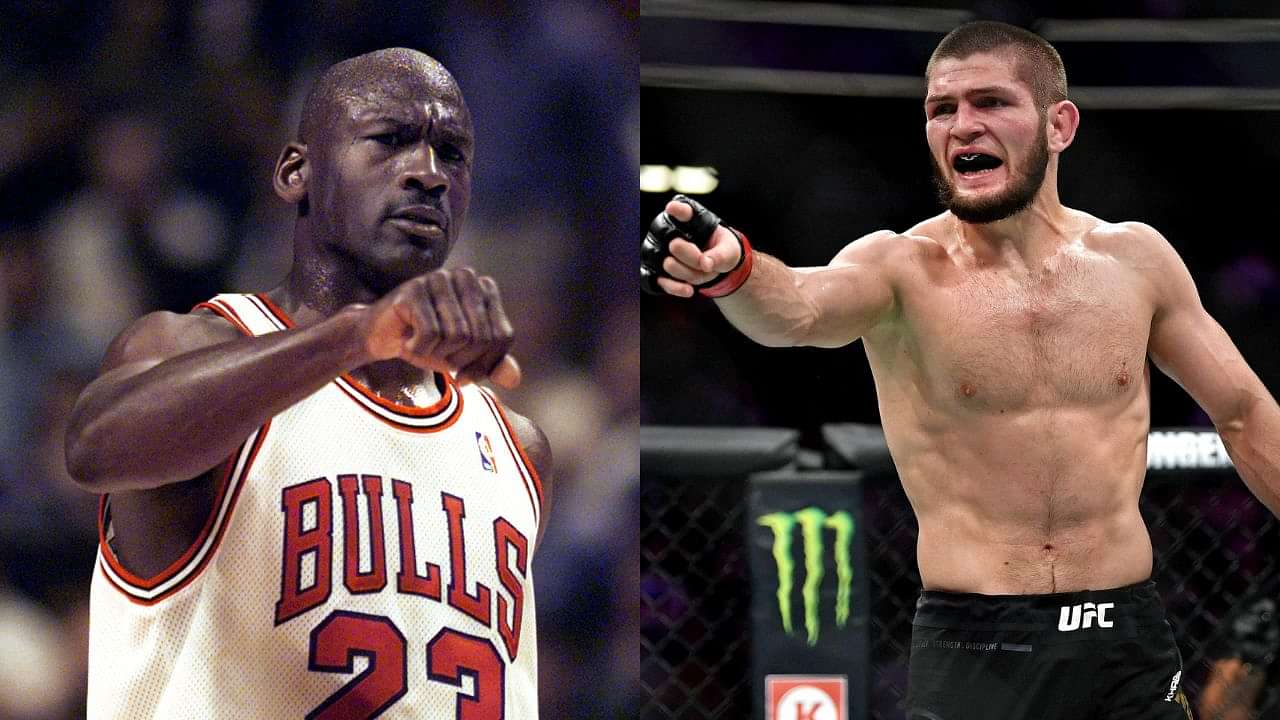 Belal Muhammad, an emerging UFC welterweight fighter, once drew a fascinating comparison between two legendary athletes: Michael Jordan and Khabib Nurmagomedov. Despite not having fought for the title yet, Muhammad's impressive skills and thrilling performances have placed him at the impressive #3 spot in the welterweight division rankings. His journey to success has been greatly influenced by none other than the former UFC lightweight champion, Khabib.
Fresh off a remarkable victory over Gilbert Burns, Muhammad's star is shining brighter than ever. Burns, who had recently defeated Jorge Masvidal, was defeated by Muhammad in an impressive display of skill and determination. As a result of this significant win, Muhammad now harbors an ambitious goal – to secure a well-deserved title shot.
Following his retirement, Khabib Nurmagomedov transitioned into the world of coaching. He dedicated his expertise to shaping the careers of promising fighters, such as Islam Makhachev, who went on to become a lightweight champion. Muhammad was fortunate to have received guidance from Khabib during this time, benefitting from the knowledge and experience of the revered former champion.
Belal Muhammad calls Khabib Nurmagomedov Michael Jordan of MMA
In a memorable bout, Leon Edwards, who would later go on to become the UFC welterweight champion, faced off against Belal Muhammad. Unfortunately, the fight ended in a no contest due to an accidental eye poke suffered by Belal Muhammad. Nevertheless, Belal had been rigorously training alongside none other than Khabib Nurmagomedov in preparation for this matchup.
He said, "Being able to actually train and move and learn from him was even better too because you're learning from the G.O.A.T. You're learning from the Michael Jordan of your sport. Khabib's still in his prime."
Belal Muhammad is also famous for his exceptional wrestling abilities, much like Khabib. Recognizing this shared skill set, Belal seized the opportunity to train with Khabib, considering him the Michael Jordan of MMA. It's an honor for Belal to have worked with Khabib during his prime, as the undefeated champion has never tasted defeat in a fight or even lost a single round. This experience has undoubtedly enriched Belal's career and shaped him into the fighter he is today.
Belal compares himself with Lebron James
Belal Muhammad draws an intriguing parallel between himself and basketball superstar LeBron James. He vividly describes how, if given the opportunity, LeBron would never pass up the chance to meet and train with the legendary Michael Jordan during his prime.
He said, ""If LeBron James could do that with Michael Jordan in his prime, he would probably want to go back in time to do that."
In Belal's eyes, Khabib Nurmagomedov is the Michael Jordan of MMA, and he humbly compares himself to LeBron James. Despite his own considerable talent, Belal acknowledges that there is no shame in learning from someone who surpasses him in skill and experience. This humble mindset highlights his willingness to grow and improve, recognizing the value of learning from someone truly exceptional.
---