WATCH: Cameron Bancroft caught ball tampering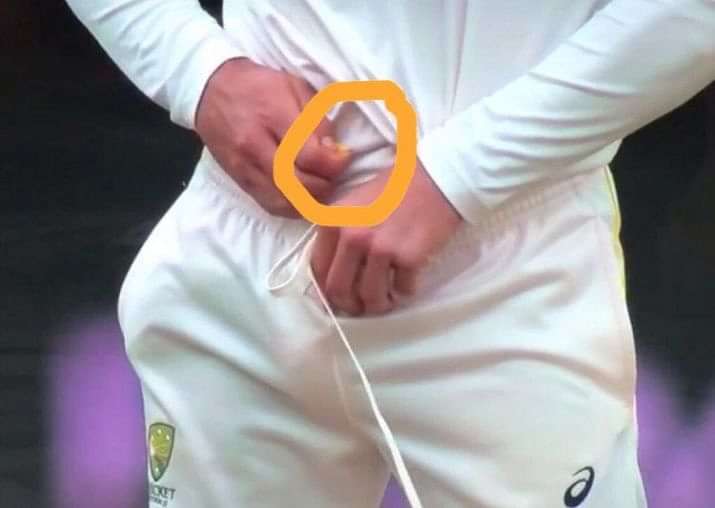 Cameron Bancroft has been caught on camera, using an apparent 'sandpaper' to tamper with the ball in order to get it to reverse swing quicker.
The incident took place during South Africa's second innings with de Villiers and Markram were at the crease and Bancroft was seen using some 'substance' to tamper with the ball
TV footage started appearing of Bancroft using unfair means to get the ball to reverse and that is when Darren Lehmann asked Handscomb to go onto the field and tell Bancroft that he had been caught on camera.
Bancroft then took the 'sandpaper' from his pocket and put it into his crotch.
The umpires seem to have received some information from the TV umpire and hence decided to confront Bancroft about the entire incident.
Steve Smith too took part in the conversation between the umpires and Bancroft, but as soon as Bancroft showed the umpires his empty pockets, all four people involved in the conversation went away and the game carried on.
However, slow motion replays of the incident show that Bancroft was clearly doing something suspicious and almost certainly had been tipped off by substitute Handscomb.
Check out the video:
Loading embed tweet https://twitter.com/therealThabiso7/status/977528893065265152?ref_src=twsrc%5Etfw
The Match referee along with the umpires would look into the situation after the end of day's play and from the evidence available it seems like Bancroft will be charged for ball tampering.
Moreover, it seems like it was a planned operation on part of the Australian Team and that Bancroft was chosen to carry out the act on the field.
It's shameful to see Australia resorting to such unfair means to get back into the Test match. However, we'll refrain from jumping to any conclusions as of now as no official investigation has been carried out.
---