WATCH: Hartley and Gasly involved in ugly driver swap issue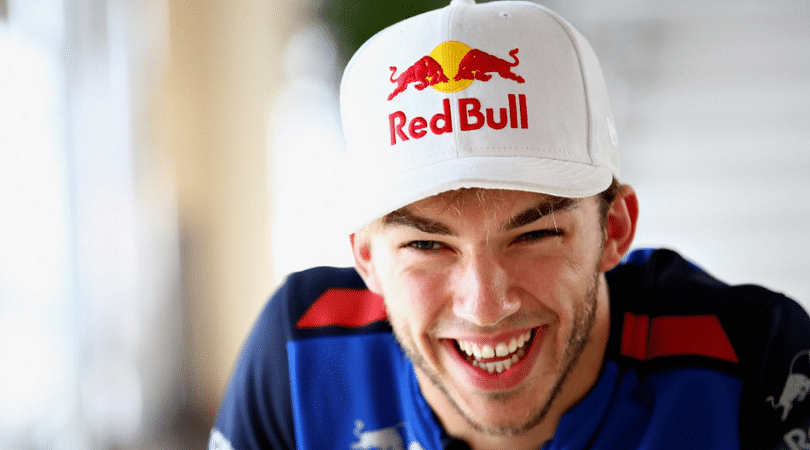 The major action during the Brazilian GP was within the top 6 and the incident on lap 41 wherein Verstappen and Ocon collided, when race leader Verstappen was hit by Ocon, who was trying to un lap himself.
A lot has happened in the aftermath of that incident, with Max pushing Ocon in the garage later and the duo exchanging some very tough words. However, things seem to have cooled down with the duo pictured shaking hands with each other post a session with the stewards.
Now, while all of the focus was on the Ocon-Verstappen incident, a tussle between teammates Hartley and Gasly was missed by many.
Hartley was being hunted down by Sainz and he wanted his team to ask Gasly to let him by.
The team informed Gasly of the same, communicating to him that a driver swap had to be made on Turn 4. Hartley was then asked to push a little more and get closer to Gasly.
Hartley informed that he was as close as he could get.
Gasly did not take the driver swap communication very well, telling his team that he did not see the point of it, and Hartley could try and pass him if he could.
He wanted his team to know that they weren't racing for the win and hence the driver swap did not make much sense to him.
Gasly further told his team that he was on medium tyres and Hartley on the supersofts and hence if Hartley could get past him, he should go for it.
Gasly also let his team know that his tyres were completely damaged and hence if Hartley could, he could race him and get past, but he wasn't agreeing to a driver swap.
Check out the video:
Desirable Skills: Team Radio Engineer 😉

Diplomat 😐

Good listener 🗣

Thick skin 🤬#F1 #BrazilGP 🇧🇷 @ToroRosso pic.twitter.com/k4Hyp9H70v

— Formula 1 (@F1) November 12, 2018
Fans are worried how Red Bull and Christian Horner would deal with the duo of Max and Pierre next year, as both of them can be a little stubborn and difficult to deal with.
Pierre Gasly, quite happy to receive help, but won't reciprocate. Good luck to him in 2019 against Max, 2 mega young self opinionated egos in the same team + Hell Man Marko to dish out usual diatribes = RBR implosion

— ian ellis (@madmanfoggy) November 12, 2018
Let's place some bets people. Are they gonna have their first crash in Melbourne or already in winter testing?

— F1BurnerAccount #25 (@f1burneraccount) November 12, 2018
Gasly vs Max is going to be fireworks!

— S. Thomas (@tekkers3773) November 12, 2018
It's gonna be Baku 2018 every single weekend lol

— F1BurnerAccount #25 (@f1burneraccount) November 12, 2018
he's being asked to give up a position for no reason. they were 40 seconds behind the car in front, he runs the risk of getting passed by sainz if he does it and he gets passed by hartley who otherwise didnt seem able to get passed him. absolutely no reason for a driver swap.

— Luke Rogers (@TheSaiint) November 12, 2018
I'm with @PierreGASLY on this one. older worn medium tyres and Hartley on newer supersofts any driver worth his salt should be able to overtake a teammate in those circumstances. Not like Gasly had a superior car. Plus I really don't like #teamOrders

— Sharkey (@Rich_A_Sharkey) November 12, 2018
---