WATCH: Horner takes ugly tea stirrer dig at Abiteboul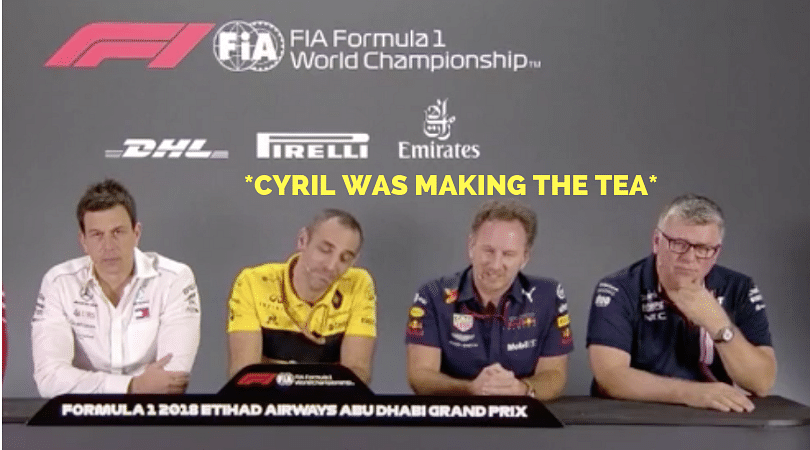 Christian Horner and Red Bull will be doing away with two essential team members after the Abu Dhabi GP this weekend.
Daniel Ricciardo will be leaving Red Bull for Renault and starting a new chapter in his life, as after the summer break he took the bold decision of ending his ties with Red Bull and searching for new challenges elsewhere.
With Ferrari and Mercedes sorted with their drivers for 2019(Ferrari had to pick one from Kimi and Leclerc), Ricciardo had to settle for a midfield team.
And he wasn't afraid of making that brave call at this stage of his career.
Now, while Ricciardo's move came as a shock to many, so did Red Bull's decision to move on from Renault to Honda for next season.
Red Bull had had 12 years of success with Renault, winning 4 world championships, but the relationship had grown sour over the ongoing season.
With Honda making good progress with Honda and the relationship with Renault getting worse by the minute.
In the press conference today, Horner was of course asked about how the relationship with Renault for the last 12 years and what they would miss about them.
Horner started off by taking a direct dig at Abiteboul, saying that 12 year back Cyril was making the tea when Red Bull and Renault had started their relationship.
Have Red Bull made a mistake letting Renault and Ricciardo leave?
Check out the video:
Shit Stirrer meets Tea Stirrer when Horner is asked to reflect on 12 seasons with Renault https://t.co/GTRY9yt9MW via @reddit

— Utkarsh Bhatla (@UtkarshBhatla) November 23, 2018
<
div style="width: 100%; height: 0px; position: relative; padding-bottom: 56.222%;">
---