WATCH: Horner tells Wolff to teach Ocon what the flags mean, Toto reacts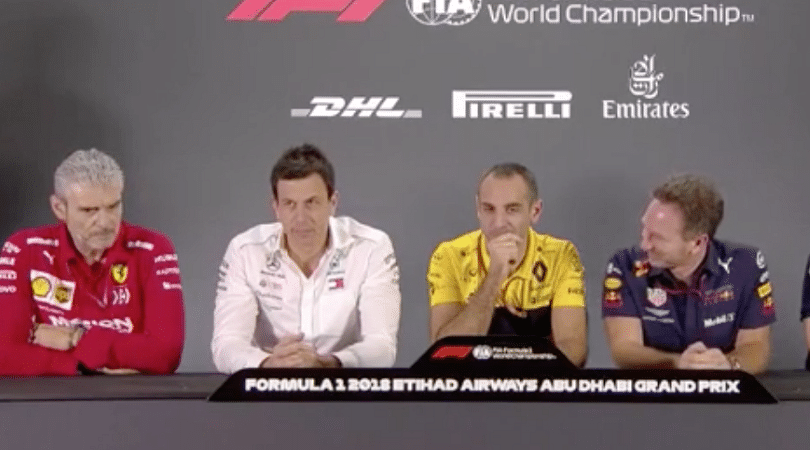 The Ocon-Verstappen incident was the biggest talking point from the Brazilian GP, a race that was going so well for Max, until the 41st lap, where Ocon and Max collided and Max lost out on being the race leader.
Verstappen was obviously furious with what had transpired on the race track, showed Ocon the finger right after the incident and then pushed him in the garage for not accepting his mistake.
Ever since, the F1 fraternity has been away for a fortnight, and the media has been waiting to get in the reactions of a lot of others from the fraternity.
In Will Buxton's interview with Max, Max clearly stated that Ocon could have done differently and Max had also spoken about why he went ahead and pushed Ocon.
The Force India driver wasn't apologising to Max and instead clarifying his 'mistake'. something that did not bode well with the young Red Bull driver.
Christian Horner too had ripped into Ocon for his decision making post the Brazilian GP, saying that Ocon should consider himself lucky that Max merely pushed him.
Now, even though the adrenaline has settled down, Horner isn't quite ready to stop taking digs at Ocon and everyone related to him.
During the press conference today, Wolff was asked about Ocon's 2019 future, wherein he confirmed that Ocon would be Mercedes' reserve driver for 2019; Horner chipped in with a dig.
Horner asked Wolff if along with training Ocon for the 2020 season, Mercedes should also teach him what the flags mean.
Horner gave out a rise smile after saying that, with Wolff keeping a straight face, largely angry with what Horner had just said.
Check out the video:
Horner asks Toto to teach Ocon what the flags mean… https://t.co/KD7QwDSdZn via @reddit

— Utkarsh Bhatla (@UtkarshBhatla) November 23, 2018
<
div style="width: 100%; height: 0px; position: relative; padding-bottom: 56.222%;">
---