WATCH: Arsenal fans ask Iwobi and Guendouzi to duck for clear view of Auba's penalty; duo respond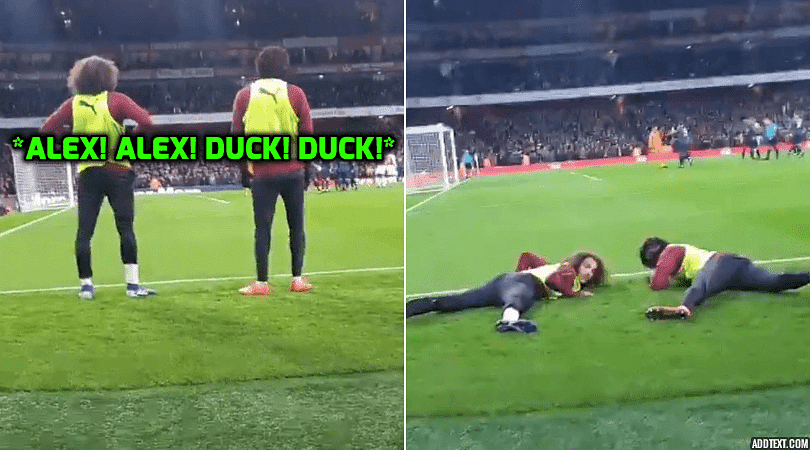 Watch the fan footage of Alex Iwobi and Matteo Guendouzi ducking for Arsenal fans to leave clear view for Aubameyang's penalty.
Arsenal have their destiny in their own hands following their 2-0 win over Manchester United at the Emirates on Sunday. The lineup of the Gunners came as a surprise to everybody as the front four consisted of Mesut Ozil, Henrikh Mkhitaryan, Pierre Emerick Aubameyang, and Alexandre Lacazette.
The trust from Unai Emery paid off as they looked completely dominant with their interlinking and crisp passing which eventually made life tougher for the Red Devil defenders. However, it was Manchester United who had the first chance to lead the game.
WE EATIN' GOOD TONIGHT 🍯#ARSMUN

— Arsenal FC (@Arsenal) March 10, 2019
Luke Shaw produced an inch-perfect delivery to Romelu Lukaku, but the Belgian was only able to hit the crossbar. At the other end, Granit Xhaka opened the score for the Gunners when he launched one from the outside of the box.
The Switzerland International's shot was going in one direction, whilst David De Gea was completely wrong-footed and watched the ball bulge the back of the net. There is no doubt that the Spanish International did not expect that much movement from the ball before getting beaten by it.
Red Devils midfielder Fred struck the ball sweetly from thirty yards out only to hit the crossbar. Goalkeeper Bernd Leno was completely beaten by that strike, but Arsenal deserved their luck for the shift they put in yesterday.
The visitors started the second half on a high, but they were not able to cause more trouble in the final third. Solskjaer's men lacked incisiveness in the final delivery which came back to haunt them.
The Red Devils kept on pushing for an equalizer, but they were totally beaten against the run of play. The Gunners counter-attack came to full effect when Alexandre Lacazette was brought down inside the penalty box by Fred.
There was a minimal contact which the Frenchman made full use of it to throw himself down. Pierre Emerick-Aubameyang, who missed the spot-kick against Tottenham Hotspur last weekend was able to beat David De Gea by placing the ball to perfection.
ALEX IWOBI AND MATTEO GUENDOUZI DUCKING FOR AUBAMEYANG PENALTY:
However, there was a video which was really eye-catchy. Fan released footage which showed Alex Iwobi and Matteo Guendouzi ducking to give a clear view of Aubameyang's penalty for the Arsenal fans.
A fan shouted "Alex! Alex! Duck! Duck!"
Video: Matteo Guendouzi & Alex Iwobi duck to the floor during their warm-up on the sideline so fans behind them could see Pierre-Emerick Aubameyang's penalty against Manchester United today. 😂😂 [@8T3] #afc pic.twitter.com/xLxlmvYNOz

— afcstuff (@afcstuff) March 10, 2019

That penalty ruled out a comeback for the visitors as Arsenal slowed down the game to see it through. Despite the defeat, Solskjaer will take plenty of positives from this game to improve his side.
Unai Emery's side have played all the top six sides this season and have clear run to finish in the Champions League spot. On the other hand, Tottenham Hotspur, Manchester United, and Chelsea will have to play at least two teams from the top six in the last eight games.
In the post-match press conference, Unai Emery expressed his delight to grab all three points and put in a complete performance against their top four rivals.
The performance 👍
Xhaka's goal 🌟
Defensive gains 🙌

Every single thing Unai Emery had to say after yesterday's win | @charles_watts https://t.co/epWKUpupt1

— Arsenal FC News (@ArsenalFC_fl) March 11, 2019
"I don't know if it was the best performance this season," Emery said. "I think we are improving. We are being competitive in different matches away and home, against different teams. Sometimes with different systems, different players. Above all, I feel proud of every player."
"We must be calm, be patient, and continue improving. We know, like on Thursday, one match can change a lot with one red card, one goal. Controlling emotion is very important."
"Today we worked very well with the emotion during the 90 minutes because they had some chances, we needed our goalkeeper, or centre-backs, our defensive players. Clean sheets are very important. Keeping this consistency in our mind is very important."
🏰 Fortress Emirates

✅ Nine @PremierLeague home wins in a row
📈 27 points out of 27 available
⚽️ 25 goals scored in that time

🔴 #WeAreTheArsenal pic.twitter.com/uf5oFOfvOv

— Arsenal FC (@Arsenal) March 11, 2019
Arsenal will have face off Stade Rennais in the Round of 16 of the Europa League at the Emirates on Thursday. The Gunners are 3-1 down from their first leg, but they will hope to put in a good performance and clinch a spot in the last eight. This European tie will the last game for Unai Emery's men head for the International break.
---