WATCH: Sabbir Rahman fumbles at boundary to hand David Warner a lifeline early in his innings | Australia vs Bangladesh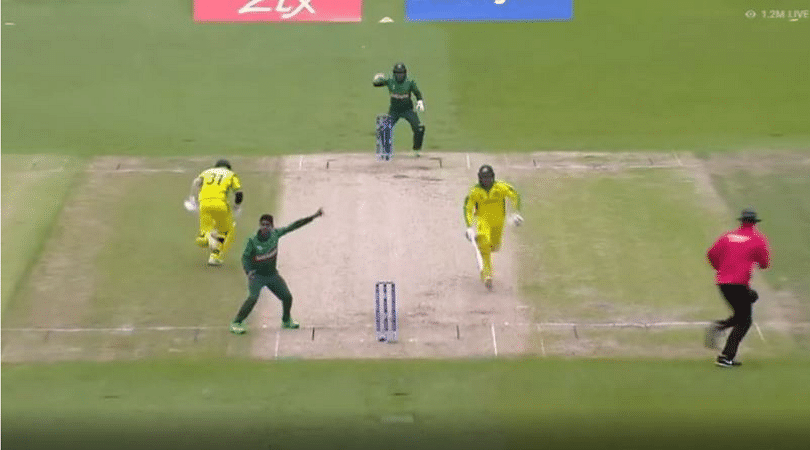 Sabbir Rahman fumbles at the boundary to hand David Warner a lifeline early on in his innings during Australia vs Bangladesh World Cup match
During the 26th match of the ongoing ICC Cricket World Cup between Australia and Bangladesh at the Trent Bridge, Bangladesh batsman Sabbir Rahman made an utter mess with a fumble at the boundary to miss David Warner's run out opportunity.
ALSO WATCH: Mitchell Starc mocks Tamim Iqbal after picking up his wicket at Trent Bridge
It all happened in the third delivery of the 25th over. Bangladesh all-rounder Mehidy Hasan bowled a full delivery, to which the Aussie Southpaw Usman Khawaja played a good looking on-drive after advancing a couple of steps down the pitch.
Sabbir Rahman, who was stationed at the long-on fence made a good run towards the ball, as Khawaja charged for the run immediately after the drive. Warner, at the other end however was confused for some strange reason, and set off relatively late for the run.
It would have been an easy run out had Sabbir not taken his eyes away from the ball just before getting hold of it, thereby giving Warner a handy lifeline which costed the team big time.
Top performar 😀Sabbir Rahman😀
👉Missed catch cost by 156 addtianal runs.
👉Missed a run out helped Australia to build healthy 2nd wicket partnership.
👉Valuable duck🦆 from 01 ball😉😀.
👌We are very proud sir👌#BDvsAus#cw2019

— Kazi Nahid (@CtgNahid) June 20, 2019
Warner went on to score a match-winning knock
Warner was batting on 72 (89) when Sabbir had messed up an easy opportunity to see the back of him. He ultimately went on to pile up 166 off 147 deliveries, smashing the Bangladeshi bowlers black and blue. His stellar innings comprised of 14 fours and 5 mammoth sixes.
His 'Man of the Match' knock helped the Aussies leave the Bangladeshi batsman a huge mountain to climb as they had put on 381 on the board in 50 overs.
A valiant effort from the Bangladeshi batsmen was not good enough to chase down the total, as they fell short by 48 runs in their chase. Mushfiqur Rahim (102 off 97), Tamim Iqbal (62 off 74), and Mahmadullah (69 off 50) put on a strong show against a decent Aussie attack, only to be handed an agonising loss in the end.
WATCH: Sabbir Rahman fumbles at the boundary to hand David Warner a lifeline
---