Watch Van Dijk and Robertson copy Lacazette and Aubameyang celebration ahead of Premier League clash against Arsenal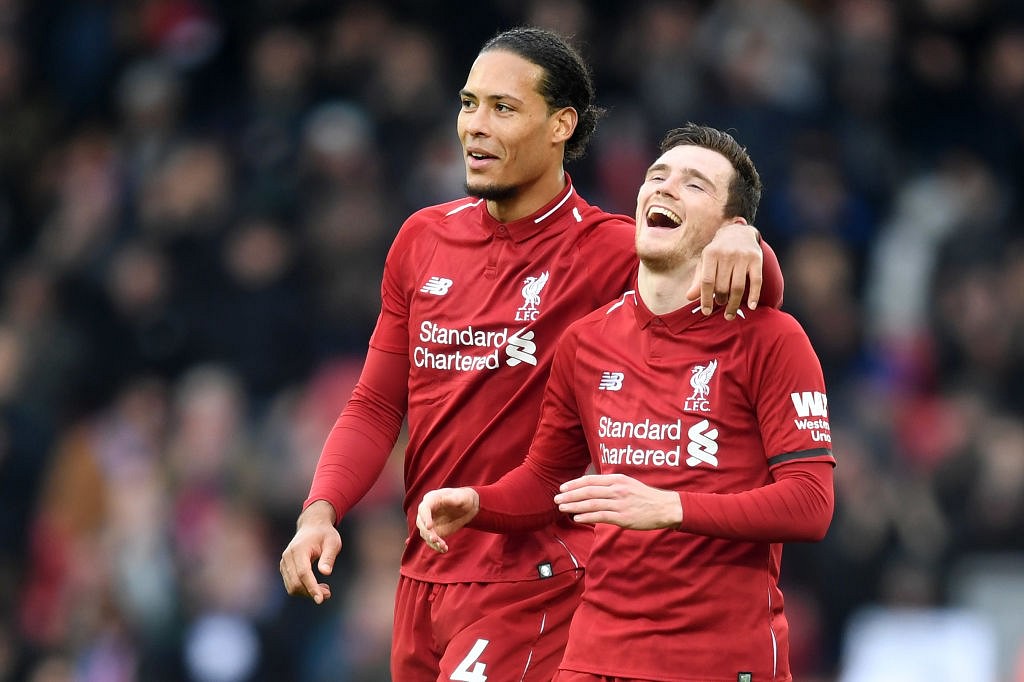 Watch Van Dijk and Robertson copy Lacazette and Aubameyang's trademark celebration after pairing up to score a goal in training session.
Liverpool will face Arsenal in the upcoming Premier League game-week, with both the teams yet to face a defeat in the new league campaign.
Ahead of the clash against the Gunners, Liverpool players are preparing themselves before the first big test of their season.
In the meantime, Virgil Van Dijk and Andy Robertson were seen taking a dig at their rivals whilst scoring a goal in the training session.
Both the defenders were involved in an impressive gameplay to score a goal in the training ahead of the Saturday clash. The short passing between the two made them do, what the Arsenal strikers do to celebrate their successful duets.
The pair was impressed by their own display in the training, and Van Dijk was seen marching towards Robertson, and they finally shook hands and bent to imitiate the famous celebration.
Watch the video
https://twitter.com/goal/status/1164095274647793664?s=19
The handshake between Lacazette and Aubameyang has become a custom ever since the Gabon striker joined Arsenal in January 2018, and it continued even when Lacazette was substituted in the second half.
Arsenal and Liverpool have shared an intense rivalry since long, and it has been growing ever since. However, with the recent rise of the Reds, Arsenal have been subject to the losses in the recent matches.
But this time, both the sides are having a great start to their new season, as both the English giants have not dropped a point in the league so far. Thus, it remains to see, who will be standing tall this weekend to do the 'handshake' celebration, as one out of the two might lose the clash.
Aubameyang and Lacazette are one of the most decorated duos to ever play in the Premier League. Whereas, Van Dijk and Robertson have gained prominence in the current era of defensive gameplay. Therefore, surely, it will be an exciting clash to look ahead this week.
---