What If Series : What if WWE Superstars were Cricketers ?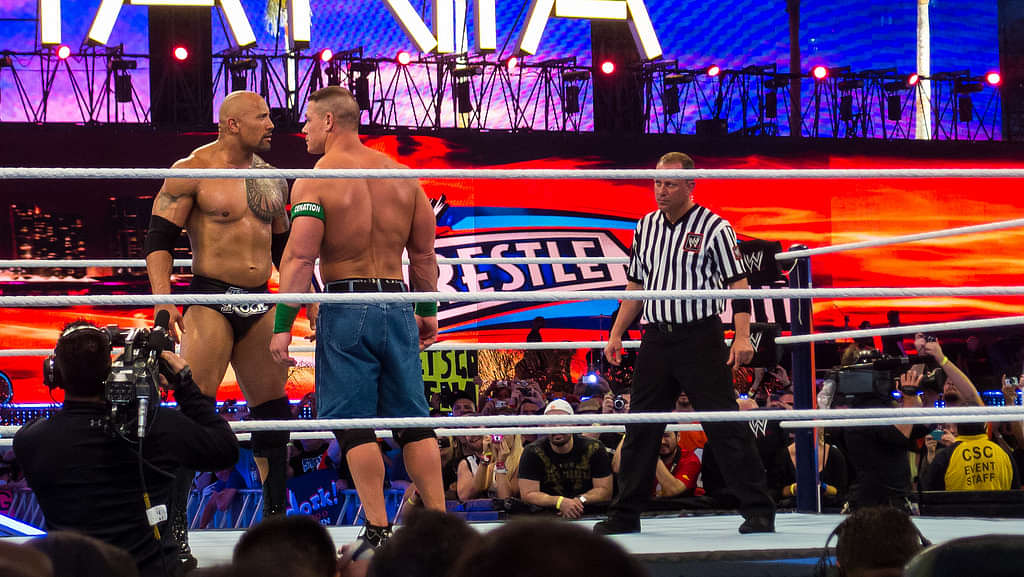 WWE is one of the most popular entertainment shows on the planet with a fan base touching very part of the globe. Cricket is a huge sport as well but it has a major chunk of it's fan base in South Ssia. With that being said what if we marry the best of best of both worlds ? What if WWE Superstars were Cricketers ?
Read on !
5) Undertaker – Sachin Tendulkar
This will definitely rank as the easiest parallelism among cricketers and WWE Superstars. Both are immensely respected and are unmatched veterans of their respective industries.
While the Master Blaster made his debut against a fiery Pakistani bowling lineup in 1989, the Phenom burst into the scene in the 1990 Survivor Series pay-per view and is still going strong.
Since then, their careers have spanned over two decades courting almost no/minimal controversies. As per the inputs of the locker/dressing room area, both inspire awe among all fellow players/performers.
Just like Sachin's trademark straight-drive and backfoot cover push makes his fans go crazy, the Undertakers' finishers, the 'Tombstone Piledriver' and the 'Choke Slam' evoke a similar reaction from the WWE Universe.
4) Daniel Bryan – Yuvraj Singh
Fighters to the extreme degree. The fact that every single individual could connect to these two men is what makes them special. Daniel Bryan had a remarkable year 2013-2014.
Starting from the absolute scratch and being told multiple times that he was not good enough, Bryan with his consistent performances won the hearts of the WWE Universe and under their thunderous pressure of the 'Yes' chants, the WWE management had to change the plans for the main event of Wrestlemania 30 where Bryan emerged victorious.
However, soon enough Bryan had to relinquish the title and eventually retire due to suffering multiple concussions due to his fast-paced style of wrestling. Along similar lines, Yuvi showed amazing tenacity and battled through illness (which was later diagnosed as lung cancer) to lead India to a world cup triumph after 28 years, winning the Player of the Tournament award.
While Yuvi successfully fought his way through cancer and is trying to rediscover his old and golden touch, Bryan has joined the Smackdown roster has the General Manager of the show (a non-wrestling role).
3) Randy Orton – Rohit Sharma
Both are undoubtedly the most talented athletes in the entire team/roster. Randy Orton, a 3rd generation superstar, blessed with an enviable lineage and amazing skillset had 'superstar' written all across him.
Along similar lines, very few can compare to Rohit Sharma when he is in full flow. One feature that stands out among both of these individuals is the lazy elegance that they show – Rohit in his flicks and drives and Randy in his methodical punishment and his mesmerising finisher, the RKO. Randy is the youngest WWE champion in history while Rohit has registered the highest individual score in ODI cricket (264).
.However, while they were destined for their stars, minor hiccups has always kept them from reaching the absolute pinnacle. Randy was suspended a couple of times for the intake of prohibited drugs while Rohit has been plagued with inconsistent performances and lacklustre shot-selection in critical matches. Come what may, both of these individuals are indispensable assets for the Indian team/WWE.
2) John Cena – MS Dhoni
Both of these gentlemen are have been the torch-bearers of the respective industries for over a decade now. While John Cena shook the WWE arena with his cocky 'thug-life' gimmick in the early 2000s, MSD captured the attention of the Indian cricket-lover with his long hair and even longer sixes.
Who can forget the 'Ruthless Aggression' of Cena in his debut against the veteran Kurt Angle and the whirlwind debut century at Vishakapatnam in 2005 with the trademark 'gun firing' gesture by Dhoni.
However, 10 years since, both of them have turned into hugely polarizing figures. Cena is greeted by raucous resentment among most of the adult men in the WWE universe while Dhoni has his fair share of haters who believe he always gets lucky.
In any case, we are slowly seeing the mantle shifting to upcoming stalwarts like Seth Rollins and Virat Kohli through careful nurturing by both of these men. As Cena would say "Love or hate, you cannot debate" that these men deserve all the respect for their amazing work ethic and impeccable service to cricket/WWE.
1) Brock Lesnar – Virat Kohli
While there is little resemblance between the two in terms of their physical getup, no one can deny the superhuman efforts of both of these individuals. The way they decimate and demolish their opponents is beyond description.
Brock Lesnar's mantra of 'Eat,Sleep,Conquer,Repeat' can be easily extrapolated to Virat scoring century after century in the cricketing arena. While 'Supplex City' absolutely demolished John Cena in the main event of SummerSlam 2014, who can forget the beating Virat gave to Lasith Malinga at Hobart in the CB Series.
Both extremely fit individuals who show unmatchable aggression in the field/ring, there is no stopping either of them. Needless to say, they are the show-stoppers of the entire match/event.
---