Vince McMahon and WWE Reportedly Nixed a "Way Worse" Angle and Replaced It With the Golden Egg Segment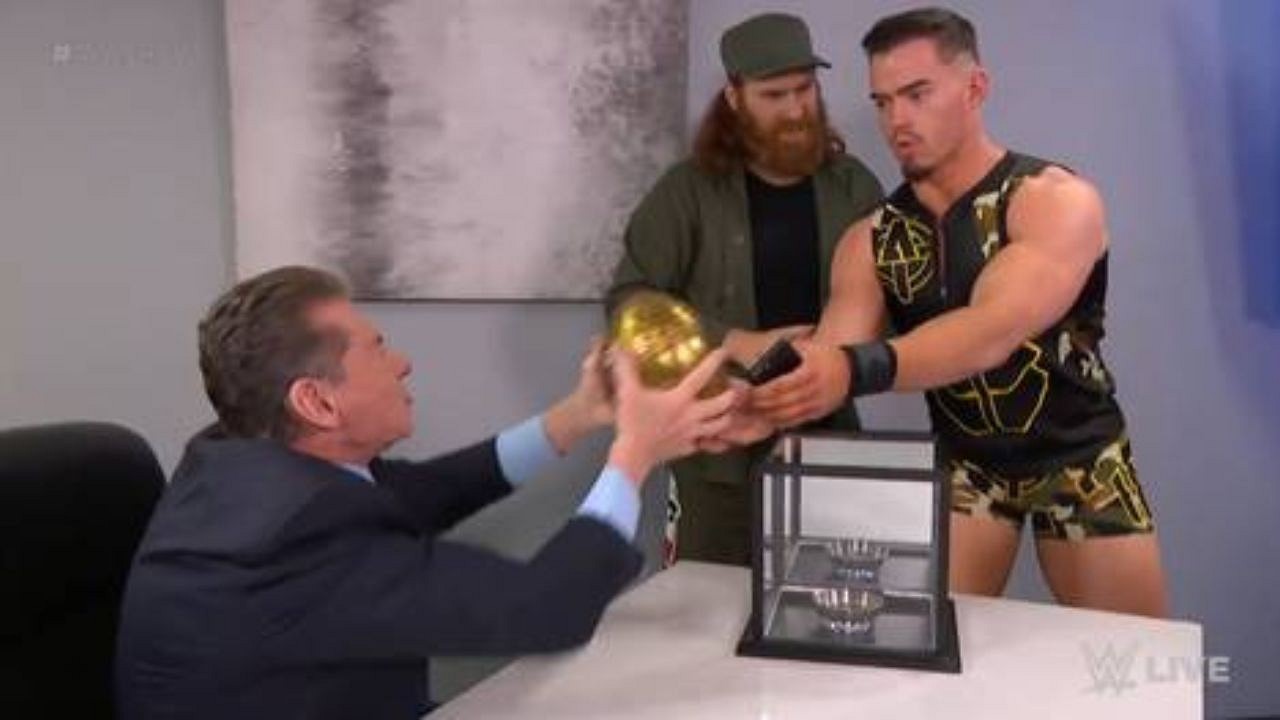 While wrestling is famous for thrilling and riveting storylines, there have been some angles that were beyond absurd. One such storyline was Cleopatra's Golden Egg segment. A former WWE writer recently revealed that the original plan for the segment was way "worse". Ahead of Royal Rumble 2021, Vince McMahon introduced the Golden Egg, which was apparently worth $100 million. The egg was put on display in McMahon's office to promote The Rock's new movie, Red Notice. 
However, the golden egg was later stolen by Austin Theory. Sami Zayn then snitched on Theory, and the latter was called into Vince's office.
Theory confessed that he only tried to take a selfie with the egg. Impressed by Theory's honesty, Vince McMahon rewarded him with a title shot. Austin Theory later faced then-WWE Champion Big E in a losing effort that night. As dumb as the entire angle was, there was something much worse planned. 
Former WWE writer says the original plan for the golden egg angle was "way worse"
Speaking on The Bill Simmons Podcast, former WWE writer, Brian Gewirtz, revealed that the golden egg segment was a replacement for a much worse storyline.
Although Gewirtz did not go into specifics, he revealed that the original creative direction of the angle was terrible. Gewirtz is also The Rock's associate. He recalled running it by The Rock and realized that there was a lot that needed to be changed. 
"The original creative for that, won't go into but just trust me, it was much, much, much, much worse… When I discussed it with Dwayne (Johnson), I was like, 'Yeah, that's gotta change' and then I think Vince (McMahon) and the team came up with this egg thing."
The angle led to Vince McMahon putting stock into Austin Theory's career going forward. The young star established himself as one of Vince's favorites. No matter how goofy the angle was, it was also a pivotal point for Sami Zayn, as his performance changed Vince's opinion of him. 
Brian Gewirtz believes Vince McMahon was impressed by Sami Zayn's performance during the filming of the segment
Speaking further, Brian Gewirtz revealed that Vince recognized Sami Zayn's true potential as a performer during the filming of the vignettes for the angle. Gewirtz was baffled that it took Vince McMahon a goofy storyline to recognize Sami Zayn's talent as a performer. It's safe to bet that the dumb egg angle saved Sami Zayn's career in WWE. 
 "I just thought it was funny that yeah, it was those vignettes where Vince really took notice as far as Sami as a performer."
Sami Zayn is the NEW IC Champion!

With Sami doing some of the absolute best character work in all of wrestling right now this is a perfect move.

It unlocks a whole new world of good things for Sami AND the IC Title too (at-last).

Win-Win. pic.twitter.com/Cw3c2CXsaz

— Wrestle Ops (@WrestleOps) February 19, 2022
Click here for more wrestling news.
---
Share this article