"You Missed His Bald Spot"- WWE Universe Reacts to Hilarious 2K23 Commercial Featuring John Cena, Bad Bunny, Logan Paul and More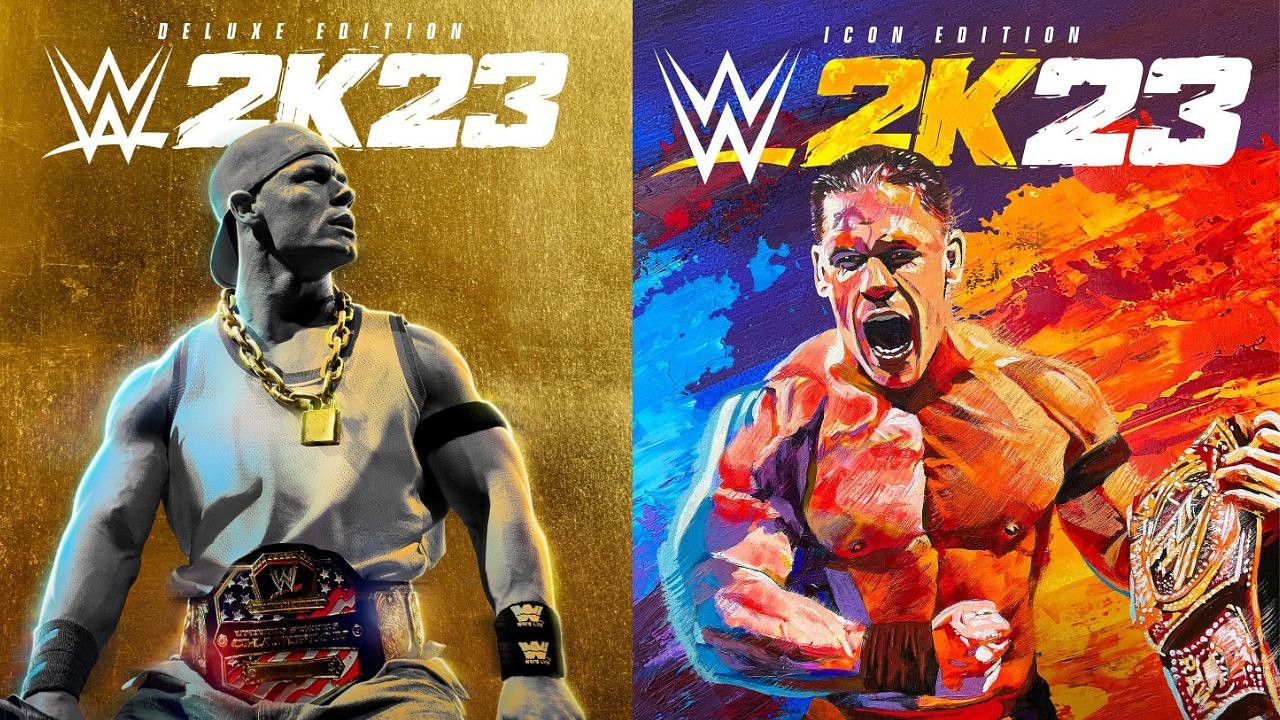 As previously reported, the WWE 2K23 will be released on March 17, 2023. But the latest entry to the WWE 2K franchise has been revealed. With John Cena featured on the cover, it goes without saying that WWE 2K23 is centered around John Cena's career. The career mode will enable the fans to follow and re-live John Cena's illustrious WWE career vicariously.
20+ Year Career 🏆
16x @WWE World Champion 🌎
NEVER GIVE UP! 💪

Do you have what it takes to BEAT @JohnCena in his iconic 2K Showcase?

Pre-Order NOW! https://t.co/j1rIrmKhXb #EvenStronger pic.twitter.com/fG0h6I8Dyp

— #WWE2K23 (@WWEgames) January 24, 2023
Interestingly, the sixteen-time World Champion is now the five-time WWE Game cover star. Cena was featured on the cover in 2006, 2010, 2011, and 2015. Although the video game has not been released yet, you can see John Cena extensively in the game's ad, can't you? The ad also featured other WWE superstars and celebrities such as Logan Paul, Bad Bunny, Austin Theory, and Triple H. 
Fans react to WWE 2K23 game teaser
The tagline of the game is to see John Cena, beat John Cena, and be #EvenStronger than John Cena. The teaser of the game has met with mixed responses among fans on social media. Here are some reactions. 
See @JohnCena, beat John Cena and be #EvenStronger than John Cena in #WWE2K23, coming soon! @WWEgames pic.twitter.com/lNAfHOY9FR

— WWE (@WWE) January 23, 2023
Absolutely loving the Deluxe edition cover. ❤️ Although I might spring on the Icon edition if everything looks good & tidy. We might see a little more at the #RoyalRumble. Can't wait. 👀 pic.twitter.com/dTiQ3XMtTB

— James Lawrence (@Jemusurobato) January 23, 2023
Excited for this game! pic.twitter.com/jXVjzsZViJ

— Just Talk Wrestling (@JustTalkWrestle) January 23, 2023
You mean…we get to see @AJStylesOrg's favorite thing?? pic.twitter.com/LHgMAJFoRB

— AJ Purnell (@AJPurnell) January 23, 2023
Finally the world admits, we can't see him🤌🏻

— Ash (@twtyash) January 23, 2023
Hold on playa, did Bad Bunny let someone to take a photo with him?

— Kevin "MrKev" Lopez (@MrKev719_) January 23, 2023
Gameplay looking CLEAN. CANT WAIT! #EvenStronger

— Jordan Cassatt (@TheGiantCassatt) January 23, 2023
Teasing Cena Vs Theory huh 👀

— ᴶ (@dontesfaye_) January 23, 2023
Personally prefer an Attitude Era showcase than a John Cena one. Which unfortunately looks to be the case.
Nice trailer though

— Timothy Howard (@Katastrafik) January 23, 2023
Well, I know what I want for my birthday!

— Billy Slaven (@TheBilliantOne) January 23, 2023
Bad Bunny in the game 🔥🔥🔥

— #JusticeForNashCarter (@deadspaceking) January 23, 2023
bruh his hands are 10x bigger than the ps4 controller

— 💢Isaiah (@ISAIAHVANDAM_) January 23, 2023
You missed his bald spot 😂

— J.D.H (@J_D_H___) January 23, 2023
When Cena is on the cover of 2K23 again it shows you how truly bad the roster really is today.
I was right about the current roster of WWE not having enough star power or draws. https://t.co/ADlYlch8DP

— Matt Gordon #ThankYouVince (@LordTaker91) January 23, 2023
 John Cena and other wrestlers react to the WWE 2K23 trailer
It's worth noting that WWE has heavily teased a match between John Cena and Austin Theory in the past. And they did it again in the game. Ahead of the WWE 2K23 trailer's release, Austin Theory posted a hilarious video of him brandishing a chair around at the set of WWE 2K23 in hopes of catching John Cena because he cannot be seen. It remains to be seen if John Cena and Austin Theory clash for real at the show of shows, WrestleMania 39.
He can't keep ducking me forever 😡 #WWE2K23 #ad pic.twitter.com/tdgm3nqxni

— Austin Theory (@_Theory1) January 20, 2023
Honored to be on the cover of @WWE @WWEgames #WWE2K23 for the second time!

The new game certainly brings a new meaning to "career mode." Excited for every player to take this journey! https://t.co/upMG7JF6xn

— John Cena (@JohnCena) January 23, 2023
It's like the bar was lifting itself 💪🏽 #WWE2K23 is coming March 2023. Pre-order your copy now! #ad https://t.co/37PdhR8hlK pic.twitter.com/XETG85SR1X

— Logan Paul (@LoganPaul) January 23, 2023
Hate to break it to you, @JohnCena…#WWE2K23 @WWEgames https://t.co/cYzl1xHklt

— Triple H (@TripleH) January 23, 2023
Click here for more wrestling news.
---