Yuvraj Singh : 'Sachin calling me superstar is a little embarrassing'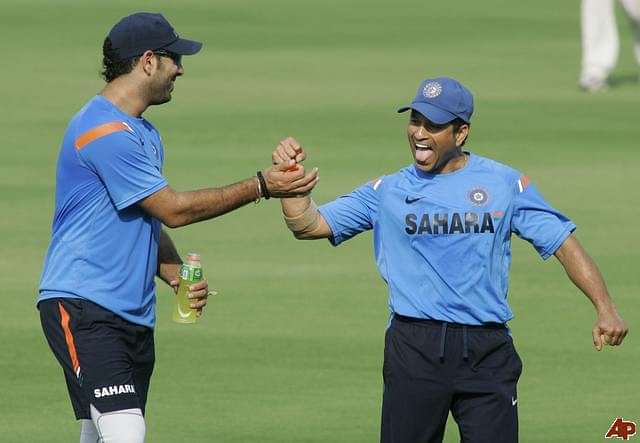 Sachin praises Mahi-Yuvi duo on Twitter
After Thrusday's thrilling match which saw India pile on the agony on England, Sachin Tendulkar took to Twitter. He lauded the famed Mahi-Yuvi duo for their spectacular performance with the bat. Yuvraj Singh plundered his highest score in ODIs with a 150 and MS Dhoni amassed 138 runs in the process!
The Indian legend, Sachin Tendulkar tweeted, "What an amazing partnership between a superstar and a rockstar!! We enjoyed the show." Referring to Yuvraj Singh as superstar and Mahendra Singh Dhoni as rockstar, Sachin made his appreciation evident. The duo had put on an awesome stand of 256 for the fifth wicket.
Yuvraj Singh a tad embarrassed
In an interview after the match, Yuvraj Singh thanked Sachin for his awe-inspiring words. "He (Sachin) always calls me a superstar which is a little embarrassing in front of him. He's always trying to be funny with me but I always take his wishes. Thank you very much Mr.Tendulkar for your wishes, I think they worked really well today."
Also Read : Twitter explodes as Yuvraj Singh hits a century after nearly 6 years
Yuvraj's sublime knock of 150 included 21 fours and 3 sixes. He demolished the English bowlers with shots all over the park and rediscovered his vintage touch. Moreover, this was the first century for the stylish southpaw since the century against West Indies in the 2011 Cricket World Cup which India won.
The Sachin-Yuvi relationship
Sachin Tendulkar have always shared a cordial relationship. More than that, it is a master-protege bond and huge mutual respect which is clearly evident between the two. We have seen Yuvraj touch Sachin's feet, paying him respect in classic Indian style during multiple instances.
Sachin too has very appreciative of Yuvi's fighting spirit. Moreover, after he made a comeback from lung cancer, Sachin was one among the first people to laud him for fighting back. He had also remarked after reading Yuvraj Singh's biography 'The Test of my Life' – ' Pure inspiration.'
---