5 Things we learnt from Manchester United's 4-0 thrashing of Swansea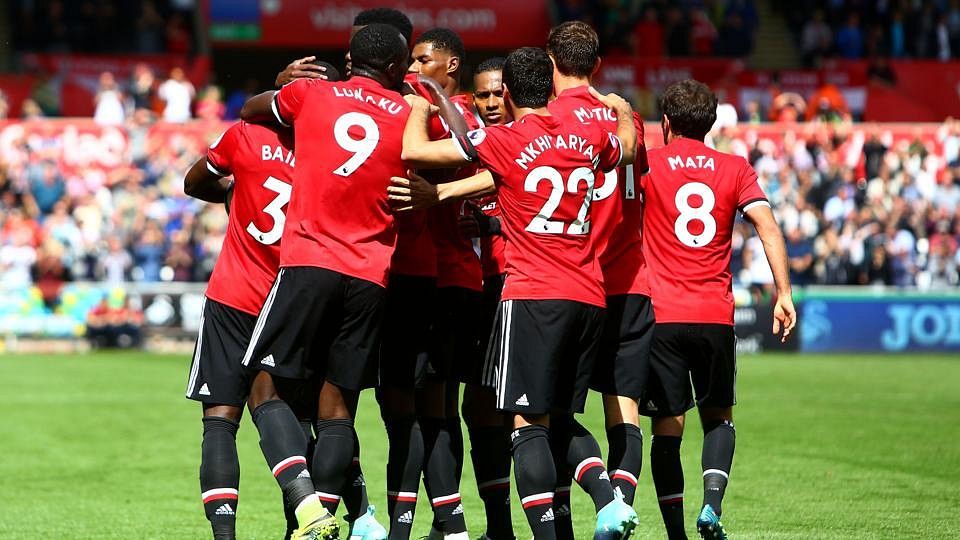 Another week, different opponents, yet the same scoreline. Goals from Eric Bailey, Romelu Lukaku , Paul Pogba and Anthony Martial made sure United left Liberty City a happy side after a comprehensive 4-0 victory against a fighting Swansea side. United went into the first half break with a slender 1-0 lead, thanks to an Eric Bailey goal after he ensured the ball ended up at the back of the net from the rebound from a powerful Paul Pogba header. The second half saw United dominate possession more but had nothing to show for it until Lukaku scored for the second consecutive match, from a Henrikh Mkhitaryan pass. United let loose since then , with the French duo Pogba and Martial chipping in with goals that ensured a comfortable victory for the Reds.
A fascinating contest, and a particularly delightful one for the United fans as they will be eagerly waiting for United's next match at home against Leicester City.
Here are the 5 things we learned from today's match :
1) United are serious title contenders :
If there were any talks about West Ham being an one off game, United put them all to bed with a thumping 4-0 victory against the Swans. Even though the football wasn't as eye pleasing as it was against the Hammers last week and Swansea providing a much better competition, they still managed to put 4 past Fabianski, courtesy of goals from Bailly, Lukaku, Pogba and Martial.
United have enough fire power in their starting eleven, as well as a strong bench strength, which was evident today. The travelling away fans were roaring with delight and it's about time they get to sing about a 21st Premier League title.
2)Eric Bailey is a world class defender  :
Last year, United fans were in for a surprise as Woodward completed the signing of a certain Eric Bailey , an unknown defender from Spanish side Villareal for a whooping 30 million pound fee. Whatever hesitation arose then, it no longer persists.
Bailey had a successful outing last season with the Reds and can always be depended on to produce confident solid performance week in and week out. Today was another one display which consolidates his status as one of the best defenders in the Premier League, if not the best.
Couple of crunchy tackles, brave interceptions and some confident positioning, Bailey could finally be United's solution to replacing a certain Nemanja Vidic. And to make it all the more sweeter, he scored from a rebound from a Paul Pogba header , his first goal for the club.
3) Martial deserves to start :
An assist and a goal in just 11 minutes since coming on. You cannot expect a better performance from a substitute. After making a strong statement with the cameo, Martial yet again made the difference when he came on in the 74th minute , which changed the complexion of the game.
He was involved in several link up play in the final third, and was looking extremely dangerous every time he got the ball at his feet, and finally scoring one himself after a composed finish from a Henrikh Mkhitaryan pass. Mourinho claimed yesterday that Martial was one of the players he expected to get better this season.
Judging by how Martial has performed so far since pre-season, Martial deserves to have his name in the starting eleven next time round, and it might as well be in United's next home game against Leicester Cit,y at Rashford's expense.
4) Swansea are not about to give in :
Hardly anyone would have given Swansea a chance ahead of today's fixture, not after Swansea's goalless draw against Saints . Certainly not after United's rampant performance against West Ham. However, that was not to be the case as Swansea showed real spirit in the game and was not afraid to take the fight up to United.
Certainly until United's excellent last 10 minutes which saw Swansea let the scoreline slip from 1-0 to 4-0, they were in for a real chance and always threatened to find a late equaliser that would have made the match more interesting.
Paul Clement can be proud of his team's performance today for a majority of the game, and has a lot of positives to take from the game. Swansea in paper looked a team likely to be involved in the relegation battle this season, but if they can improve more and more on today's performance, there is no reason why they cannot finish in the top half of the table.
5) Abraham is a talent to watch out for :
It's never too surprising to see a Chelsea academy product producing excellent performances in different colours . If today's performance is any sort of indication, Abraham could be a rising Premier League star in the near future and is definitely one of the players to watch out for this season.
He linked up well with Ayew, his hold play was excellent and always threatened to break on the counter. He has all the qualities of a striker to perform in the Premier League, and he needs to prove himself that he is capable of greater things, now that he is guaranteed game time with Swansea, if he hopes to build on his glowing reputation.
---