After Horner's comments against Mercedes' team culture, Mercedes troll Horner on social media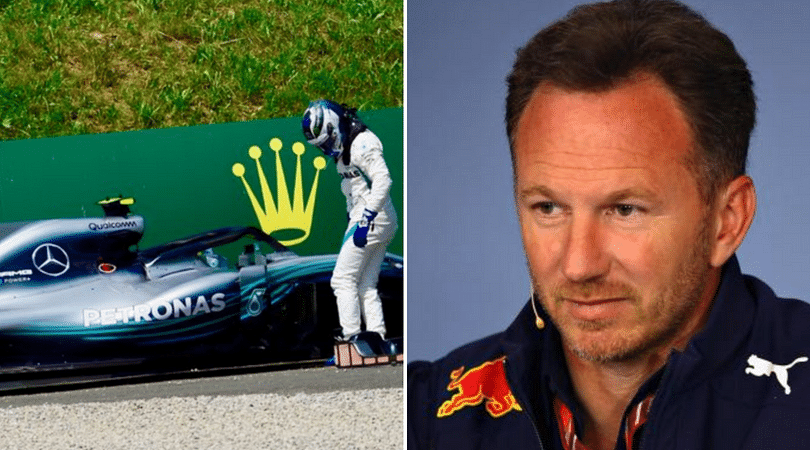 Mercedes' team strategist James Vowles accepted his strategic blunder during the Austrian GP, where he communicated the same to Lewis Hamilton whilst he was losing his mind in the car.
Hamilton had overtaken Bottas on Turn 1 to take the lead, but was pushed to 4th because of that VSC error.
The Brit wanted an explanation from his team regarding the entire incident and Vowles was quick to accept his mistake.
Christian Horner wasn't quite impressed with the entire incident, as he felt that Vowles was thrown under the bus by the Mercedes team just in order to keep Hamilton calm.
Horner felt that the entire team should have taken responsibility and not just one individual, something that would never ever happen in Red Bull.
"It's always difficult to know the intricacies of other teams but I think the one thing you have to do as a team is win as a team and lose as a team.
"That's why we hardly at all, in success or failure, talk about individuals, because that puts an unfair amount of scrutiny and pressure on that individual.
"Certainly our philosophy is that as a team, it's collective responsibility rather than an individual. Of course there has to be accountability, but it's something that's dealt with in the right environment behind closed doors and not in a public forum." Horner said.
It seems like Horner's comments haven't gone down well with the Mercedes team, as their twitter handle took a massive dig at him for his comments after the Austrian GP.
Christian Horner will never be half the man that James Vowles from @MercedesAMGF1 is. End of debate.

— Shaka David (@tweetingshak) July 4, 2018
"Resisting the temptation to retweet for fear of causing political ructions" 😅

— Mercedes-AMG F1 (@MercedesAMGF1) July 4, 2018
Was it right on Mercedes' part to let Vowles alone take all the blame for the mishap?
---