Andy Murray pokes fun at Nick Kyrgios for US Open controversy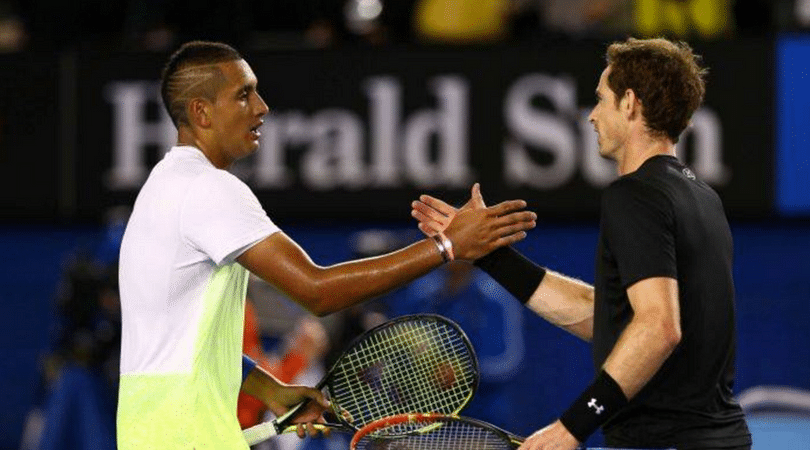 The second round of the US Open 2018 in New York was marred by controversy when Nick Kyrgios was spotted having a conversation with the chair umpire- Mohamed Lahyani in what appeared to be a pep talk from the match supervisor's side. Once the second set was over in the second round match against Pierre-Hugues Herbert, Kyrgios was 6-4, 3-0 down and looked extremely lackluster.
When he was in the middle of a changeover ahead of the third set, the umpire Mohamed Lahyani appeared to be come to him and talk to him for as long as one minute. It was not any other random conversation, but something that looked clearly like a pep talk by the Moroccan match overseeing person.
During his postmatch news conference, Kyrgios said he wasn't being coached by Layhani. He said Layhani told him, "This does not look good for the integrity of the sport," and that this exact same thing has happened to him in the past in Shanghai and two weeks ago in Cincinnati. He said he would be disappointed if Lahyani was sanctioned for his actions (which he was not).
Subsequently, the 23 year old Australian was slammed for his actions by Twitter's followers of the game with even reputed professionals taking to social media to slack him ahead of his round of 32. The latest case came when he had posted a picture on Instagram with a caption saying 'switch on'.
English tennis star Andy Murray was quick to comment on it saying 'when will you be announcing Mohammed Lahyani as your coach?' with Dominic Thiem replying to the Brit by saying that he is a legend. Herbert released an official statement about his sightings in the match while Roger Federer also spoke about the event that took place.
The Swiss and the Australian will be facing off in the third round of Saturday, but all eyes will be on the controversial Kyrgios who has to give an answer.
Check out Kyrgios' post:
---
Share this article