Barcelona to appeal ban on Roberto, says manager Valverde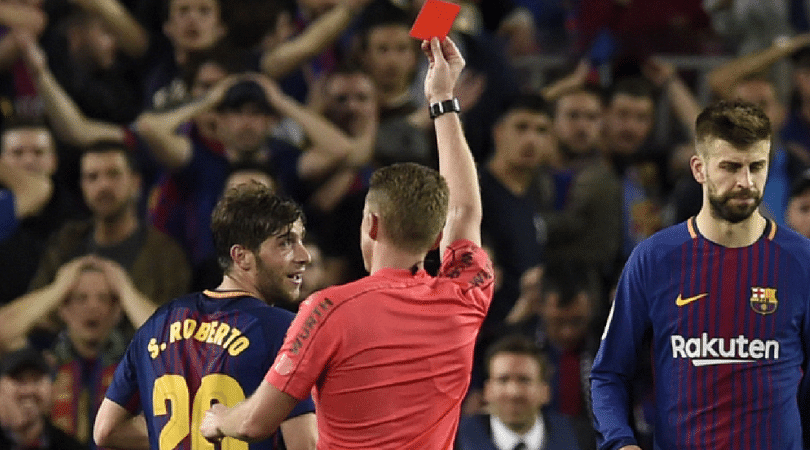 Sergi Roberto was given a red-card during the El Clasico last week, following which the Spanish Football Federation handed him a four-match ban.
FC Barcelona manager Ernesto Valverde has said that the club will appeal the ban on Sergi Roberto. Roberto was given a four-match ban by the RFEF Competition Committee (Spanish Football Federation) earlier this week.
Sergi Roberto was given a red card during the first half in Barcelona's game against Real Madrid on Sunday. Referee, in his post-match report, stated that Roberto's demeanor was undisciplined, and tussle with Marcelo was unprovoked. If the ban stays, Roberto will miss the remainder of the season, as well as the first game of the next season.
After their 5-1 win against Villareal on Wednesday night, Valverde said, "We hoped it would be just one match. I don't know how the incident was written up."
The decision for the ban referred to article 98.1 of the La Liga guidelines, which adheres to 'aggression to another player without causing injury.' However, Barcelona feels that the ban is excessive and one-match ban for such an offence is sufficient.
Also read: Sergi Roberto to miss the start of next season
"Marcelo writhed around, that is for sure. We will appeal the ban," Valverde said in his post-match comments. Barcelona defeated Villareal in an emphatic fashion at the Camp Nou, overcoming the Yellow Submarine 5-1.
Ousmanne Dembele scored a brace in the second half, while goals from Lionel Messi, Paulinho and Coutinho in the first half eased Barcelona through to an easy win. FC Barcelona has two more games remaining in the La Liga.
The club is still undefeated in their La Liga campaign, and the ban on Sergi Roberto has given a substantial blow to Barcelona's attempts at successfully completing the invincible run.
"It is really positive that we are not losing games and that we are keeping our level high," Valverde said. Barcelona, who has already won the league, has La Liga games remaining against Levante and Real Sociedad.
---