Belgium Open: Sathiyan Gnanasekaran Takes Giant Strides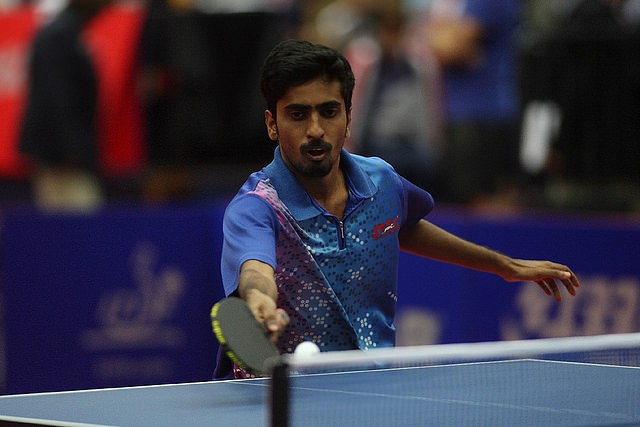 Sathiyan Gnanasekaran who is not a poster boy in the Indian Sporting fraternity has made history. The 24 year old lad from Chennai has just won Belgium Open Men's Singles trophy.
This is a remarkable feat as no other Indian has been able to win singles title since year 2010 when Sharath Kamal won singles title on the ITTF Pro Tour. The world number 152 defeated local favourite Cerdic Nuytinck to lift the Belgian Open title in straight sets. Cedric was the favourite coming into the match with a ranking 38 spots ahead of Sathiyan.
The final had all the makings of a spectacle; two unexpected finalists, both players looking for their first senior title on the Tour and a great atmosphere within the hall. But the Belgian fans weren't greeted with the result they had hoped for, as their man Cedric Nuytinck fell to a straight games defeat to Sathiyan Gnanasekaran.
Match Analysis
Game one could not find a victor after 20 points so a deuce was needed. Gnanasekaran held his nerves and won the game 15-13 to take an early advantage. Then it was a case of Gnanasekaran beginning to pull away the game from Nuytinck. The Indian player won the second and third ends to secure a position in the match where his victory was inevitable. Sathiyan Gnanasekaran ended the match with the score reading 15-13, 11-6, 11-2, 17-15.
http://thesportsrush.com/vijay-goel-good-decision/
First Reaction
Sathiyan Gnanasekaran was visibly elated after his victory over Cedric Nuytinck and in an interaction with media said:
"It's amazing! I win my first World Tour title. It is even the biggest moment in my career. The form throughout the tournament was very good, I already felt great at the Czech Open. I caused many upsets also because I was relaxed. In the final I had nothing to lose and Nuytinck had more pressure and I was able to take the opportunities that I got"
Gnanasekaran also expressed that he was disappointed when he could not make it into the Rio Olympic Squad. He believed that he could have made it into the squad if he had worked a bit harder. However taking the positives from this win he said:
"Never in my wildest dreams think that I could win the tournament. Cedric had a full capacity crowd supporting him, but I just played my game. It's sometimes better to play with instinct rather than play consciously. I will use this victory to help me regain my confidence as it was majorly hit after failing to make it to the Olympics."
After completing his engineering degree in Chennai Sathiyan turned pro in 2012. Like many other table tennis players he also drew inspiration from poster boy of Indian table tennis Achanta Sharath Kamal.
He added that, "We have learned a lot from him, all of us. He has helped table tennis in India survive and thrive and beaten the best in the world as well. So, I really respect him for that."
Sathiyan is currently in Europe preparing for other tournaments. We all would be waiting for him for making a triumphant return to India.
---