Bhaichung Bhutia feels quality of Infrastructure, biggest roadblock in Indian Football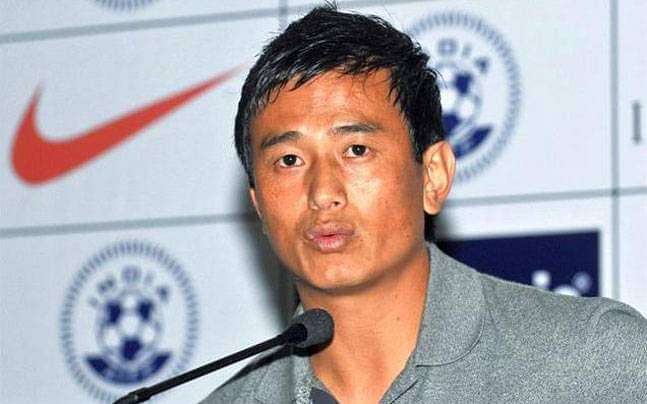 The man who defined Indian Football for a considerate amount of years, Bhaichung Bhutia on Monday made a bold statement. He said that the lack of infrastructure still remains a roadblock in the development of Football in India. While the President of AIFF, Mr Praful Patel pointed out at the lack of money in the sport as compared to cricket.
Bhutia does feel that a lot of improvements have been made but at the same time there is room for more.  "In my time I played one U-16 national tournament other than the Subroto Cup. And players like IM Vijayan have never played in any such tournament. But now things are different. There are many opportunities for the youngsters to come,"Bhutia said.
The 'Sikkimese Sniper', as he is popularly known, was in the Capital. Other stars of football like Vijayan, Jo Paul Ancheri and Bruno Coutinho were with him. They were here for the launch of the book 'Back to The Roots, A Definitive Guide to Grassroots and Football Development' written by Shaji Prabhakaran.
"While opportunities are there, infrastructure is not at that level. For that state associations should work with the states, the government and federation."
On the other hand, according to Patel, "We have decent grounds, we got the FIFA to approve six stadiums for U-17 World Cup next year and we also got 6 stadiums approved for stand-bys. We need to see the larger picture. Other than cricket there is no money in hockey, football and other sports.
"In-spite of all this, I say things are moving in the right direction. It's not as bad as it was a few years ago," AIFF chief Patel said during a panel discussion.
Also Read
What if Tennis players were Marvel Superheroes
Asked about the performance of the Indian team in BRICS U-16 Tournament held recently, Bhutia said it was important to get the desired results.
Talking about Indian performance in BRICS U-16 Tournament Bhutia said,"They played well results matter. They were a bit unlucky there and should have won against China. In the U-17 World Cup, we should hope for one or two positive results."
AIFF secretary Kushal Das, when asked about the ISL-I-League's possible merger, said it will be known only in March or April if it is implemented.
---