BR vs PNP Dream 11 Prediction: Best Dream11 team for today's Bangalore Rhinos Vs Pune Pride Kabaddi match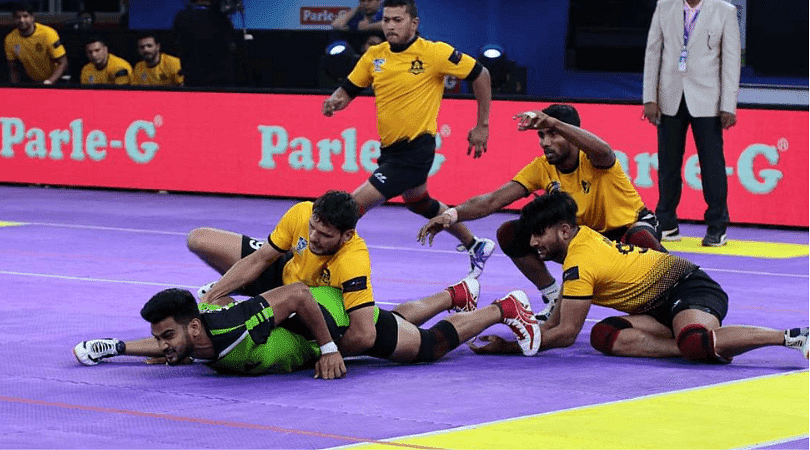 BR VS PNP Best Dream 11 Team Prediciton : 4 matches and 4 wins sees the Pune Pride become the first side from Zone A to seal their berth in the last 4
Whilst its been Diler Delhi who've been lighting the league up with their befittingly ravishing displays in Zone B, it's been Pune Pride in Zone A who've enjoyed the same effervescent spree of matches. Defeating the Haryana Heroes 56-41 on Sunday, the win was the fourth in the Pune's latest instalment of an unprecedented 4 wins out of 4 matches that sees them become the second side after Delhi to qualify for the semi-finals.
In the end, ascertaining themselves of a place in the last 4 couldn't have gotten any more easier for Pune. They played against a lacklustre HRH side, one who've been dismissed from everyone's sights they've encountered this season. With the Bangalore Rhinos to play on Monday, PNP will be looking at continuing on their form and taking it ahead into the all important knock-out stages.
Elsewhere, the Rhinos still have their chances of making it out of this group to the ensuing round finely in the balance as well They might have been comprehensibly defeated by the Pondicherry Predators on Sunday but with 2 wins, they know that an another one especially against Pride, their chances of giving the Predators a close call will propel up massively.
What also increases the Rhinos chances are how close they took the Pune Pride the last time around the two sides met. In what was the toughest match Pride have had to face this season, BR fell short by just 3 points in the end, losing 32-29 with their raiding department just about failing to scrape off the remaining few points.
It was a second half comeback from the Rhinos that day but they'll be looking at putting the points on the board early on today. This will be a closely contested, tight encounter, a feisty clash and we are going in with an equal blend of players from both the sides in our Dream 11 team.
Bangalore Rhinos Vs Pune Pride Best Dream 11 Side
Defenders for BR vs PNP Dream 11
Throughout the tournament, the area that the Rhinos have been able to rely on the most has been their rigid and solid defence. Manoj Kumar has been good, a player who has managed to ensure that his side's not so solid showing upfront is substituted for here. We pick him from the Rhinos who'll need to be resilient if they are to stop a side yet to be defeated.
In the end, no matter how hard the Rhinos huff and puff, we see Pune capturing them in a skirmish with their two man defence of Jaskirat Singh and Jitendra Yadav. They've blended the attacking and defending department seamlessly and we see them intertwining yet again to halt anything that comes up their way.
All-Rounders for BR vs PNP Dream 11
We really wanted to go in with 3 players here but with just the choice of 2, we had a tough choice to make from the Rhinos. In the end we've gone with both Arumugam and Vipin Malik given their points have been spread out over a larger fulcrum of matches. With us not picking a single raider from their side, we are envisioning their all-rounders to come out and resonate a seamless blend of attack and defence based points to help the side make a meal of the encounter.
Raiders for BR vs PNP Dream 11
From Pride we are going to choose both Amarjeet Singh and Abdula. The two have been a festival basket full of points across the four matches they've traversed in and against the Rhinos we don't see anything changing. They'll be looking to curtail the Rhinos match early on, getting the crucial points on the board with their quick steals, touches and grabs with their quick speed seeing them get past the line unscathed.
Captain And Vice-Captain for BR vs PNP Dream 11
Amarjeet Singh from Pride will captain our side with Arumugam from the Rhinos being the vice-captain pick.
Probable Playing 7  
Bangalore Rhinos
Defenders: Manoj Kumar and G Ambeswaran
All Rounders: Vishal-I, Arumugam and Vipin Malik
Raiders: Ravinder-I and Sandeep Kumar
Probable Substitutes: Kuldeep-I, M Mathan Kumar, Gurmeet Singh, G Krishnan-R and Chiranjeevi
Pune Pride
Defenders: Jitendra Yadav, Jaskirat Singh and Sachin Poovaiah
All Rounders: Vinay Kumar and S Kharb
Raiders: S Abdula and Amarjeet Singh
Probable Substitutes:  G Pawan Kumar, Ajay Kumar-I, G Vishnu-Kumar
Match Details
Indo International Premier Kabaddi League, Match 18 Bangalore Rhinos Vs Pune Pride
Date And Time: 20th May, Monday- 10:00pm
Television: DD Sports
---