Champions Trophy 2017 Fantasy Tips: Fantasy Guide for South Africa vs Sri Lanka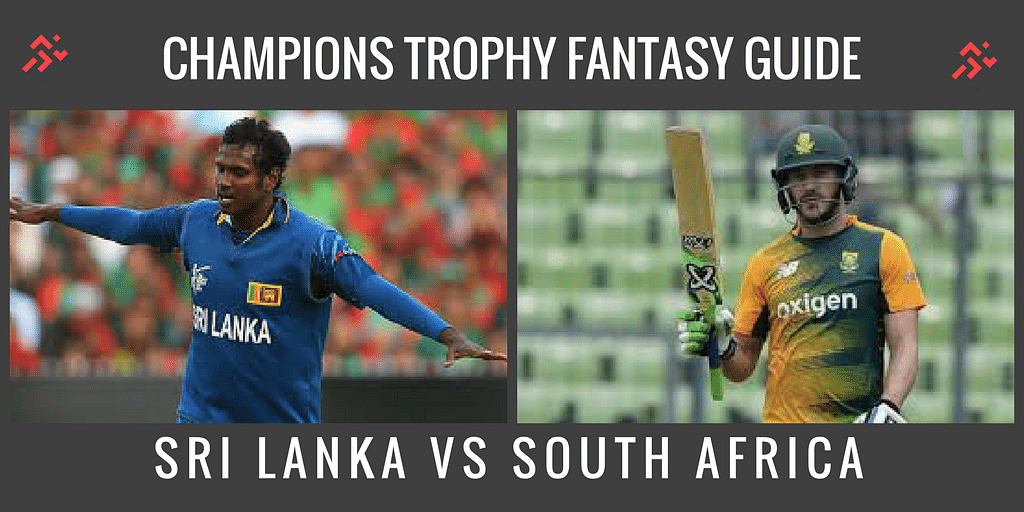 When you are in England, you need to accept the fact that a day full of sunshine is a rarity. Games are rain stricken, fates are determined by the amount of condensation that happens in the sky above and hearts are broken according to the whims of the rain gods.
New Zealand were in a perfect position to get the better of their cross ocean rivals, when the rain gods felt it necessary to intervene and help Australia salvage a point from this tricky, tricky chase.
Also Read: Do's and Don'ts for the Champions Trophy Fantasy League
Kane Williamson's masterful innings helped New Zealand put up a par score of 291 on board, which then got reduced to 235(from 33 overs), as the rain made its second appearance.
Australia lost 2 quick wickets, and New Zealand roared with conviction, when the rain gods felt the need to make a final appearance and ruin the night for the high flying Kiwis. Stuggling at 51/3 Australia would have felt the heat. and would now consider themselves very lucky to have rescued one point out of this cross island fixture.
Let's get to business now!
Champions Trophy Fantasy League Tips on the next page:

Champions Trophy Fantasy League
Transfer out: Chris Woakes, Joe Root
Transfer in: ABD, QDK
Now, I already have Kagiso Rabada in my side for this game.
The Sri Lankan team is in rebuilding phase and has been ever since the departure of Jayawardene and Sangakkara. Kushal Mendia, Chandimal and Mathews have tried to take on the onus in the middle order, but they just don't ooze of the same class at their predecessors.
Against a strong Proteas side, they'll need a miracle in order to salvage anything out of the game today. Thus, I'll limit the Sri Lankan players in my side to a maximum of 1.
The South African top 4 are probably the strongest in the tournament and one that you don't want to get on the bad side of.
With no rain predicted for today, we'll hopefully get a full game in and thus you can get in at  least 2 South African players in your team for this game. 2 from the top 4 would make it into my XI. But how do you go about picking these 2 players.
I'll go with the one from the openers and one from the number 3 and 4 strategy here.
I have a very simple theory when it comes to wicketkeepers, and that is, if a wicketkeeper batsman features in the top 3 and is comparable with any other batsman of that side, always go with the wicketkeeper batsman, as he'll be able to give you a few more points with his wicketkeeping skills. And the other batsman would have to score at least 20, 30 runs to provide the same number of points. Thus, I'll be going with QDK instead of Amla today.
Now, between Faf and ABD, I'll go in with ABD, because of his superhuman skills. And you don't say no to a superhuman, do you?
Now, when it comes to Sri Lanka, Kushal Mendis and Dinesh Chandimal are the only two players I would think about getting in.
Kushal Mendia seems like the more tempting pick, because of his lower price. But I'll go in with him only if Sri Lanka bat second, as he might succumb to the initial swing that England has to offer.
Powerplayer: ABD(if South Africa bat first)/Kagiso Rabada(if South Africa bowl first)
Fandromeda Fantasy Tips on the next page:

Fandromeda
Transfer out: Joe Root, Kane Williamson, Moeen Ali, Mushfiqur Rahim
Transfer in: Amla, QDK, ABD, Kushal Mendis
Now, I already have Kagiso Rabada in my side for this game.
I'll get in QDK and ABD all the same, for reasons already mentioned in the Champions Trophy Fantasy League section.
With Fandromeda providing more leeway with transfers, I can think about getting in both Amla and Mendis into my side.
With cost not being much of a constraint here, Amla looks like the more tempting option. Mendis can also be brought in, but only if Sri Lanka bat second, as I don't quite trust him in the early morning English conditions.
I won't be making any other transfers for this game.
Batting Star: ABD(if South Africa bat first)/Amla(if South Africa bat second)
Bowling Star: Kagiso Rabada
---