Commonwealth Games winner Krishna Poonia saves two girls from being molested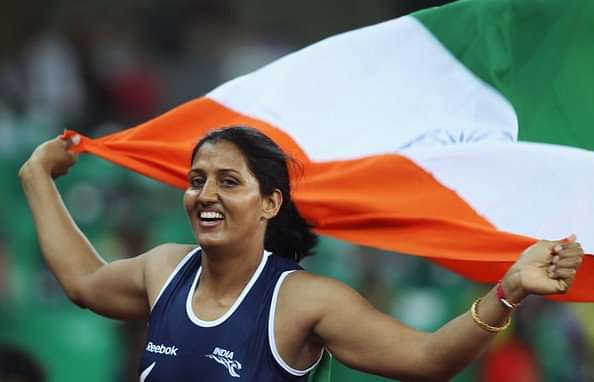 The Indian citizen time and again wakes up to the news of women being molested in different parts of the country, a headline that saddens but one that doesn't surprise anymore; such has become the norm in the country.
But every now and then you hear about 'heroes' who go out of their way to help women fight back and save themselves from these disgusting individuals.
Krishna Poonia turned out to be that hero for two girls, who were being harassed by a group of eve teasers riding a motorbike at a railway crossing in a small town in Rajasthan.
Poonia was in her car when the incident took place and immediately realized what was brewing. She got off her car and hurriedly rushed towards the 3 men. On seeing Poonia's frame and build, the 3 men backed off and started to flee away on their bike. But Poonia wasn't the one to give up and thanks to the commotion created near the railway crossing; she was able to catch hold of one of those individuals, whom she dragged to with her to the nearest police station.
The other two managed to escape.
Who is Krishna Poonia?
Krishna Poonia is an Indian discus throw. She led an Indian clean sweep in the women's discus final on 11 October 2010, winning the Delhi Commonwealth Games gold medal with a throw of 61.51 metres. The Government of India awarded her the civilian honour of Padma Shri in 2011.
You really have to laud the way Poonia came to the rescue of these two girls. It sometimes is very easy to overlook these things when they happen in front of you. Poonia has set an example for everyone to follow, a real life hero in the true sense.
---