5 Records Virat Kohli Broke In 2023 Cricket World Cup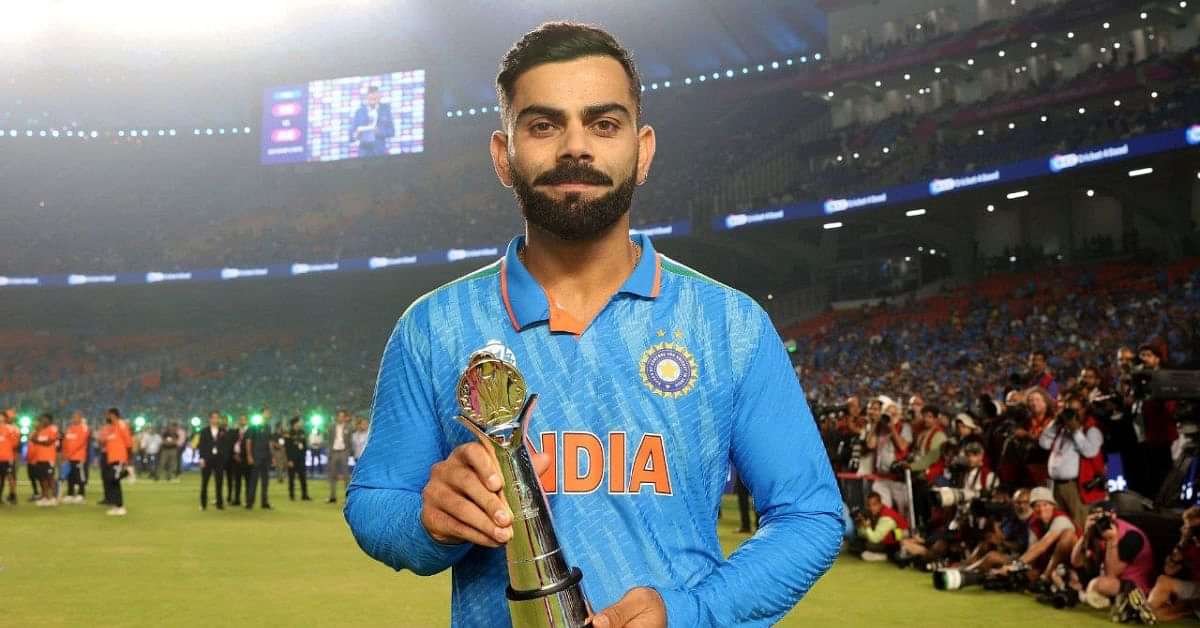 Former India captain Virat Kohli couldn't help his team in winning ICC Cricket World Cup 2023, but on a personal note, it was a record-breaking tournament for India's No. 3 batter. Right from the very first match against Australia, where he scored a match-winning half-century in Chennai, the right-handed batter never let his fans down even when the chips were down.
Designated with the anchor role, Kohli absolutely nailed it by scoring 50+ runs on nine out of the 11 occasions he batted in the recently concluded tournament. Apart from becoming the first batter to achieve this milestone, Kohli also surpassed the legendary Sachin Tendulkar by scoring 50th ODI century earlier this month. Additionally, Kohli also became only the seventh batter to score an ODI century on his birthday.
On the back of scoring 765 runs at an average of 95.62, Kohli even completed most runs in a single edition of a World Cup. Had India defeated Australia in the final match yesterday, Kohli and ace Indian spinner Ravichandran Ashwin would've become the only two Indian players with two ODI World Cups to their name.
5 Records Virat Kohli Broke In 2023 Cricket World Cup
Second-Highest run-scorer In World Cup history
Virat Kohli surpassed former Australia captain Ricky Ponting to become the second-highest run-scorer in World Cup history. He has now scored 1,795 runs at an average of 59.83 with the help of five centuries and 12 half-centuries. Ponting, on the other hand, had scored 1,743 runs at an average of 45.86. It is to be noted that Kohli achieved this feat in five innings less than Ponting.
Tendulkar is the highest run-scorer in World Cups with 2,278 runs. If Kohli manages to play another World Cup, he will certainly be eyeing to break another record which currently belongs to the Master Blaster.
Most Player Of The Series Awards
Virat Kohli was awarded the Player of the Series award for his aforementioned stellar performance. Interestingly, it was his 21st series award in all formats of international cricket. Co-incidentally, Kohli has outdone Tendulkar in this aspect as well.
What is even more special is the fact that Kohli has played 26 series and 146 matches fewer than Tendulkar to achieve this milestone. Out of Kohli's 21 such awards, three have come in Tests, 11 in ODIs and seven in T20Is.
Most Player Of The Series Awards In ICC Events
Speaking particularly of ICC tournaments, Virat Kohli has won the most Man of the Series awards here as well. Apart from this year's World Cup, Kohli was also adjudged Player of the Tournament in ICC World Twenty20 2014 and ICC World Twenty20 2016. With three such achievements, Kohli is at the top of the tree, whereas no other player has won this award even twice.
Apart from Kohli, Tendulkar (ICC Cricket World Cup 2003) and legendary all-rounder Yuvraj Singh (ICC Cricket World Cup 2011) are the only two Indians to have won such awards in the past.
Most Minutes Batted In A World Cup
Virat Kohli not only scored the most runs in 2023 World Cup but also broke New Zealand captain Kane Williamson's record of spending the most minutes at the crease in a single edition. He ground for 19 hours and 56 minutes in the middle which proves his supreme fitness at the age of 35.
During ICC Cricket World Cup 2019, Williamson had spent 18 hours and 51 minutes as a batter. Before Williamson, Tendulkar had batted for 18 hours and 50 minutes during 2003 World Cup.
Most Hundreds In A Winning Cause In International Cricket
Out of Virat Kohli's 80 centuries at the highest level, 56 have come in winning causes. No other cricketer has scored more match-winning hundreds than Kohli. In this facet, Kohli broke Ponting's record who had scored 55 match-winning tons (out of a combined total of 71). However, in terms of percentage, Ponting (77.46%) is still ahead of Kohli (70%).
---