Euro Fantasy Tips: Semi Finals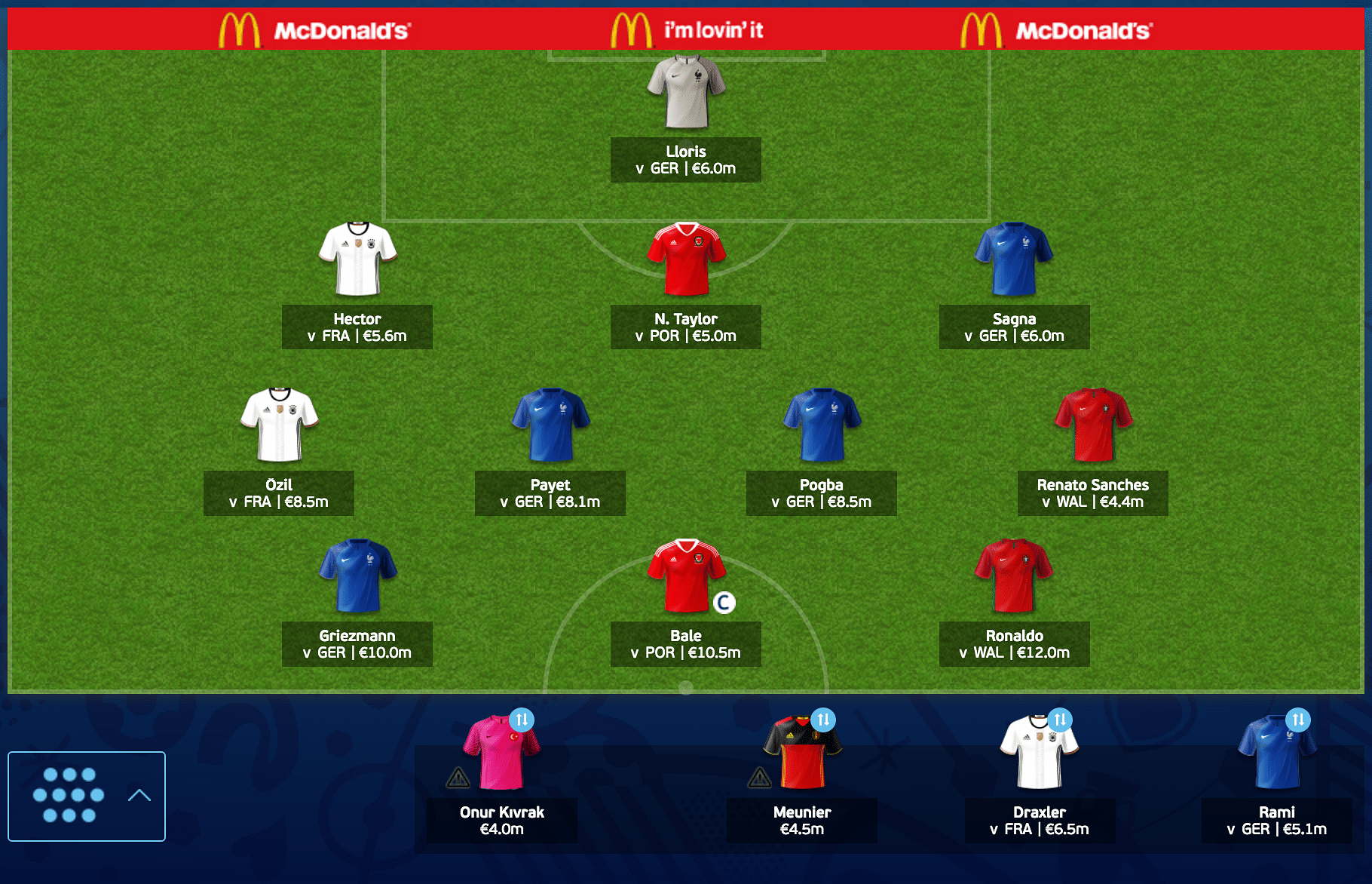 Euro Fantasy Tips: Semi Finals
Wales take on Portugal in game that is pipped to be the battle of the Galacticos. While all the focus has been on Bale and Ronaldo, the other 20 players would be out there to prove that there is more to this game than just these two individuals.
The second semi final promises to be more of a wholesome affair, with both teams being world class in defence, midfield and attack. Hosts France would be hoping that Germany keep playing in the sluggish manner that they have all tournament and that the French team can replicate the performance that they put up in the Quarter Finals against Iceland.
Also Read: Ajinkya Rahane was the only player to survive Anil Kumble's stern test
On the Fantasy front, all Fantasy managers will be getting 6 free transfers before the semi finals, so transfer out all those Belgium players you banked on during the quarters and get in more of these Welsh, Portuguese, French and German superstars.
7 of my 15 players haven't made it to the semi finals and hence I'll need to make at least 6 transfers
Let's get to business now!
Read on for Fantasy Tips

Euro Fantasy Tips: Semi Finals
Goalkeeper
France managed to make it to the Semi finals thanks to an impressive attacking display and hence Hugo Llros will be featuring in my team. He didn't get a clean sheet last time round and I don't expect him to get one in the semi finals as well but I don't want to transfer him out as I have 6 free transfers and 7 available spots.
Against a lackluster German strikeforce, which would be missing the services of Mario Gomez in this game, Lloris is surely in contention for a clean sheet. Amongst all the goalkeepers left in the tournament, I would rate him the highest.

Defenders
Now, I already have Hector and Sagna in my side. Hector provided an aissit last time round and even if he can't muster a clean sheet today, I expect him to be dynamic on the attacking front and thus I stick with him.
Bacary Sagna again has been making those overlapping runs and delivering delicious crosses into the box. Stick with him, he could also provide you with a clean sheet against a sluggish German strike force.
Neil Taylor is the first defender that I bring in for the semi finals. Against an out of sync Portuguese front 3, the stout Weslh defence has a 60% chance of mustering a clean sheet.
Also Read: Wales vs Portugal- Preview, Head to Head and Predicted Lineups
Between Germany and France, France seem the more likely to be able to get a clean sheet as the German strikeforce is bereft of their highest scorer Gomez and the rest of the front 3 aren't in good sync.
Considering that, I get in Adil Rami, who didn't start the last game but should start this one for sure as his experience would be vital to the chances of France reaching the Finals.

Midfielders
I already have Payet and Draxler in midfield. Payet has been beyond brilliant for France and should be on the scoresheet tomorrow as well. Draxler did not start the game against Italy, but that was because Low deemed it tactically fit. I am sure Draxler will return to the starting line up tomorrow especially as Gomez won't be featuring in the game.
Ozil is the first midlfielder that I get in for this game. For Germany to have any chance of making it to the finals Ozil needs to be at the top of his game tonight and he has been the lone warrior for Germany in the midfield. If Germany score, he should be able to get an assist at least.
Renato Sanches took the world by storm when Bayern Munich signed him for 30 million and he has further acknowledged that fact by scoring a wonderous goal in the quarterfinals to bring Portugal back in the tie. Now, the fact that he comes in for just 4.4 million provides great balance to my side.
Paul Pogba is my last pick in this category. He has been brilliant throughout the tournament for France but hasn't managed to gather a lot of points. All that could change tonight as he has had a taste of goal scoring in the last game against Iceland. Amongst the midfielders on offer, Pogba seems to be the best option, get him in!

Forwards/Strikers
I already have Ronaldo and Griezmann in my side in this category. Griezmann has lifted his game admirably and with it the hopes of his nation. With the form he is in, it would be foolish to not get him in for this game.
Ronaldo hasn't been at the top of his game in this tournament but come the big day and the big man should step up for the sake of his nation's pride.
The third forward/striker that I get in is Gareth Bale. Like Ronaldo, he too has been single handedly carrying the hopes of his nation. His pace should terrorise the depleted Portuguese defence. Get him in!
Captain: Gareth Bale
The choice is between Bale and Ronaldo. Now, I'll consider the opposition defences before opting for one of them and the Portuguese defence seems meeker than the Welsh one and thus I go in for Bale.
Happy team picking!
---