7x World Champion Lewis Hamilton Was 'Afraid' of Being Stopped From Protesting in BLM by Mercedes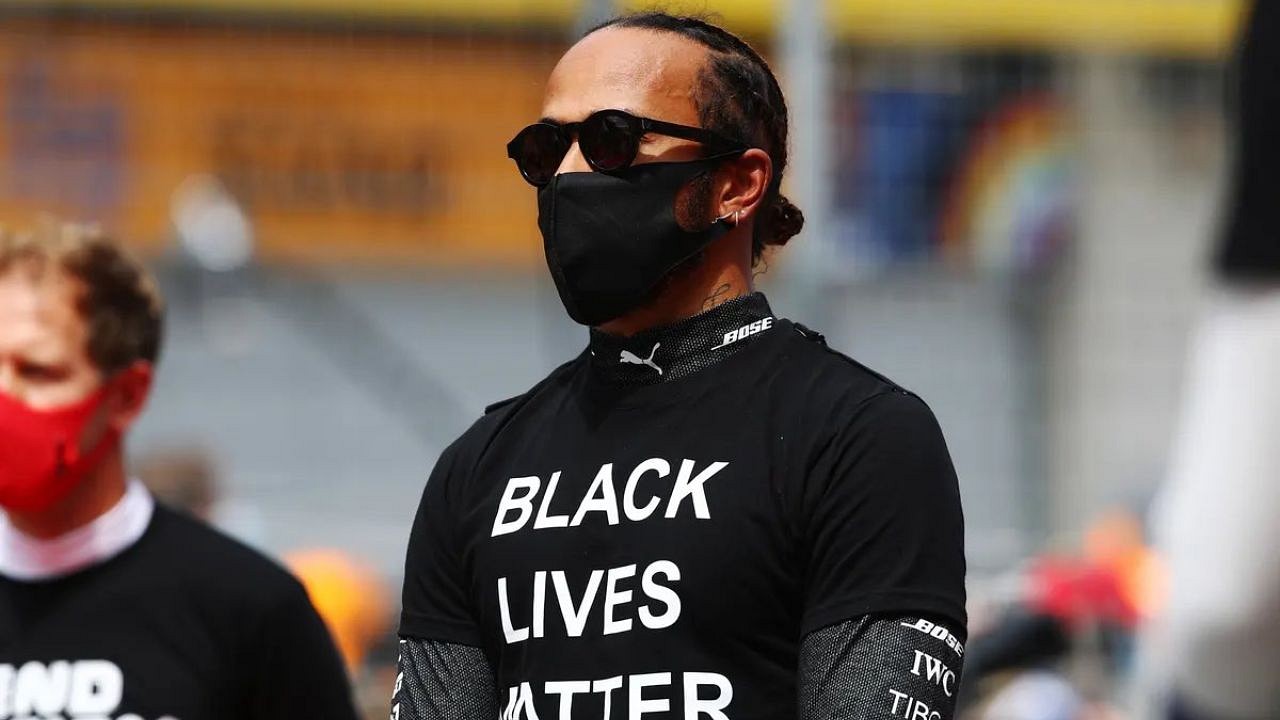 Mercedes star Lewis Hamilton is the only black driver in the history of F1. The 7-time world champion has been a victim of discrimination himself and is quite vocal about the need for diversity and equality in the sport.
When F1 returned to the tracks after the Covid-19 lockdown and in the wake of the horrifying killing of George Floyd, the sport started its own initiative 'We Race As One' with the slogan 'End Racism.'
At the time the drivers were also told to take a knee before every race as part of their effort in the Black Lives Movement and were also provided with shirts that read 'End Racism.'
Hamilton took part in all of those and launched his own initiative 'Mission 44' to work towards diversity in the sport.
But on one occasion, even the 7-time world champion was afraid of being stopped from protesting in the BLM movement by his own team.
Also Read: How Max Verstappen Uses His Sim Racing Skills in Real-Life F1?
Lewis Hamilton was afraid of wearing a BLM shirt
Alongside many other drivers, Hamilton elected to take a knee before each race and voice his opinion about the problems in society.
The Briton was seen wearing a 'Black Lives Matter' shirt while taking a knee while other drivers could be seen wearing the 'End Racism' shirt.
Speaking on the Jay Shetty podcast, Hamilton revealed that he did not tell his team about wearing the BLM shirt instead of the End Racism shirt.
He explained that he was scared of being stopped from wearing the shirt. Hamilton felt that there is a right way to do it but he didn't feel like telling his team because he thought that they would not understand how important it was for him to do it on the first day.
As we continue through the year I can definitely feel the slowing in momentum of BLM. I won't stop trying to push for change. Awareness is where that starts so you'll see me there each weekend representing. #BlackLivesMatter pic.twitter.com/8svbrHoGqI

— Lewis Hamilton (@LewisHamilton) November 3, 2020
Mercedes star hid his BLM shirt
Furthermore, not only did Hamilton wear a different shirt for the movement, he hid his BLM shirt until the very end so as to prevent getting stopped.
He recalled that the sport had made all these shirts that read the 'We Race As One' slogan and Hamilton felt, "I am not wearing that. That's not what this is about, so this is what I am doing."
In the aftermath of his actions, his team told him that only if he had informed them about it they could have prepared better.
Moreover, Hamilton explained that what he felt was only fear as his team has been really supportive of him in such matters.
Also Read: Lewis Hamilton Opens to Jay Shetty About Being Bullied at School Because of His Color When He Was Only 6
---